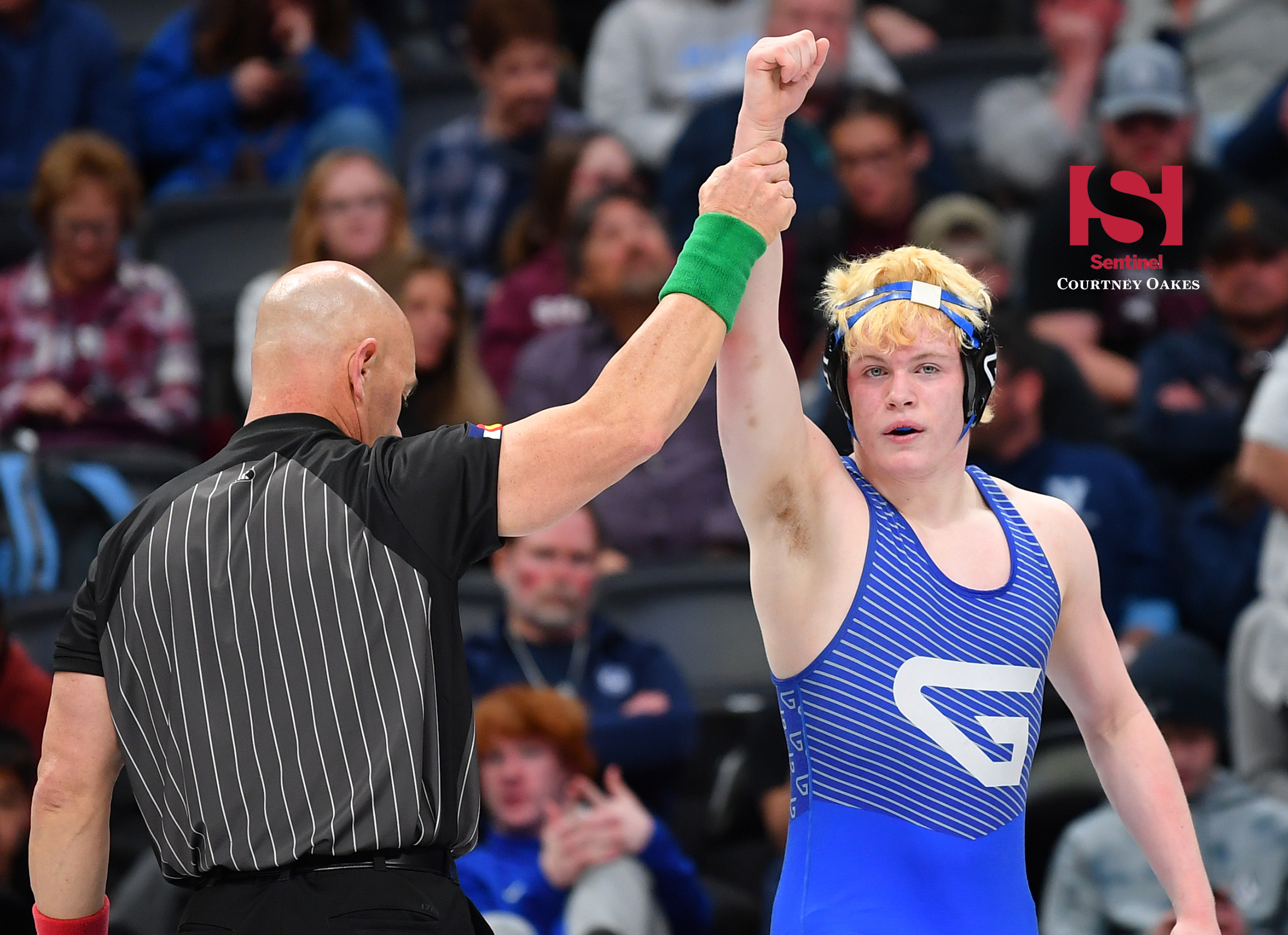 DENVER | Dirk Morley had hoped to wrestle later on Saturday at the Class 5A boys state wrestling tournament — like in the championship finals — but he settled for a win in his final prep match.
The Regis Jesuit senior heavyweight's championship match bid was derailed Friday in the semifinals, but he bounced back with three straight pins and then earned a 2-1 victory in the last match of the placing rounds at Ball Arena to finish third.
Morley and Grandview sophomore Charlie Herting earned third place in the 5A 285 and 165 pound brackets, respectively, to lead eight top-six local state placers outside of the four qualifiers for the evening championship session (Eaglecrest's Adonias Cantu, Regis Jesuit's Garrett Reece, Grandview's Max Kibbee and Vista PEAK's Ezekiel Taylor).
Three other locals finished in fourth place (Cherokee Trail senior Ellis Williams, Rangeview senior Greg Brooks and Vista PEAK senior Oscar Valdez), one in fifth (Eaglecrest junior Ethan Diaz) and Grandview freshmen Gunner Lopez and Jonathan Montes Gonzalez and each finished in sixth place.
Morley came into the match as one of On The Mat's picks to make it to the state championship match at 285 pounds, but he ended up getting upset in the quarterfinals by Pomona's Adrian Arellano, who kept going all the way to the final.
Morley pinned all three of his foes in the consolation bracket until the third-place match, where two stall calls against Valor Christian's Winston McBridge earned him a 2-1 victory. He finished the season 44-7 overall.
Herting missed last season's state tournament due to injury, but he had an outstanding debut with a 4-1 record that saw his only loss come in the semifinals Friday to Pomona's Dante Hutchings. He pinned Columbine's Darrell Miller to get to the third-place match, where he secured a solid 8-1 decision over Rocky Mountain's Josh Stutzman to cap a 42-9 campaign.
Brooks — Aurora's only four-time state qualifier in the field — earned his third career podium spot with a fourth-place finish in 5A at 190 pounds. He lost a decision to Grandview's Max Kibbee in an all-Aurora semifinal Friday, but gutted through a shoulder injury to make it to the third-place match.
Brooks earned a tie with Westin Hoffschneider of Ponderosa in the final period, but Hoffschneider earned an escape point and held on for a 3-2 win. Brooks finished the season 33-3, with two of his losses at the state tournament.
Williams finished 4-2 at 175 pounds and in fourth place, as he rebounded from a quarterfinal loss to earn his first career spot on the podium. Williams came through with a big 3-2 decision over Fruita Monument's True Tobiasson to reach the third place match and was locked in a close match with Pomona's Maddux Najera before he got pinned.
Valdez (36-9) came in projected to make the 4A 215-pound final, but that chance ended in the semifinals when he lost Greeley West's David Lopez. A bounce back victory put him in the third-place match and he was in a two-point match before he tried to throw Thompson Valley's Taylor Graff and ended up on his back.
Diaz — who made it to the semifinals at 120 pounds before he lost by two points — suffered a loss in the consolation bracket, but ended up with fifth place. He received a win by forfeit from Javen Villarreal of Prairie View to finish 35-8.
In their state debut, Grandview's two freshmen state qualifiers both made the medal podium in Lopez and Montes Gonzales and both finished sixth. Montes Gonzales dropped a two-point overtime decision, while Lopez got pinned in the opening period of his match.
Courtney Oakes is Sentinel Colorado Sports Editor. Reach him at [email protected] Twitter: @aurorasports. IG: Sentinel Prep Sports
2023 CLASS 5A BOYS STATE WRESTLING PLACING MATCH RESULTS
Third-place matches
106 pounds: Griffin Rial (Pine Creek) dec. Geno Gallegos (Fruita Monument), 6-2
113 pounds: Sir Israel Pulido (Pine Creek) dec. Declan Strait (Chaparral), 3-2
120 pounds: Ryder Rhodes (Pine Creek) dec. Braaden Heinz (Brighton), 3-1
126 pounds: Lincoln Gregersen (Ralston Valley) dec. Elijah Banks (Pine Creek), 6-0
132 pounds: Billy Greenwood (Poudre) dec. Angel Serrano (Pomona), 5-1
138 pounds: Nic Vicic (ThunderRidge) dec. Will Stewart (Fruita Monument), 7-2
144 pounds: Auston Eudaly (Arvada West) pinned Maximus Gutierrez (Adams City), 3:18
150 pounds: Banks Norby (Poudre) dec. Payton Harris (Ponderosa), 4-2
157 pounds: Emmitt Munson (Pomona) maj. dec. Dylan Chelewski (Fruita Monument), 10-2
165 pounds: CHARLIE HERTING (GRANDVIEW) dec. Josh Stutzman (Rocky Mountain), 8-1
175 pounds: Maddux Najera (Pomona) pinned ELLIS WILLIAMS (CHEROKEE TRAIL), 3:58
190 pounds: Westin Hoffschneider (Ponderosa) dec. GREG BROOKS (RANGEVIEW), 3-2
215 pounds: Jake Howell (Cherry Creek) pinned Nathan Sandy (Legend), 2:16
285 pounds: DIRK MORLEY (REGIS JESUIT) dec. Winston McBridge (Valor Christian), 2-1
Fifth-place matches
106 pounds: Elijah Hernandez (Central G.J.) dec. Marcus Bekkedahl (Poudre), 6-0
113 pounds: Isaiah Sisneros (Lakewood) dec. Silas Gomez (Pomona), 4-3
120 pounds: ETHAN DIAZ (EAGLECREST) won by forfeit over Javen Villarreal (Prairie View)
126 pounds: Noah Kubala (Chaparral) pinned William Dean (Central G.J.), 2:34
132 pounds: Josiah Gallegos (Brighton) pinned GUNNER LOPEZ (GRANDVIEW), 1:29
138 pounds: Nico Bekkedahl (Poudre) dec. JONATHAN MONTES GONZALES (GRANDVIEW), 2-0 (OT)
144 pounds: Juan Diaz (Legend) pinned Orrin Mease (Fruita Monument), 2:29
150 pounds: Dominik Gendreau (Monarch) pinned Dagen Harris (Central G.J.), 2:58
157 pounds: Cam Soto (Fort Collins) dec. Brett Lamb (Poudre), 8-6 (OT)
165 pounds: Devin Hickey (Central G.J.) dec. Darrell Miller (Columbine), 4-0
175 pounds: True Tobiasson (Fruita Monument) maj. dec. Ryan Bynarowicz (Legacy), 11-3
190 pounds: Micah Ortiz (Adams City) pinned Shay Jones (Pine Creek), 2:27
215 pounds: Tatum Williams (Fruita Monument) pinned Eli Stevens (Northglenn), 4:29
285 pounds: Xavier Valentin-Bradford (Centaurus) pinned Daxton Wood (Columbine), 2:08
AURORA CLASS 4A PLACING MATCH
Third-place match
215 pounds: Taylor Graff (Thompson Valley) pinned OSCAR VALDEZ (VISTA PEAK), 4:38