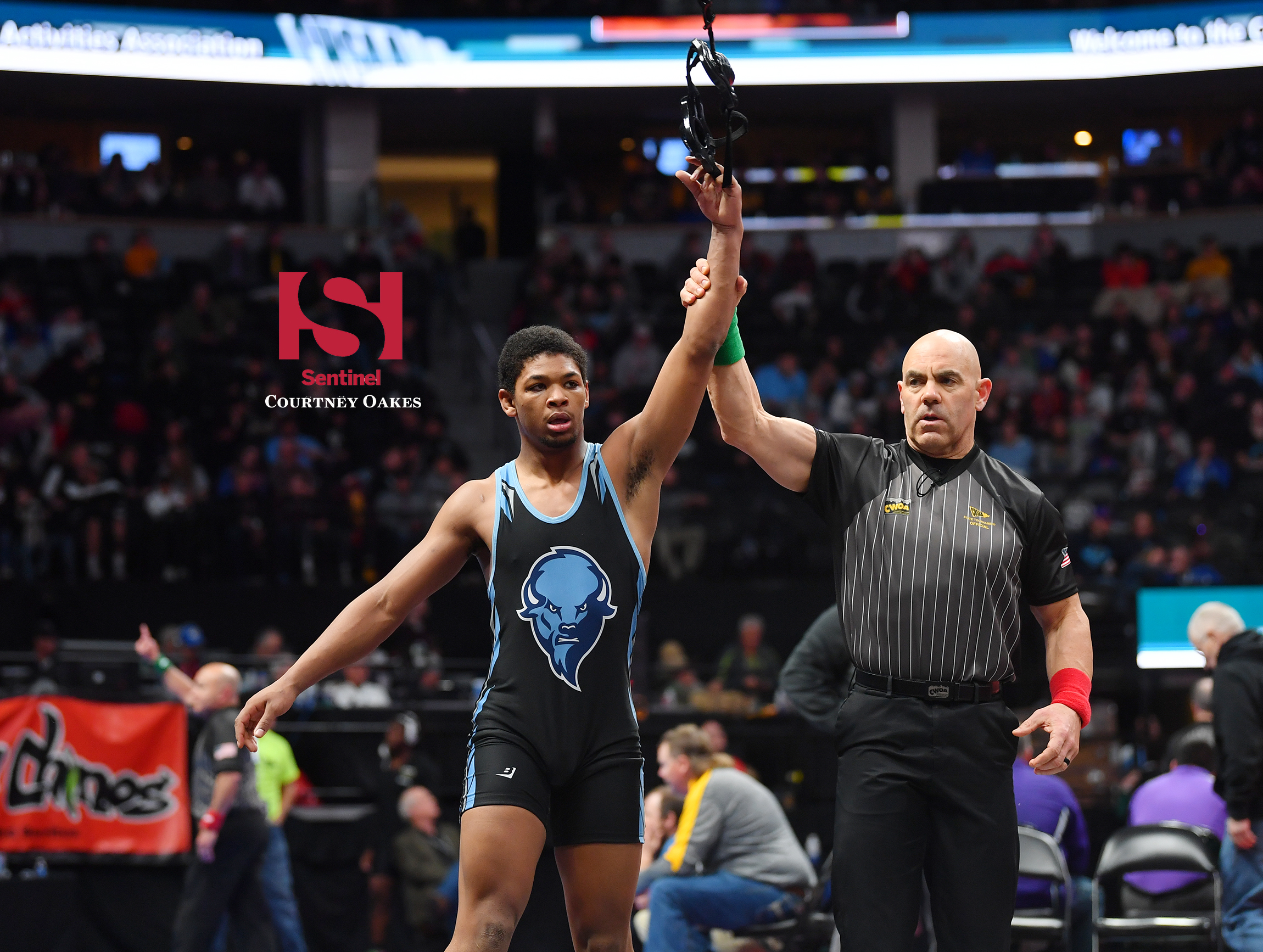 DENVER | Four different Aurora programs will be represented in the championship round of the Class 5A & 4A boys state wrestling tournaments Saturday night at Ball Arena after a rugged semifinal round.
A combined nine wrestlers from city programs earned spots in Friday night's semifinals and the group of Eaglecrest junior Adonias Cantu, Regis Jesuit sophomore Garrett Reece, Grandview senior Max Kibbee and Vista PEAK senior Ezekiel Taylor prevailed to give themselves a chance to win their respective bracket titles.
Championship matches begin following the Parade of Champions at 5:30 p.m.
The title match will be a new experience for all four finalists, though two are returning placers in Kibbee — who placed third last season — and Reece, who was sixth.
Kibbee earned his way into the 5A 190-pound final by getting past Rangeview senior Greg Brooks in an all-Aurora battle, as he prevailed in a 9-6 decision. Kibbee (35-5) has a rematch with Legacy's Quinn Funk (45-3), who he lost to at the Top of the Rockies tournament at Centaurus in January.
Reece made it through a grind of a 5A 132-pound quarterfinal against Cherokee Trail sophomore Chance Matthews (a state placer last season) with a 3-0 victory and had much less drama in the semifinals, where he pushed the pace from opening whistle and secured a 17-2 win by technical fall.
The championship match pits Reese (43-3) against Ponderosa junior Jacob Myers (35-6), last season's 5A 120-pound state champion.
Taylor holds the distinction of becoming the first Vista PEAK Prep boys wrestler to make the state championship match, in the same season the school has its first girls finalist in Leilani Caamal. Regardless of the outcome, he will finish with the program's top state finish as he surpasses the third-place of Donavon Jarmon that came in 2021 when the truncated tournament was held in Pueblo due to the coronavirus pandemic.
To get to the final, Taylor had to grind his way past Thompson Valley's Ronan Bittner, who had held off with a 1-0 victory. The final pits Taylor (39-4) against Roosevelt junior Bronco Hartson (24-2).
Cantu gives Eaglecrest its second straight state finalist at 106 pounds after Dorian Ervin made it last season. Cantu wrestled on junior varsity last season, but rocketed all the way to the championship match as a junior as he has posted three straight wins, capped by a tough 7-6 semifinal victory over Fruita Monument's Geno Gallegos.
The win boosted Cantu to 39-8 on the season and he will take that mark into the final against Pomona freshman Zaidyn Quinonez (31-10), who defeated top-ranked Griffin Rial of Pine Creek in the semifinals.
The five wrestlers who lost their semifinals Friday night — Eaglecrest junior Ethan Diaz (120), Grandview freshman Jonathan Montes Gonzales (138) and sophomore Charlie Herting (165), Brooks (190) and Vista PEAK senior Oscar Valdez (4A 215 — are assured of placing in the top six.
That group will wrestle third-round consolation winners (who begin at 10 a.m.) to decide if they will wrestle for fifth place or third place.
Five Aurora wrestlers made it through the second round of consolations.
That group is made up of Eaglecrest's sophomore Alijah Gabaldon (126) and senior LaDainian Gordon (175), Grandview freshman Gunner Lopez (132), Cherokee Trail senior Ellis Williams (175) and Regis Jesuit senior Dirk Morley (285).
Courtney Oakes is Sentinel Colorado Sports Editor. Reach him at [email protected] Twitter: @aurorasports. IG: Sentinel Prep Sports
AURORA BOYS 5A & 4A STATE WRESTLING SEMIFINAL RESULTS
106 pounds: ADONIAS CANTU (EAGLECREST) dec. Geno Gallegos (Fruita Monument), 7-6
120 pounds: DJ Wince (Ponderosa) dec. ETHAN DIAZ (EAGLECREST), 6-4
132 pounds: GARRETT REECE (REGIS JESUIT) tech. fall Josiah Gallegos (Brighton), 17-2
138 pounds: Brandon Cannon (Ponderosa) pinned JONATHAN MONTES GONZALES (GRANDVIEW), 0:58
165 pounds: Dante Hutchings (Pomona) CHARLIE HERTING (GRANDVIEW)
190 pounds (5A): MAX KIBBEE (GRANDVIEW) dec. GREG BROOKS (RANGEVIEW), 9-6
190 pounds (4A): EZEKIEL TAYLOR (VISTA PEAK) dec. Ronan Bittner (Thompson Valley), 1-0
215 pounds (4A): David Lopez (Greeley West) pinned OSCAR VALDEZ (VISTA PEAK), 4:37
AURORA SECOND ROUND CONSOLATION RESULTS
106 pounds: Marcus Bekkedahl (Poudre) dec. DASHAWN JENKINS (SMOKY HILL), 9-3
113 pounds: Isaiah Sisneros (Lakewood) tech. fall JAY EVERHART (CHEROKEE TRAIL), 17-2
113 pounds (4A): Ryan Dugan (Durango) tech. fall IAN BACON (VISTA PEAK), 16-1
126 pounds: ALIJAH GABALDON (EAGLECREST) dec. Blake Unruh (Mountain Vista), 5-2
126 pounds: Isaac Roybal (Rocky Mountain) dec. NEHEMIAH QUINTANA (GRANDVIEW), 3-0
132 pounds: Hassin Maynes (Central G.J.) dec. CHANCE MATTHEWS (CHEROKEE TRAIL), 3-2
132 pounds: GUNNER LOPEZ (GRANDVIEW) maj. dec. Abraham Pomeroy (Boulder), 8-0
150 pounds: Treye Dashner (Pine Creek) maj. dec. RYAN CURRAN (REGIS JESUIT), 11-1
157 pounds: Cam Soto (Fort Collins) dec. ZACH BROPHY (SMOKY HILL), 3-2
157 pounds: Chase Bell (Chaparral) dec. THAYNE LUNDY (EAGLECREST), 7-2
175 pounds: ELLIS WILLIAMS (CHEROKEE TRAIL) pinned Carson Frisic (Legend), 1:43
175 pounds: LADAINIAN GORDON (EAGLECREST) pinned Jackson Scott (Horizon), 4:11
215 pounds: Gabriel Martinez (Fountain-Fort Carson) dec. DALTON LEIVIAN (EAGLECREST), 5-1
285 pounds: DIRK MORLEY (REGIS JESUIT) pinned Ben Brown (Arapahoe), 2:35
285 pounds: Thomas Iverson (Fossil Ridge) dec. CAYDEN BIRD (GRANDVIEW), 3-2