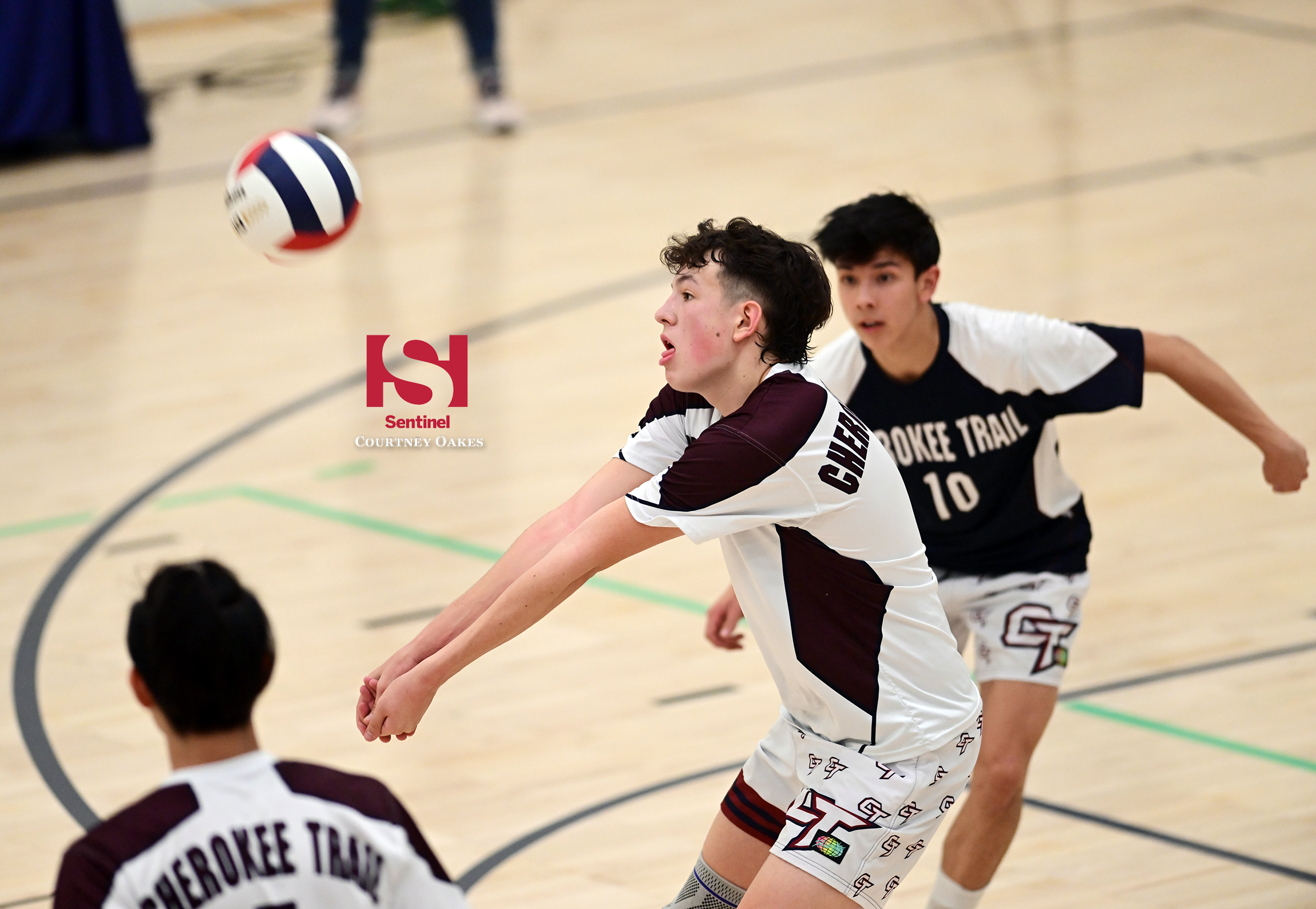 The boys volleyball state tournament took place in Aurora this season and not surprisingly, the top talent across the city converged at Overland High School as Cherokee Trail, Eaglecrest and Regis Jesuit were among the final eight teams.
Stars from the Cougars, Raptors and Raiders combine to make up the membership of the top unit of the 2022 Sentinel Colorado Boys Volleyball Team, which is selected by the Sentinel in conjunction with balloting of city coaches.
In its second season as a sport sanctioned by the Colorado High School Activities Association, boys volleyball spread to more schools in Aurora and the level of play improved noticeably from the beginning of the season to the end.
Coming off appearances in last year's state tournament, Cherokee Trail and Eaglecrest both came into the season with high expectations given the skill and experience that returned. The Cougars and Raptors split a pair of matches during the regular season and both came in right behind Cherry Creek in the Centennial League standings. Each navigated regional tournaments on their home floors as well to earn state berths.
Coach Chad Bond's Eaglecrest team earned a handful of spots on the All-Aurora Team through players who were known and others who made a name for themselves over the course of a season in which it finished an area-best 20-6 overall and dealt Cherry Creek its only defeat of the Centennial League season.
Senior setter Alfred Maiava, junior outside hitter Ayden Shaw and junior libero Dennis Ancheta all were All-Centennial League performers for a second straight season for the Raptors and all made the first team.
Maiava easily led Aurora area players with 644 assists in 83 sets play (7.8 per set), all while spending some time hitting, during which he piled up a total of 163 kills that left him just outside of the top 10 in the league in that category. The Central Christian College signee added 51 service aces.
Shaw racked up 3.4 kills per set (265 total in 79 sets, which ranked fourth in the league), while he also had the third-most digs among league players and also formed a strong leadership duo with Maiava, while Ancheta had far and away the most digs of any Aurora-area player (310, which led the Centennial League), while he also registered 33 service aces in 82 sets played.
Bond, however, credited the rapid improvement of senior middles Ikechukwu Onwuegbu and Kingsley Umoelin for his team's ability to be a contender and the duo proved to be the best among any at the net in the city as they combined for nearly 300 kills, while Onwuebgu was third in the Centennial League with 56 blocks.
Cherokee Trail coach Mike Thomsen also had a trio of All-Centennial League first team picks in senior setter Caden Cole, senior outside hitter Hudson Harms and sophomore John Clinton, all which earned all-league recognition for a second year in a row and formed a large part of the nucleus of a team that won 18 matches.
Harms (an Arizona Christian University signee) is a repeat all-league first team selection who finished third in the league with 282 kills (3.4 per set), while he also registered 171 digs in 83 sets to rank in the top five in that category as well. He combined with Clinton to form a dynamic offensive duo for Cherokee Trail, as Clinton was the Centennial League leader with 328 kills, which ranked him second in the state. Clinton added 41 service aces.
Making use of those weapons for the Cougars was Cole, a signee with Division I Sacred Heart, who averaged 8.9 assists per set (with a total of 523 that ranked him third in the Centennial League).
Regis Jesuit was the only team that pulled off an upset in any of the eight regional tournaments, but coach Kristi Gauss' team had abundant talent.
Leading the way for the Raiders was senior outside hitter Tristan Christofferson, clearly one of the state's most explosive players on the attack. He racked up 23 kills in the Raiders' regional upset of Thornton and nearly led them to victory over top-seeded Cherry Creek in the opening match of state.
Christofferson is headed to Vassar.
Courtney Oakes is Sentinel Colorado Sports Editor. Reach him at [email protected] Twitter: @aurorasports. IG: Sentinel Prep Sports
2022 SENTINEL COLORADO ALL-AURORA BOYS VOLLEYBALL TEAM
FIRST TEAM
Setters: Caden Cole, sr., Cherokee Trail; Alfred Maiva, sr., Eaglecrest; Hitters: John Clinton, soph., Cherokee Trail; Tristan Christofferson, sr., Regis Jesuit; Hudson Harms, sr., Cherokee Trail; Ayden Shaw, jr., Eaglecrest; Middles: Ikechukwu Onwuegbu, sr., Eaglecrest; Kingsley Umoelin, sr., Eaglecrest; Libero: Dennis Ancheta, jr., Eaglecrest
SECOND TEAM
Setter: Ben Jeffords, jr., Regis Jesuit; Deewan Subba, jr., Gateway; Hitter: Malietoa Fifita, Hinkley; Garrett Foster, jr., Overland; Logan Henry, jr., Regis Jesuit; Erosh Rai, jr., Gateway; Middles: Manuel Landeros, Gateway; Tristan Rawley, fr., Vista PEAK; Libero: Jaime Coronel, jr., Cherokee Trail
HONORABLE MENTION
Frankie Beltran, soph., Gateway; Nathan Bidlingmaier, jr., Grandview; Jose Dominguez, Aurora West College Prep; Carlos Garcia Escudero, sr., Hinkley; Ammon Fifita, soph., Hinkley; Dionte Garcia, sr., Grandview; Oran Ireland, sr., Hinkley; Reese Kloberdanz, jr., Vista PEAK; Ian Lozano, jr., Vista PEAK; Devon Penias, Hinkley; Jaryd Peterson, sr., Vista PEAK; Deepash Rai, jr., Gateway; Alex Riddick, soph., Grandview; Scooter Thomas, sr., Overland; Matthew Valdez, sr., Vista PEAK; Haki Vincent, Aurora West; Daniel Xiao, jr., Cherokee Trail