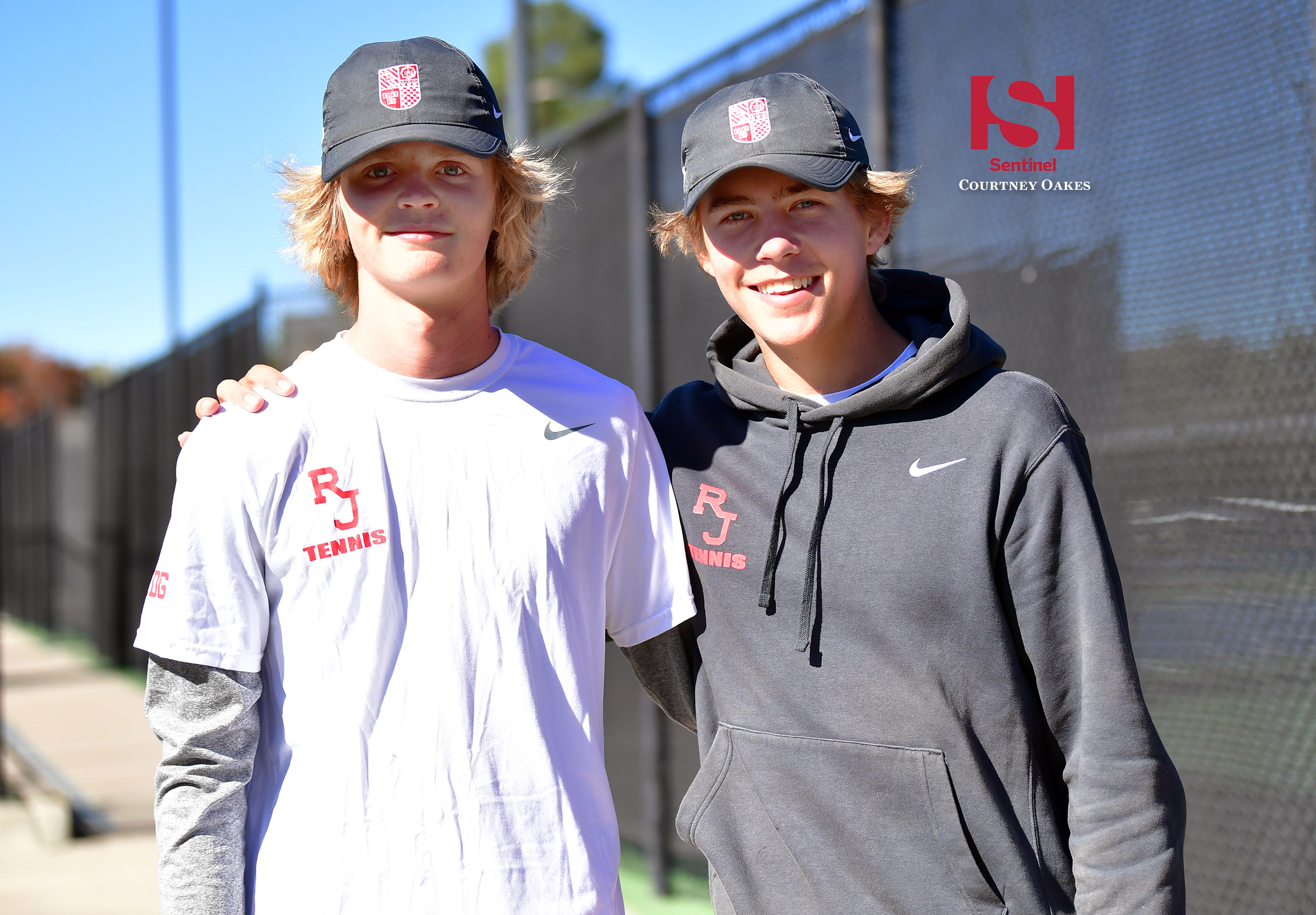 Regis Jesuit retained its spot as Aurora's premier program on the tennis court and earned all three singles spots and four doubles positions on the 2021 Sentinel Colorado All-Aurora Boys Tennis Team, which is based on the season as well as performance at the Class 5A state tournament.
The contingent for coach Laure Jones' Raiders — who finished fourth at the 5A state tournament at Gates Tennis Center — is highlighted by one set of 5A state champions in junior Liam McDonnell and freshman KC Eckenhausen, who went the long way, but won the No. 3 doubles crown after prevailing in three three-set thrillers in a three-day span.
The Regis Jesuit trio of senior Conor Kaczmarczyk (No. 1), sophomore Brady Jenkins (No. 2) and senior Alexander Samuelson (No. 3) take the All-Aurora singles slots, while the doubles slots also went to the No. 1 team of senior James Lynch and junior
McDonnell and Eckenhausen didn't play together for the entire season, but found their groove once they became a regular team, utilizing their size, long reaches and quiet confidence to present difficulties to opponents across the net from them.
The duo lost just one match during the season when playing together and it came in three sets to the Cherry Creek team of Juan Cedeno and Zachary Hayutin at the Cherry Creek Invitational. Eckenhausen and McDonnell got the opportunity to avenge that defeat when the teams met again in the semifinals and the Raiders didn't waste it with an epic 7-6 (5), 6-7 (4), 7-6 victory. It followed three-set wins against Lakewood's Brian Kong and Mathis Joens in the quarterfinals and Daniel Lobelo and Nick Lathrop of Chatfield in the first round.
Ironically, Eckenhausen and McDonnell had their easiest match — at least in terms of score — in the state championship match, as they downed Valor Christian's Mitchell Perez and Ryan Mandes 6-2, 6-4. It was the Regis Jesuit duo's second win of the season over the Eagles with the other coming in a third-set tiebreaker at the Ralston Valley Invitational.
The victory upheld Regis Jesuit's tradition of winning state championships in doubles.
Kaczmarczyk also earned a chance to play for the state championship as he qualified for his fourth state championship match in as many seasons as he aimed for a career singles sweep after claiming the No. 3 singles crown as a freshman and won at No. 2 singles in 2020, which was sandwiched around a runner-up finish at No. 1 doubles in 2019.
The now four-time All-Aurora performer posted two mostly uneventful victories in the first three rounds at the state tournament — but had to rally from set deficit to defeat Fossil Ridge's John Shelby in the quarterfinals — to set up a third meeting with Cherry Creek's Aram Izmirian, who had defeated twice during the course of the regular season.
Izmirian's consistency won the day this time as he dealt Kaczmarczyk a very rare defeat with a 6-3, 7-6 victory. Kaczmarczyk's two losses as a senior — half of his total of four in his four-year career — both came to state champions, as his other defeat came to Kent Denver freshman Jacob Gold (the 4A winner) at the Cherry Creek Invitational.
Regis Jesuit's other top-four place came from the No. 1 doubles team of Lynch and Sobolevsky, who ended up fourth after dropping their last two matches. The Raiders duo earned two solid wins in the opening round before running a semifinal matchup with Cherry Creek's Ainsley Elliott-Beagle and Kris Kostadinov, who had defeated them in a dual match.
Lynch and Sobolevsky lost again to the Bruins 6-4, 6-1, rebounded to qualify for the third-place match before they suffered a 6-1, 6-4 defeat against Ralston Valley's Carder Hardin and Riley Steputis. Sobolevksy made the All-Aurora team for the second straight season as he was part of a No. 3 doubles team that made the state championship match in 2020.
Azcui and McCausland each won the first two matches of their state debuts and advanced to the semifinals at No. 4 doubles before they were stopped by the Cherry Creek team of Charlie Stern and Jack Elkelberner, which topped them 7-5, 6-4 to sweep three matches between the teams on the season. Azcui and McCausland still had the opportunity to place, but fell 7-6, 6-7, 6-4 to Boulder's Isaac Ferayorni and Chase Lewis, who had also defeated them at the Ralston Valley Invitational.
In singles play, Samuelson made the All-Aurora team in a third different position in four seasons as he ended up at No. 3 singles after playing at No. 4 doubles in 2019 (which he won a state championship along with partner Nathan Tolva) and No. 3 doubles in 2020, where he and Sobolevsky lost with the state title on the line.
Samuelson defeated Legend's Will Grobe in straight sets in the opening match, but fell to Fossil Ridge's Brady Elliott in the quarterfinals and did not get a playback chance. During the regular season, his only losses came to the top four places at state at the position in champion Kiril Kostadinov of Cherry Creek, runner-up Ryan Greenfield of Valor Christian, Denver East's Ryan Pool (who finished third) and Elliott.
Jenkins qualified for state for the first time and made a successful debut with a 6-2, 6-4 defeat of Arapahoe's Tyler Rock before he was downed in three sets by Denver East's Mason Heimel and didn't get a playback when Heimel fell in the semifinals. Jenkins' small set of losses during the season also included one to third-place finisher Zach Hartman of Fossil Ridge.
The No. 2 doubles team of Charlie Jenkins and Smith survived a three-set opening round match for a 6-3, 5-7, 6-2 victory over Chatfield's Matthew Hursta and Wade Thomas before Fort Collins' Maxwell Moran and Jake Bronson downed them in the quarterfinals.
During the regular season, Jenkins and Smith defeated Valor Christian's Grant Buekelman and Logan Weems — who went on to win the state championship — in three sets at the Ralston Valley Invitational, while the Raiders' other losses came to the Eagles in a rematch, the 4A state champions from Kent Denver and the 5A runner-up team from Cherry Creek.
Note: While they didn't earn All-Aurora honors, the presence of the city's non-Regis Jesuit state qualifiers was big. Overland senior No. 1 singes player Badreddin Messaudi won his opening match before falling in the quarterfinals, but netted the Trailblazers a point on the state scoreboard for the first time since 2016, while the No. 2 doubles of Alex Eckley and Caleb Hodges gave Grandview a state presence for the first time since 2017.
Courtney Oakes is Sentinel Colorado Sports Editor. Reach him at [email protected] Twitter: @aurorasports. IG: Sentinel Prep Sports
2021 SENTINEL COLORADO ALL-AURORA BOYS TENNIS TEAM
No. 1 singles — Conor Kaczmarczyk, sr., Regis Jesuit
No. 2 singles — Brady Jenkins, soph., Regis Jesuit
No. 3 singles — Alexander Samuelson, sr., Regis Jesuit
No. 1 doubles — James Lynch, sr. and Aidan Sobolevsky, jr., Regis Jesuit
No. 2 doubles — Charlie Jenkins, sr. and Tanner Smith, sr., Regis Jesuit
No. 3 doubles — KC Eckenhausen, fr. and Liam McDonnell, jr., Regis Jesuit*
No. 4 doubles — Agustin Azcui, soph. and Devin McCausland, jr., Regis Jesuit
* — State champion
Honorable mention: Badreddin Messaudi, sr., Overland (No. 1 singles); Alex Eckley, jr. and Caleb Hodges, jr., Grandview (No. 2 doubles)