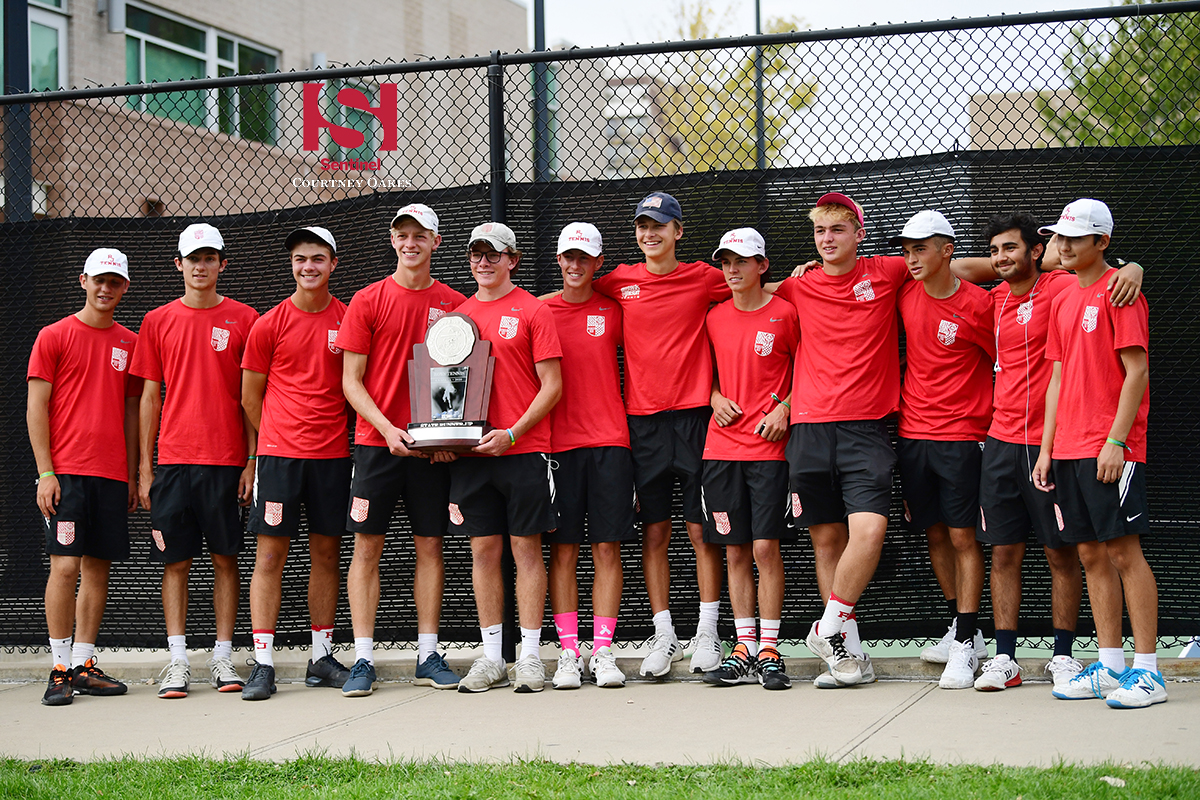 The Class 5A state runner-up trophy didn't feel quite right to the Regis Jesuit boys tennis team, but in the midst of a global pandemic, it was perfectly fine.
The mere fact that a boys tennis season got played to completion this fall without too much intrusion of the coronavirus — with a reduction in matches and a scaled down postseason — made the Raiders' experience at the Gates Tennis Center sweet in many ways, even as rival Cherry Creek won the top prize.
Runner-up Regis Jesuit took its entire team to the state tournament for virtually all of the Aurora representation — Cherokee Trail had a singles player and a doubles team also qualify — and thus the Raiders fill up all three singles spots and all four doubles slots on the 2020 Sentinel Colorado All-Aurora Boys Tennis Team.
For a second straight season, coach Laura Jones' team swept the available state championships in the singles ranks as senior Morgan Schilling (No. 1) and sophomore Cameron Kruep (No. 3) repeated as champions at their respective positions, while junior Conor Kaczmarczyk claimed the No. 2 title after Andy Schuiling won in that spot in 2019.
Making things even sweeter for the Raiders' singles players is that each state title came against opponents from Cherry Creek. The Bruins won a mid-season dual match 5-2, but the Raiders finished 3-1 in head-to-head rematches at state.
Schilling and good friend George Cavo of Cherry Creek didn't get to finish their dual match when inclement weather arrived — allowing the two to finish their match on their own, which Schilling won in three sets — and they got to see each other again in the state title match.
Schilling imposed his will on the championship match, which he ended with a sizzling service ace that drew pure appreciation from Cavo, who greeted him at the net with an embrace.
It capped an undefeated season for Schilling, who made the No. 1 singles final for a third straight season, something that hadn't happened since Grand Junction's Spencer Weinberg made it in 2010-2012, going 1-2. Schilling finished 2-1 in his three finals appearances with the only loss coming to two-time state champion Christian Holmes of Chatfield in 2018.
Kruep also finished an undefeated season with a 6-3, 6-3 win over Cherry Creek's Aram Izmirian, who he didn't face in the dual match.
That Kruep even played the state tournament was a feat considering he had been in a serious car crash just a few weeks earlier, which left him with internal injuries that prevented him from serving overhand until the first day of the state tournament.
Kruep most difficult test came in a second-round match with Ralston Valley's Ryan Lowe, who he defeated 7-5, 6-3 and he went on to win his semifinal and finals match in straight sets.
Kaczmarcyzk won a No. 3 singles state title as a freshman, then played No. 1 doubles in 2019 before he worked his way back into the singles mix as a junior. He lost to Cherry Creek's Matt Batmunkh in the teams' dual match, but he prevailed 6-1, 1-6, 6-0 in the rematch with the state title at stake.
The adjusted state tournament featured no playback brackets, which certain affected Regis Jesuit's ability to score points as three of its four doubles teams lost in semifinals.
The No. 3 team of juniors Alexander Samuelson (who won a state title at No. 4 doubles in 2019) and Aidan Sobolevsky melded well together and advanced with little difficulty to the state final, where Cherry Creek's Ainsley Elliott-Beagle and Casey Dennis topped them 6-2, 7-6.
Schuiling joined Kaczmarcyzk's partner last season, senior Grigor Karakelyan, at No. 1 doubles and the duo suffered only two losses: one to state champions Kristian and Kiril Kostadinov of Cherry Creek and to Valor Christian's David Bomgaars and Luke Buekelman in the state semis.
The No. 2 team of Jack Carbone and James Lynch and No. 4 tandem of Ryan McCarthy and Charlie Jenkins also fell in semifinal matchups. Carbone and McCarthy played together in 2019 and placed third at No. 2 doubles.
Cherokee Trail No. 1 singles player Shawn Springer earned the only other point for an Aurora player at the state tournament with a first round victory before he ran into Schilling in the second round, while the Cougars' No. 4 doubles team of junior Nick Price and freshman Ethan Singleton also got state experience.
Courtney Oakes is Sentinel Colorado Sports Editor. Reach him at 303-750-7555 or [email protected] Twitter: @aurorasports. IG: Sentinel Prep Sports
2020 SENTINEL COLORADO ALL-AURORA BOYS TENNIS TEAM
FIRST TEAM: No. 1 singles — Morgan Schilling, sr., Regis Jesuit; No. 2 singles — Conor Kaczmarczyk, jr., Regis Jesuit; No. 3 singles — Cameron Kruep, soph., Regis Jesuit; No. 1 doubles — Grigor Karakelyan, sr. and Andy Schuiling, jr., Regis Jesuit; No. 2 doubles — Jack Carbone, sr. and James Lynch, sr., Regis Jesuit; No. 3 doubles — Alexander Samuelson, jr. and Aidan Sobolevsky, jr., Regis Jesuit; No. 4 doubles — Charlie Jenkins, sr. and Ryan McCarthy, sr., Regis Jesuit
HONORABLE MENTION: Singles — Shawn Springer, sr., Cherokee Trail (No. 1); Doubles — Ethan Singleton, fr. and Nick Price, jr., Cherokee Trail (No. 4)