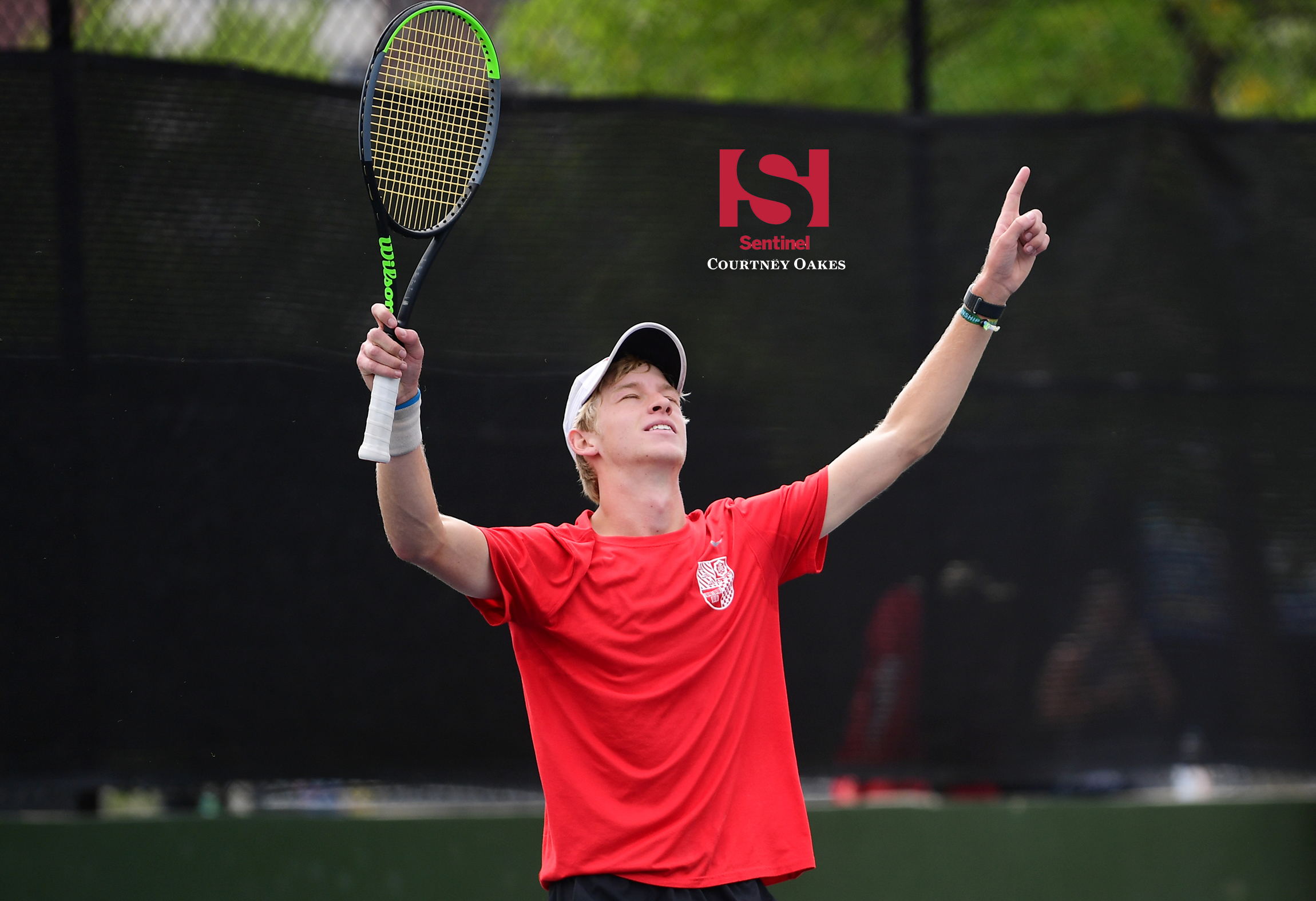 Morgan Schilling delivered one last monster serve that dotted the exclamation point on a stellar prep tennis career.
The Regis Jesuit senior smoked an ace just inside the line and past friend and rival George Cavo of Cherry Creek Sept. 26 at Gates Tennis Center for the clinching point that made him a back-to-back state champion at No. 1 singles.
Schilling's victory, coupled with those of junior Conor Kaczmarczyk at No. 2 and sophomore Cameron Kruep at No. 3 gave the Raiders a sweep of the singles ranks for the second straight season at the Class 5A state tournament, a remarkable feat.
"Those are the hardest matches to win, so to be able to win 1, 2 and 3 singles two years in a row is incredible," Regis Jesuit coach Laura Jones said. "That's amazing. I feel blessed to have such strong individual tennis players."
The three singles champions racked up 39 points for the Raiders, who were in search of a third straight 5A state championship, and went 3-1 head-to-head against rival Cherry Creek, but the Bruins' made all seven finals and won all four doubles state crowns for a four-point victory in the team chase.
Schilling's quest for a second straight state title at No. 1 singles was one of the major storylines of the season affected by the coronavirus pandemic, which made the state tournament different in appearance, but no less dramatic.
Schilling finished undefeated in the regular season — surviving three-set challenges from Luke Silverman of Fairview, his opponent in last season's final, Rock Canyon's Chris Swanson and Cavo — but was rarely challenged at state.
In eight sets in four matches over two days, Schilling lost no more than two games in any set and was rarely challenged. He was grateful to play the final against Cavo, who greeted him at the net afterwards with a hug and a smile.
"It's a huge weight off my shoulders, so I'm really happy," Schilling said. "This one is for sure extra special. I think it's still surprising we had a whole season. I'm really happy the whole team stayed healthy physically and with COVID. …I know some teams were hurt by quarantine, so we were lucky nobody caused us to be quarantined. I'm really happy we were here and got to compete."
Like Schilling, Kruep repeated as state champion at his position — doing so with a 6-3, 6-3 win over Cherry Creek's Aram Izmirian — but there was some question about if he would have that chance.
Just after the Continental League tournament earlier in the month in Highlands Ranch, Kruep was involved in a car accident. He returned the team afterwards and won a match 6-0, 6-0, serving underhand as he had too much pain for a regular serve. He took a few days off to heal up and though still unable to serve normally, Kruep rolled through Region 3.
Kruep was able to serve normally for the first time the day before the state tournament and it helped him pick up four wins without dropping a set, though Ralston Valley's Ryan Lowe challenged him greatly in the second round.
"At one point, I wasn't even sure if I was going to play state, so to go from zero to 100 and to know I'm the state champion is an unbelievable feeling," Kruep said.
Kaczmarczyk won a state title at No. 3 singles as a freshman, but ended up in the doubles ranks last season. He earned his way back into the lineup in the No. 2 position and claimed the title he wanted.
Cherry Creek's Matt Batmunkh dealt Kaczmarczyk his only loss during a dual match Aug. 31, but Kaczmarczyk gained revenge when it counted the most with a 6-1, 1-6, 6-0 victory in the state championship match.
"The first time I played him, I was pulling the trigger a little too often and going for too much," Kaczmarczyk said. "I learned I needed to be much more patient, work the point until I got the right ball in the right spot and that's when I could pull the trigger. It worked well. …This is what I wanted and I came here to get it."
Regis Jesuit's doubles teams certainly contributed, though Alexander Samuelson and Aidan Sobolevsky at No. 3 were the only ones to make the final. Samuelson and Sobolevksy challenged Cherry Creek's Ainsley Elliott-Beagle and Casey Dennis, but lost a second set tiebreak to end the match.
The No. 1 doubles team of Grigor Karakelyan and Andy Schuiling, the No. 2 doubles tandem of Jack Carbone and James Lynch and the No. 4 doubles teams of Ryan McCarthy and Charlie Jenkins each won twice, then were stopped in the semifinals.
With no playback bracket this year due to the pandemic, they didn't have a chance to earn points on the backside of their brackets or earn chances to play for third place.
"My doubles teams made me proud," Jones said. "They were all new pairings since the start of this very short six-week season. A lot of them are coming back and we'll be back next year."
Courtney Oakes is Sentinel Colorado Sports Editor. Reach him at 303-750-7555 or [email protected] Twitter: @aurorasports. IG: Sentinel Prep Sports
2020 CLASS 5A BOYS STATE TENNIS TOURNAMENT
Sept. 25-26 at Gates Tennis Center
Final team scores: 1. Cherry Creek 59 points; 2. REGIS JESUIT 55; 3. Valor Christian 21; 4. Fossil Ridge 17; 5. Fairview 14, 6. Ralston Valley 9; T7. Denver East 5; T7. Fort Collins 5; 9. Lakewood 3; T10. Chatfield 2; T10. Heritage 2; T12. CHEROKEE TRAIL 1; T12. Arapahoe 1; T12. Fruita Monument 1; T12. Monarch 1
Championship matches: No. 1 singles — MORGAN SCHILLING (REGIS JESUIT) def. George Cavo (Cherry Creek), 6-1, 6-2; No. 2 singles — CONOR KACZMARCZYK (REGIS JESUIT) def. Matt Batmunkh (Cherry Creek), 6-1, 1-6, 6-0; No. 3 singles — CAMERON KRUEP (REGIS JESUIT) def. Aram Izmirian (Cherry Creek), 6-3, 6-3; No. 1 doubles — Kristian Kostadinov/Kiril Kostadinov (Cherry Creek) def. David Bomgaars/Luke Beukelman (Valor Christian), 6-4, 6-3; No. 2 doubles — Braden Mayer/Nathan Henden (Cherry Creek) def. Brady Elliott/Drew Holmes (Fossil Ridge), 6-3, 4-6, 7-6; No. 3 doubles — Ainsley Elliott-Beagle/Casey Dennis (Cherry Creek) def. AIDAN SOBOLEVSKY/ALEXANDER SAMUELSON (REGIS JESUIT), 6-2, 7-6; No. 4 doubles — Blake Holst/Matt Hu (Cherry Creek) def. Jackson Case/Logan Weems (Valor Christian), 6-1, 4-6, 7-5