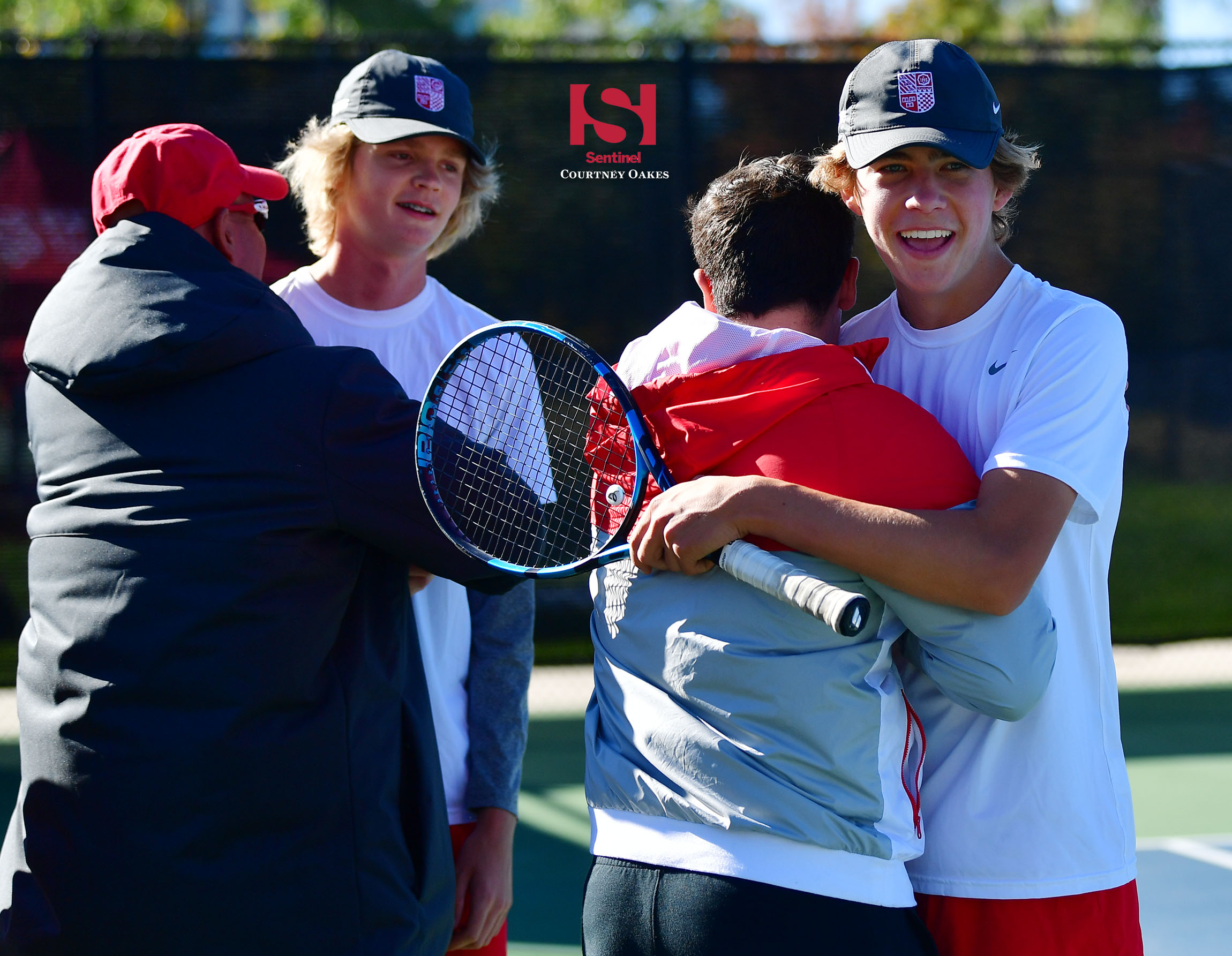 DENVER | With a state championship on the line, the Regis Jesuit No. 3 doubles teams of KC Eckenhausen and Liam McDonnell played their least dramatic match over three days of the Class 5A boys state tennis tournament.
The Raiders' tandem of Eckenhausen, a freshman, and junior McDonnell — both playing in their first state tournaments — claimed a state title Saturday at the Gates Tennis Center with a 6-2, 6-4 win over Valor Christian's Mitchell Perez and Ryan Mandes in a match that was relatively pedestrian when compared to their other matches.
Eckenhausen and McDonnell needed three sets to win in each of their first three state matches — including a quarterfinal match on the opening day that saw them drop the first set 1-6 — but made relatively quick work of the Eagles after coach Laura Jones challenged them to finish it in two sets.
They did just that against Perez and Mandes, who they played in a championship match for the second time in a 16-day span. Eckenhausen and McDonnell captured the Ralston Valley Invitational title Oct. 1 with a 6-4, 4-6, 10-2 win over the Valor Christian duo.
A bonus on the way to the championship for the Regis Jesuit duo was that they avenged their only loss of the season while playing together when they defeated Zach Hayutin and Juan Cedeno of Cherry Creek in a 7-6 (5), 6-7 (4), 7-5 marathon semifinal Friday. Hayutin and Cedeno topped Eckenhausen and McDonnell in the semifinals of the Cherry Creek Invitational five weeks earlier.
Eckenhausen and McDonnell topped Chatfield's Daniel Lobelo and Nick Lathrop in three sets in the opening round, then fell behind Lakewood's Brian Kong and Mathis Joens by a set in the quarterfinals before roaring back for a 1-6, 6-2, 6-2 win.
The No. 3 team won the only state championship for Regis Jesuit, which finished fourth in the team standings. Senior Conor Kaczmarczyk fell in the No. 1 singles state final, while the No. 1 doubles team of senior James Lynch and junior Aidan Sobolevsky finished fourth.
Courtney Oakes is Sentinel Colorado Sports Editor. Reach him at [email protected] Twitter: @aurorasports. IG: Sentinel Prep Sports
REGIS JESUIT'S NO. 3 DOUBLES PATH TO 5A STATE CHAMPIONSHIP
Championship: KC ECKENHAUSEN/LIAM MCDONNELL (REGIS JESUIT) def. Mitchell Perez/RyanMandes (Valor Christian), 6-2, 6-4
Semifinals: KC ECKENHAUSEN/LIAM MCDONNELL (REGIS JESUIT) def. Zach Hayutin/Juan Cedeno (Cherry Creek) 7-6 (5), 6-7 (4), 7-5
Quarterfinals: KC ECKENHAUSEN/LIAM MCDONNELL (REGIS JESUIT) def. Brian Kong/Mathis Joens (Lakewood), 1-6, 6-2, 6-2
First round: KC ECKENHAUSEN/LIAM MCDONNELL (REGIS JESUIT) def. Daniel Lobelo/Nick Lathrop (Chatfield), 6-1, 4-6, 6-4