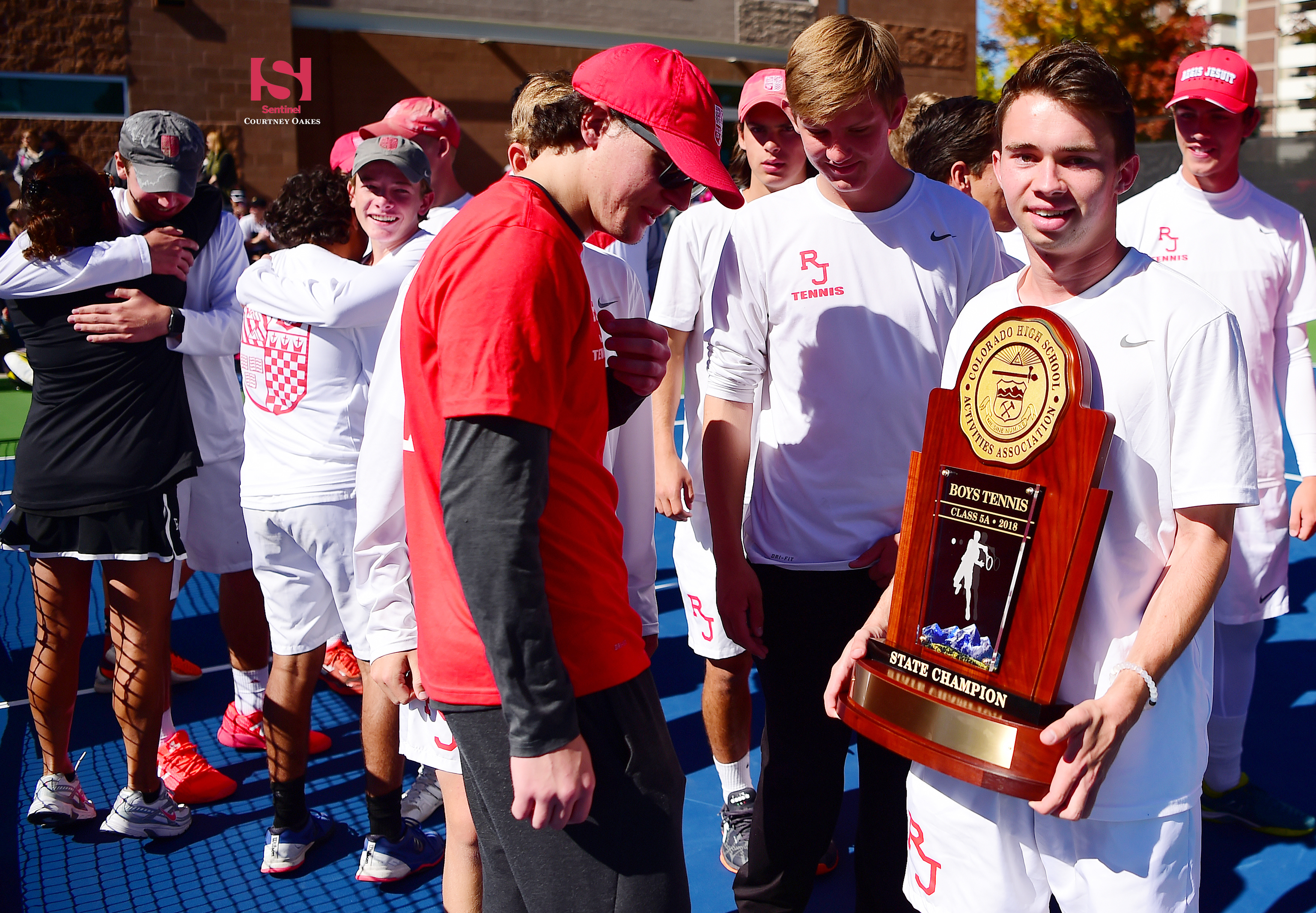 Kosta Garger had been to the Class 5A boys state tennis tournament three times before, but the Regis Jesuit senior walked off the Gates Tennis Center courts Oct. 13 with not one, but two separate dreams realized.
Garger, the Raiders' No. 2 singles player, won his first individual state championship and opened a day of winning for the Raiders, who took four of the six matches they played in the placing round to secure the program's first team state championship since 2010.
Freshman No. 3 singles player Conor Kaczmarczyk and the No. 1 doubles team of senior Evan Nuss and junior Emilio Gonzalez-Cruz also claimed individual titles for coach Laura Jones' Regis Jesuit team, which outdistance powerhouse Cherry Creek by 11 points to provide a storybook ending.
"I couldn't be more excited right now; through my four years, I've dream of winning individually and I've dreamed of winning as a team," Garger said. "For it to both happen on one day is pretty special."
Garger lost in a three-set No. 3 doubles final along with Nuss as a freshman and also took second as a junior at No. 2 singles, but he closed out his prep career in style with a thorough 6-0, 6-1 victory over Broomfield's Austin Kattenhorn.
Kattenhorn had done Regis Jesuit a favor the previous day with a gutty three-set win over Cherry Creek's Nick Svichar in the semifinals — which denied the Bruins a 10-point boost to their team total — but he was no match for Garger in the final.
"I was pretty confident going into it," he said. "I just had a big desire to win, so I just wanted to go out and get it."
Jones felt especially good about how things ended for Garger, who took great lengths to work on his composure and focus.
"It was so great that Kosta finally got an individual state title after being here four years," Jones said. "He really committed himself to the team this year, he's in better shape than he's ever been in and he's in a better mental framework than he's ever been in…He really matured right before my eyes."
Maturity applied across the board to Regis Jesuit's singles ranks, which contributed 45 total points to the team's championship bid.
The Raiders hadn't had all three singles players in the finals since their last state championship victory in 2010, when Colin Haas (No. 2) and Jacob Spreyer (No. 3) won titles and No. 1 Mark Miller finished second.
Kaczmarczyk beat Drew Hill 6-3, 4-6, 6-0 in the Raiders' only head-to-head matchup with Cherry Creek in the finals and sophomore Morgan Schilling took defending No. 1 singles state champion Christian Holmes of Chatfield, a senior, to the very brink in a 7-5, 7-5 loss.
"This was the first time we've won state in eight years," Kaczmarczyk said. "It feels amazing to be able to help my team get this win…It's pretty much the dream way to end my first high school season."
Nuss also ended his prep career in the ultimate fashion as he played in his fourth state final — the first he played with Garger back in 2015 — and won his third title with Gonzalez-Cruz.
The duo was rarely challenged throughout the entire tournament and posted the most decisive victory other than Garger's when the Raiders downed Fairview's Beck Chrisbens and Brody Pinto 6-1, 6-2.
"Looking back, the last two years were really special and freshman year was fun as well, but you couldn't really ask for anything better than to have an individual and team title your senior year," Nuss said.
Junior Nathan Tolva and sophomore Jack Carbone nearly added a state championship in their first trip to the state tournament, but a few crucial points got away late in the No. 4 doubles duo's loss to Fossil Ridge's Brady Elliott and John Shelby.
The SaberCats needed to win a third-set tiebreaker to edge Tolva and Carbone.
Sophomores Grigor Karakelyan and Phillip Albright rebounded from a disappointing three-set loss in the semifinals with a three-set victory over Fairview's Hall Humphrey and Reid Shaffer.
Jones appreciated the state title more than the 2010 victory given that she'd just taken over as head coach that season, but knows all of this season's team from the start.
"I know these kids from the moment they talked in the door and become part of the family, so that's a lot different than taking on a team of great tennis players," she said.
"I'm just so proud of them and what they brought today. Everybody laid it out there on the court."
Courtney Oakes is Sentinel Sports Editor. Reach him at 303-750-7555 or [email protected] Twitter: @aurorasports. IG: Sentinel Prep Sports
2018 CLASS 5A BOYS STATE TENNIS TOURNAMENT
Oct. 11-13 at Gates Tennis Center
Team scores: 1. REGIS JESUIT 76 points; 2. Cherry Creek 65; 3. Fairview 29; 4. Denver East 28; 5. Arapahoe 25; 6. Broomfield 21; 7. Fossil Ridge 18; 8. Chatfield 17; 9. Grand Junction 13; 10. Valor Christian 11; 11. Monarch 7; T12. Boulder 4; T12. Mountain Vista 4; 14. Heritage 3; 15. Highlands Ranch 2; T16. Poudre 1; T16. Rocky Mountain 1; T16. Lakewood 1; T16. Rock Canyon 1
REGIS JESUIT CHAMPIONSHIP MATCHES
No. 1 singles — 
Christian Holmes (Chatfield) def. MORGAN SCHILLING (REGIS JESUIT), 7-5, 7-5; No. 2 singles — 
KOSTA GARGER (REGIS JESUIT) def. Austin Kattenhorn (Broomfield), 6-0, 6-1; No. 3 singles — 
CONOR KACZMARCZYK (REGIS JESUIT) def. Drew Hill (Cherry Creek), 6-3, 4-6, 6-0; No. 1 doubles — 
EMILIO GONZALEZ-CRUZ/EVAN NUSS (REGIS JESUIT) def. Beck Chrisbens/Brody Pinto (Fairview), 6-1, 6-2; No. 4 doubles — Brady Elliott/John Shelby (Fossil Ridge) def. NATHAN TOLVA/JACK CARBONE (REGIS JESUIT), 5-7, 6-4, 7-6 (5)
REGIS JESUIT THIRD-PLACE MATCH
No. 2 doubles — 
GRIGOR KARAKELYAN/PHILLIP ALBRIGHT (REGIS JESUIT) def. Hall Humphrey/Reid Shaffer (Fairview), 6-4, 5-7, 6-1