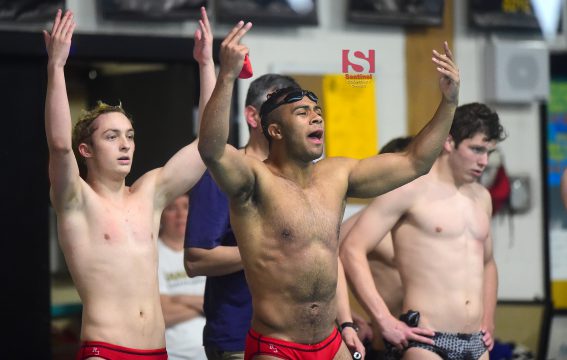 The seniors on the Regis Jesuit boys swim team try not to think about it too much, but it's always looming in the back of their minds.
This particular group of Raiders is keenly aware of the possibility that they could become the program's first senior class in more than two decades to depart without winning a Class 5A state championship.
In most boys swim programs around Colorado, a state championship is a pie in the sky goal and something that happens only when everything falls right. Not so at Regis Jesuit, which has racked up an astonishing 21 all-time state championships, including a string of 20 in 21 seasons that ended when the current group of seniors were freshmen.
"There's definitely been a hunger right from the beginning of the season," Regis Jesuit coach Nick Frasersmith said."We don't talk about it much, but this could be the first senior class to graduate without a state championship in 21 or 22 years.
"They definitely don't want that."
Fossil Ridge from Fort Collins became a hero to some around the state for public school swimming when it finally bested the private school Raiders in 2015.
The SaberCats have been able to defend their title the past two seasons with Regis Jesuit in second place each time by a variety of margins (including 105 points last season).
While Fossil Ridge easily feature enough talent to keep their own streak going, Regis Jesuit has what it feels is its best shot since its last state title.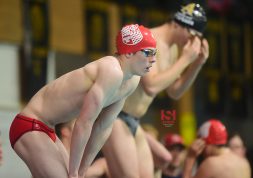 The Raiders moved into the No. 1 spot in the 5A rankings compiled by PrepSwimCo.com as of April 19 and remained there in the new ones April 25. The rankings take the best times recorded by individual swimmers/divers and relay teams and uses them to score a virtual state meet.
Currently, Regis Jesuit would best Fossil Ridge 273-259. Though rankings aren't totally indicative of what will happen, the Raiders can take a psychological edge into the 5A state meet May 18-19 at VMAC.
"We've always gone into state behind or low in the rankings, so this year definitely it will be different going in first," junior Will Goodwin said. "It definitely gives us the confidence boost that we need. I think all around the team we've started to feel like we can win it.
"We need to do it for the seniors, too. They haven't won one yet, so I think we're all really looking forward to getting them one."
Frasersmith has seen his senior group be positive driving forces behind a team that has blossomed with talent and quality depth from its young swimmers and divers.
The urgency with which the seniors have gone about their business has definitely been noticed by the entire team.
"We just really, really want it," senior Elliot Steinberg said. "We could be the first senior class in 21 years to not win a championship and that's a big hit for us. We cannot go out without winning one.
"We are ready for it and we have the team to do it this year."
The seniors have tried not to make too big of a point of winning, however.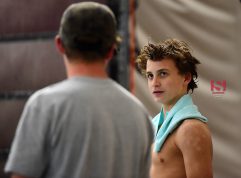 "It's definitely a goal, but it's not going to come easy and you have to do things the right way," senior Elijah Warren said.  "The big thing for us is focusing on doing the small things in practice that are going to make the difference come state time."
Regis Jesuit has plenty of top-end strength that should provide plentiful points at the state meet. The Raiders didn't even manage to win a single event at last season's state meet, but it would be surprising if they got shut out this time around.
Warren — who has a future as an Arizona State swimmer under coach Bob Bowman to look forward to — is locked in a quest to get back the 5A crown in the 100 breaststroke that eluded him last season.
Warren won the event as a sophomore and had the top time in it after prelims at the state meet, only to see Liberty's Joshua Lenzmeier — who has since graduated — touch him out by 0.22 of a second.
Nothing appears to be standing in the way of Warren's title quest and he's turned in a training time just over 54 seconds.
"The big thing for me is working on my stroke count and figuring out what is the best and most efficient rate to maximize my power, strength and speed," said Warren, whose official season-best of 57.55 seconds had him atop the rankings until Fossil Ridge's Danny Kovac surpassed him.
Regis Jesuit's enthusiasm has been tempered slightly in recent weeks with the loss of senior Ty Coen to injury.
Coen broke a bone in his right hand at practice in early April. The University of Arizona signee underwent surgery shortly after that and he's progressed well in his recovery. Coen had his stitches removed and has been cleared to return to the water to kick in hopes of a return in the final week of the season.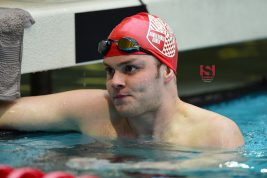 Thankfully for the Raiders, Coen already has a slew of state qualifying times under his belt and his top 100 butterfly mark still holds the No. 9 position.
Regis Jesuit has plenty of depth that has stepped up tremendously in recent weeks.
Goodwin is right behind Warren in third place in the breaststroke rankings and also has recorded the second-fastest time in the 200 individual medley.
All three Regis Jesuit relay teams currently hold top-two spots in 5A so far — the medley is No. 1, 200 freestyle is No. 2 and 400 freestyle is No. 2 — and Sam Jones, Jackson Gurley Will Kerscher and diver Evan Mullen all hold at least one top-20 spot in the rankings.
Diving could play a big part in Regis Jesuit's title quest as well. Freshman Quinn Henninger — who missed the Raiders' final dual meet while he was competing with USA's junior national team in Germany — won the Coaches Invitational and held the top score in the state until recently.
Henninger, Mullen and Evan Brega have all qualified for the state meet, giving Regis Jesuit a potentially major weapon in the race to keep up with or get out in front of Fossil Ridge at state.
The Raiders now enter the stretch of the season where they can focus on the state meet.
They finished off their quick-hitting dual meet schedule with a win at sixth-ranked Arapahoe April 24 and now can have a good taper in the next few weeks as they attempt to add to their ranks of 24 state qualifiers at the upcoming Continental "A" and "B" League championship meets.
While Frasersmith likes where his team is positioned, he always would rather be the hunter than the hunted.
"I like to go in as the underdog, but it's good to see that we're there and the swimmers are placing well," he said. "It's hard to go in as a super underdog, but we know that it's going to be very, very competitive. We're excited to see what happens."
Courtney Oakes is Sentinel Sports Editor. Reach him at 303-750-7555 or [email protected] Twitter: @aurorasports. FB: Sentinel Prep Sports