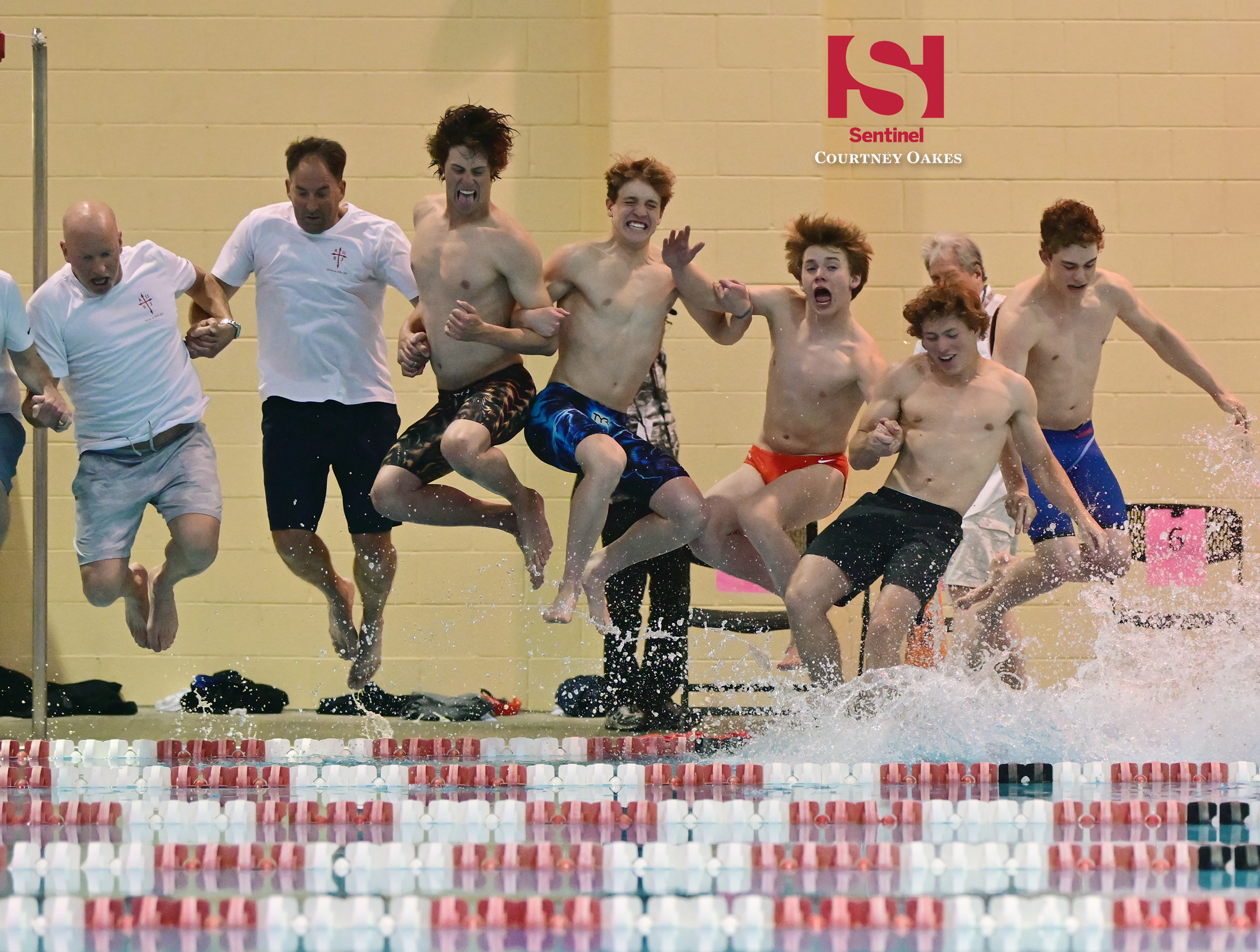 THORNTON | The Class 5A state championship for the Regis Jesuit boys swim team came with some tasty frosting on top Saturday evening.
The Raiders finished off a two-day show of strength in the pool with a state championship from the 400 yard freestyle relay team of seniors Gio Aguirre and Mack Dugan and juniors Ronan Krauss and Hawkins Wendt, which gave them a 64-point victory over runner-up Cherry Creek at the Veterans' Memorial Aquatic Center.
Up until that final race, coach Nick Frasersmith's team had been held without an event championship as both Aguirre (100 yard freestyle) and Krauss (500 yard freestyle) had finished close seconds, but Regis Jesuit simply dominated with depth. It didn't take long for the Raiders to surge past the Bruins, who built a good-sized lead early with their performances in the 1-meter diving competition and the 200 yard medley relay.
The Raiders had three championship finalists in the 200 freestyle and four in the 50 freestyle as they began to rack up points in bunches as they finished with 467 to the 403 earned by Cherry Creek, the 2021 state champion.
Seniors Aguirre, Dugan and Luke Dinges all finished fourth or better in two individual events, juniors Carter Anderson, Charlie Klein and Truman Inglis scored in a pair events and Wendt supplemented a sixth-place finish in the 50 by swimming on all three relays, which finished first (400 freestyle), second (200 freestyle) and third (200 medley).
Senior Dylan Mullen earned points for Regis Jesuit with a seventh-place finish in the morning 1-meter diving competition.
Frasersmith was selected 5A Coach of the Year for a season in which he guided the tradition-rich program to its third state championship under him and the 23rd all-time, by far and away the most of any program in Colorado history.
Next up among Aurora programs was Smoky Hill, which finished with 183 points — a major jump from 110 in 2021 — that saw the Buffaloes scored in all three relays and get individual event scoring from eight different swimmers.
Sophomore Daniel Yi led the charge for Smoky Hill in the 100 yard breaststroke in which it had three top-11 players in Yi (who was third), senior Joshua Nieves (who was fifth) and senior Isaac Yi, who won the consolation heat for finish 11th. Coach Scott Cohen's Buffaloes also racked significant points in the 500 freestyle behind sophomore Jake Baker's fifth-place finish along with freshman Ian Noffsinger's ninth.
Nieves, fellow senior Brayden Pearce and Daniel Yi scored in multiple events for Smoky Hill, which got its highest relay finish from the 200 freestyle, which saw both Yis, Nieves and junior Antonio Goris team up to place seventh.
Grandview scored 52 points in 2021 at the state meet and nearly tripled it this season with 146 that came on the strength of three top-13 relays and five scoring performances in individual events.
Freshman Oliver Schimberg made the championship finals in both of his events in his state meet debut and finished fifth in the 100 backstroke as well as seventh in the 100 butterfly. Junior William Schimberg had the other championship finals appearance for coach Dan Berve's team, as he finished eighth in the 200 freestyle.
The Wolves' relay team of the Schimbergs, junior Matthew Scicchitano (who made the consolation finals in two individual events) and sophomore Evan Higgins grabbed fifth place to finish off the meet.
Coach Kipp Meeks' Cherokee Trail team finished in 17th place behind two individual consolation finals appearances by senior Tucker Meeks (14th in the 100 freestyle, 18th in the 200 freestyle), while he teamed with Bronson Smothers, Dominic McCoy and Hugh Mullen on a 400 freestyle relay team that won the consolation heat to finish 11th.
The Aurora Public Schools' co-op team had just two individual qualifiers in senior diver Liam Ross and junior Gavin Harding and both earned points for coach Beth Himes' Penguins.
Ross finished in 9th place in the 1-meter diving competition and Harding collected 19th place in the 100 butterfly.
Courtney Oakes is Sentinel Colorado Sports Editor. Reach him at [email protected] Twitter: @aurorasports. IG: Sentinel Prep Sports