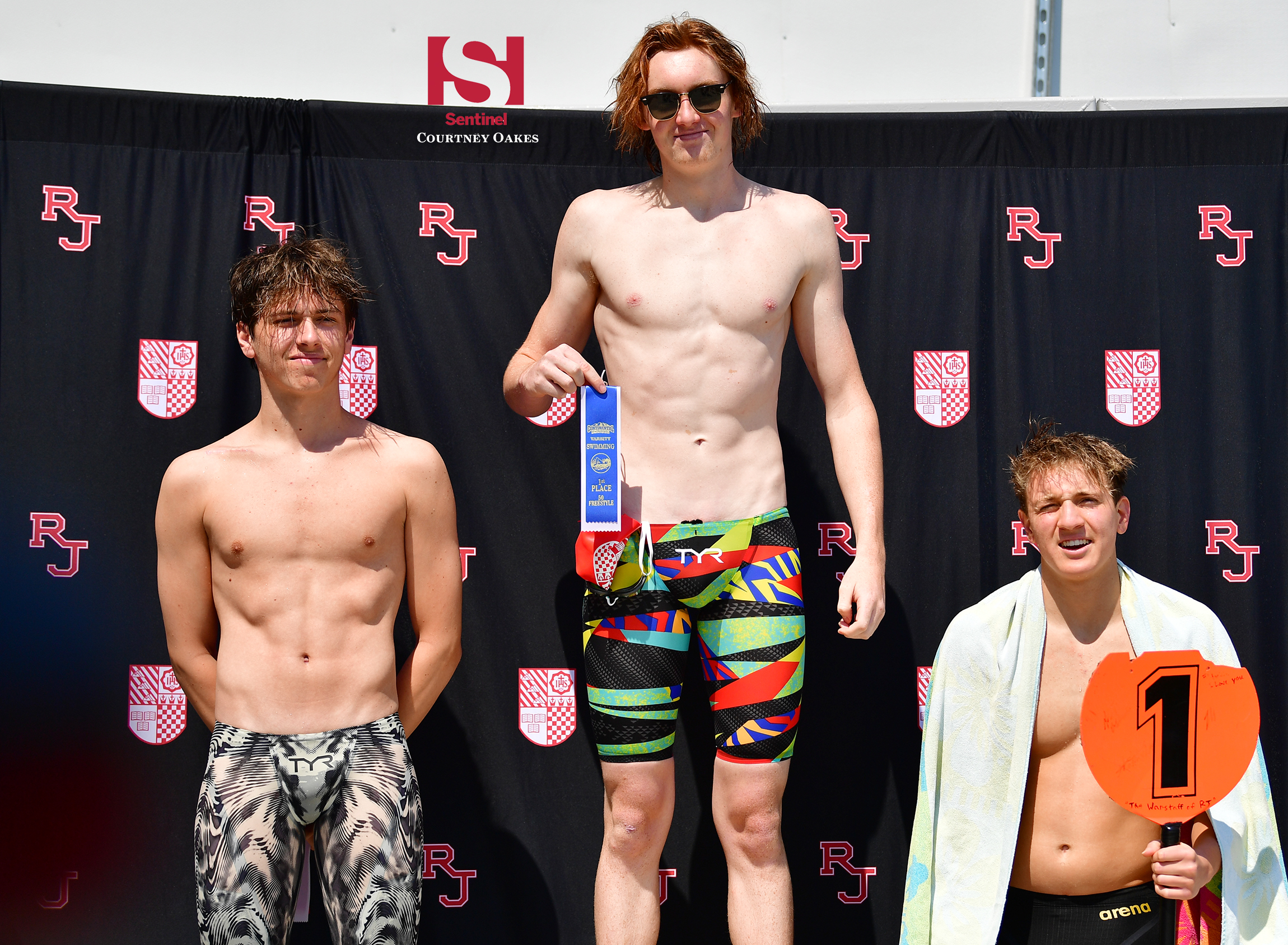 AURORA | Hosting the Continental "A" League Championships for the first time in their impressive new venue, the Regis Jesuit boys swim team rode the wave to victory Thursday.
Coach Nick Frasersmith's Raiders won three events and used tremendous depth — especially in the 50 yard freestyle — to rack up 486 points, giving them a 102-point cushion over runner-up Highlands Ranch, which edged Heritage by six points.
Junior Mack Dugan posted Regis Jesuit's lone win in the 50 free when he was part of a sweep of the first four places, as senior Nick Ames, junior Jacob Sykora and junior Elijah Hawkins were next to touch the wall.
Senior Sawyer Inglis and junior Gio Aguirre each contributed to Regis Jesuit's victorious 200 and 400 freestyle relay teams, with sophomores Carter Anderson and Ronan Kraus joining in on the 200 and Sykora and fellow junior Luke Dinges rounding out the 400 team.
Dugan finished as the runner-up in the 100 freestyle, while Ames had another second place result as well in the 100 breaststroke. Freshman AJ Dugan finished second in the 200 freestyle.
Two pool records went to Heritage swimmers, as Sebastian Wolff set the standard in the 200 yard individual medley of 1 minute, 49.69 seconds, and Alex McMahon established the mark in the 100 yard freestyle of 44.39 seconds.
The diving competition had only three participants and was missing Regis Jesuit star Quinn Henninger, who recently competed in the U.S. Diving Olympic Trials at Indiana University.
Wolff received Swimmer of the Year honors, while Highlands Ranch's Clayton Chaplin took home the Diver of the Year award and Highlands Ranch's Christina Kwon got named Swim Coach of the Year for the league.
Regis Jesuit and the other Continental League teams will wait to see the results come in from the other league championships in the next two days, which will determine their contingents for the June 24 Class 5A state meet. Only the top 30 individuals or relays in each event make it into state.
Courtney Oakes is Sentinel Colorado Sports Editor. Reach him at [email protected] Twitter: @aurorasports. IG: Sentinel Prep Sports
2021 CONTINENTAL "A" LEAGUE BOYS SWIMMING CHAMPIONSHIPS
June 16-17, 2021, at Regis Jesuit High School
Team scores: 1. REGIS JESUIT 486 points; 2. Highlands Ranch 384; 3. Heritage 378; 4. Douglas County 247; 5. Ponderosa Co-op 223
200 yard medley relay — 1. Heritage, 1 minute, 32.94 seconds; 2. REGIS JESUIT (Luke Dinges, Jacob Sykora, Carter Anderson, Gio Aguirre), 1:34.93; 3. Highlands Ranch, 1:37.57; 4. Douglas County, 1:39.54; 5. Ponderosa, 1:47.09
200 yard freestyle — 1. Peter Weinsteain (Heritage), 1 minute, 46.12 seconds; 2. AJ DUGAN (REGIS JESUIT), 1:46.87; 3. Mac Ness (Ponderosa), 1:48.00; 4. Jacob Maestas (Heritage), 1:48.90; 5. JACKSON LANDAHL (REGIS JESUIT), 1:50.73; 6. Connor West (Highlands Ranch), 1:52.20; 7. Jack Bakke (Highlands Ranch), 1:52.55; 8. Riley Phipps (Douglas County), 1:57.42;
200 yard indiv. medley — 1. Sebastian Wolff (Heritage), 1 minute, 49.69 seconds (pool record); 2. Mason Kajfosz (Highlands Ranch), 1:54.99; 3. HARRY KERSCHER (REGIS JESUIT), 1:57.55; 4. WILL CALLAHAN (REGIS JESUIT), 2:00.21; 5. TRUMAN INGLIS (REGIS JESUIT), 2:00.88; 6. Travis Oleson (Douglas County), 2:02.44; 7. NICO WOOD (REGIS JESUIT), 2:04.72; 8. Zachary Dickman (Heritage), 2:09.15
50 yard freestyle — 1. MACK DUGAN (REGIS JESUIT), 21.48 seconds; 2. NICK AMES (REGIS JESUIT), 21.64; 3. JACOB SYKORA (REGIS JESUIT), 22.13; 4. ELIJAH HAWKINS (REGIS JESUIT), 22.27; 5. Mitchell Oliver (Heritage), 22.46; 6. Patrick MacInnes (Douglas County), 22.87; 7. Jake Fehr (Highlands Ranch), 22.94; 8. Kellen Frazier (Douglas County), 23.59
1-meter diving — 1. Clayton Chaplin (Highlands Ranch), 573.35 points; 2. Dyson Modica (Highlands Ranch), 469.50
100 yard butterfly — 1. Mason Kajfosz (Highlands Ranch), 51.50 seconds; 2. Garrett Gurley (Heritage), 51.75; 3. CARTER ANDERSON (REGIS JESUIT), 51.90; 4. Ethan Boehle (Ponderosa), 52.94; 5. Ethan Viescas (Highlands Ranch), 53.95; 6. WILL CALLAHAN (REGIS JESUIT), 54.08; 7. Brodie Salzbrener (Ponderosa), 55.59; 8. Isaac Kim (Highlands Ranch), 56.54
100 yard freestyle — 1. Alex McMahon (Heritage), 44.39 seconds; 2. MACK DUGAN (REGIS JESUIT), 47.79; 3. Mitchell Oliver (Heritage), 49.00; 4. Peter Weinstein (Heritage), 49.41; 5. BLAKE UNDERWOOD (REGIS JESUIT), 49.89; 6. AJ DUGAN (REGIS JESUIT), 49.96; 7. CHARLIE KLEIN (REGIS JESUIT), 50.20; 8. Shane Crawford (Douglas County), 50.74
500 yard freestyle — 1. Brodie Salzbrener (Ponderosa), 4 minutes, 56.66 seconds; 2. Jack Bakke (Highlands Ranch), 5:00.60; 3. Vlad Kazakin (Highlands Ranch), 5:05.57; 4. Nathan Gibbs (Ponderosa), 5:10.58; 5. OWEN MULLIGAN (REGIS JESUIT), 5:10.93; 6. Riley Philpps (Douglas County), 5:12.54; 7. Finn Ahl-Hinson (Heritage), 5:23.80; 8. Ethan Miller (Douglas County), 5:26.08
200 yard freestyle relay — 1. REGIS JESUIT (Ronan Kraus, Carter Anderson, Sawyer Inglis, Gio Aguirre), 1 minute, 25.48 seconds; 2. Heritage, 1:25.74; 3. Highlands Ranch, 1:32.36; 4. Douglas County, 1:32.39
100 yard backstroke — 1. Alex McMahon (Heritage), 49.73 seconds; 2. Connor West (Highlands Ranch), 51.44; 3. HARRY KERSCHER (REGIS JESUIT), 52.32; 4. Garrett Gurley (Heritage), 53.31; 5. Mac Ness (Ponderosa), 54.37; 6. Ethan Viescas (Highlands Ranch), 55.05; 7. Shane Crawford (Douglas County), 55.59; 8. ELIJAH HAWKINS (REGIS JESUIT), 55.78
100 yard breaststroke — 1. Sebastian Wolff (Heritage), 56.87 seconds; 2. NICK AMES (REGIS JESUIT), 58.10; 3. Travis Oleson (Douglas County), 59.28; 4. JACOB SYKORA (REGIS JESUIT), 1:00.08; 5. Peter Johnson (Ponderosa), 1:02.14; 6. NICO WOOD (REGIS JESUIT), 1:03.17; 7. Stephen Brook (Heritage), 1:05.06; 8. Isaac Kim (Highlands Ranch), 1:06.70
400 yard freestyle relay — 1. REGIS JESUIT (Gio Aguirre, Luke Dinges, Jacob Sykora, Sawyer Inglis), 3 minutes, 7.52 seconds; 2. Highlands Ranch, 3:16.53; 3. Heritage, 3:19.73; 4. Ponderosa, 3:21.78; 5. Douglas County, 3:32.85