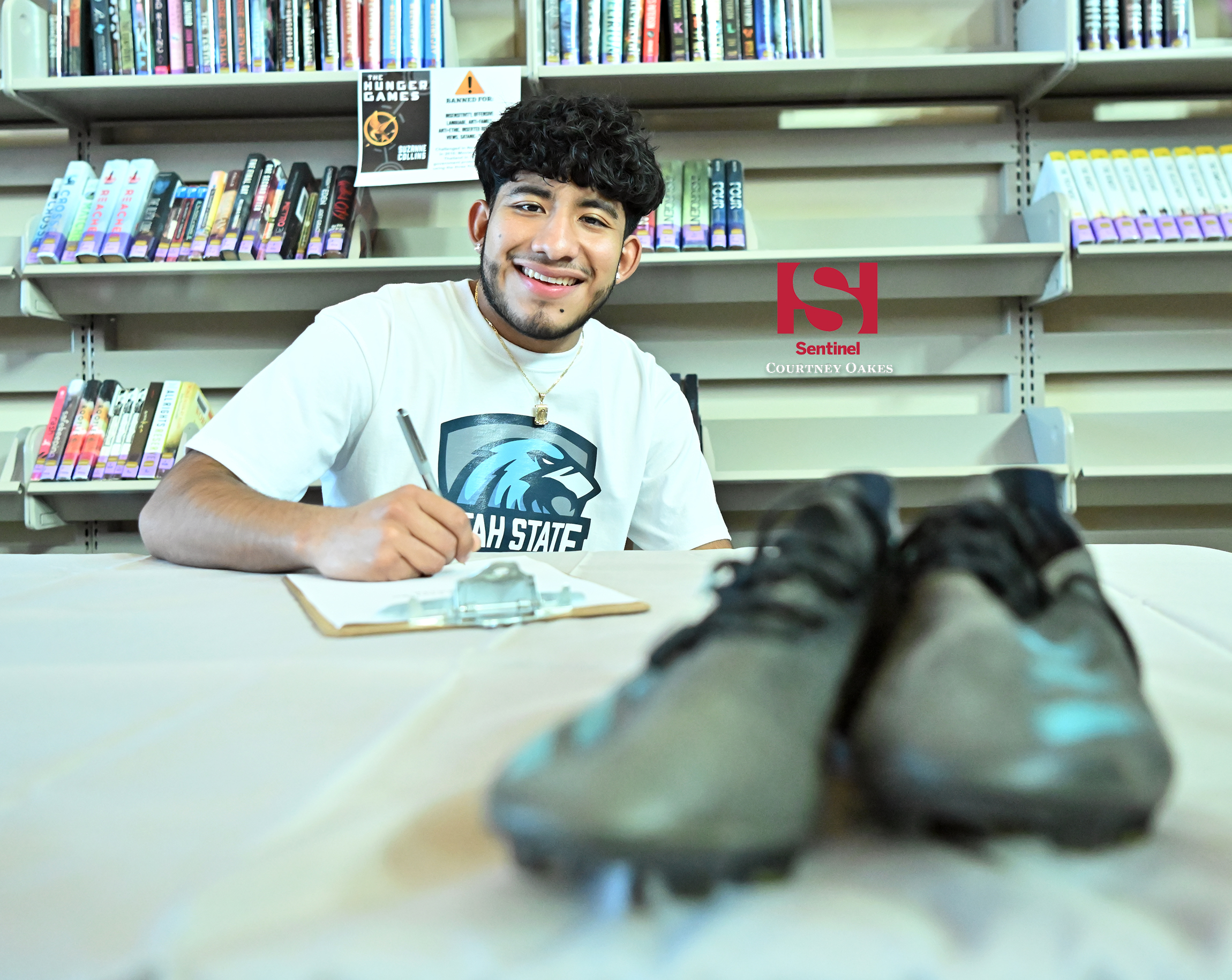 AURORA | By nature and on the soccer field, Angel Avila is unselfish.
The spotlight shone bright on the Hinkley High School senior Wednesday in the school's media center, as a large group of friends and family gathered to celebrate a great accomplishment.
Like a good number of prep athletes around Aurora and many across the nation, Avila signed a National Letter of Intent to play in college. Hinkley's first athletic signing since 2019, Avila is headed to play soccer at Utah State Eastern Junior College.
"Everyone coming out here, to see my dad and my mom and my family, this is up there, definitely top three," Avila said of where the day ranks in his life.
— A full list of Feb. 1, 2023, Aurora NLI signees/honors by school, here
After a celebratory feast of tamales and horchata, Avila sat behind a desk festooned with balloons and covered in flowers, stuffed animals and of course, soccer cleats, and set in motion his future for the next two years in Price, Utah. He hopes to move on to a Division I or DII program after that or possibility to a professional chance in Mexico.
The oldest of five siblings, Avila sees leaving home as a positive, though it will certainly have an impact on him and his family, including four younger siblings.
"My little sister started crying when she found out I was committing," he said. "I'm the older brother, so it hard for them to let go. …I haven't really been away from home, but I feel like everybody needs that. To get away from the noise and work on yourself and become a better person."
By all accounts, Avila is off to a good start in that regards.
"Angel is such a kind, humble kid," said former Hinkley boys soccer coach Abigail Hinga, who has coached him since middle school.
Avila has a game on the soccer field to match, as he plays with deference to the success of his team wherever he ends up on the field.
Without the benefit of playing with a high level club program, he developed an all-around game as a kid when he played in games with adults on the fields near his house. Avila — who attributes his work ethic to that of his father — also did everything he could to get better, including bugging coaches for regular gatherings in the summer.
"I'm always a pass-first guy," said Avila, who finished with three assists to go with three goals in his senior season. "I want my teammates to get the best opportunities they can. If I score a goal or two, that's a bonus, but it's always team first. I could have three goals, but if we lost, that's not good. I'm definitely pass first."
Avila received a big assist himself in his quest to play at the next level as it came from Mimi Holt, who joined the Hinkley staff during the fall season and will take over for Hinga next season.
Holt saw Avila's play stand out and she was able use her connections from her time as a high level club coach with Real Colorado to get him connected to college programs. Avila ended up with two offers to chose from and went with Utah State Eastern.
"Angel is kind and humble and on the field, he can play up top, in the middle or on the outside," Holt said. "He always plays on the outside, but he's quick and has clean footwork. …This will hopefully show the younger players that they can do it. It's a lot of work on the field and keeping grades up, but it can be done."
Courtney Oakes is Sentinel Colorado Sports Editor. Reach him at [email protected] Twitter: @aurorasports. IG: Sentinel Prep Sports