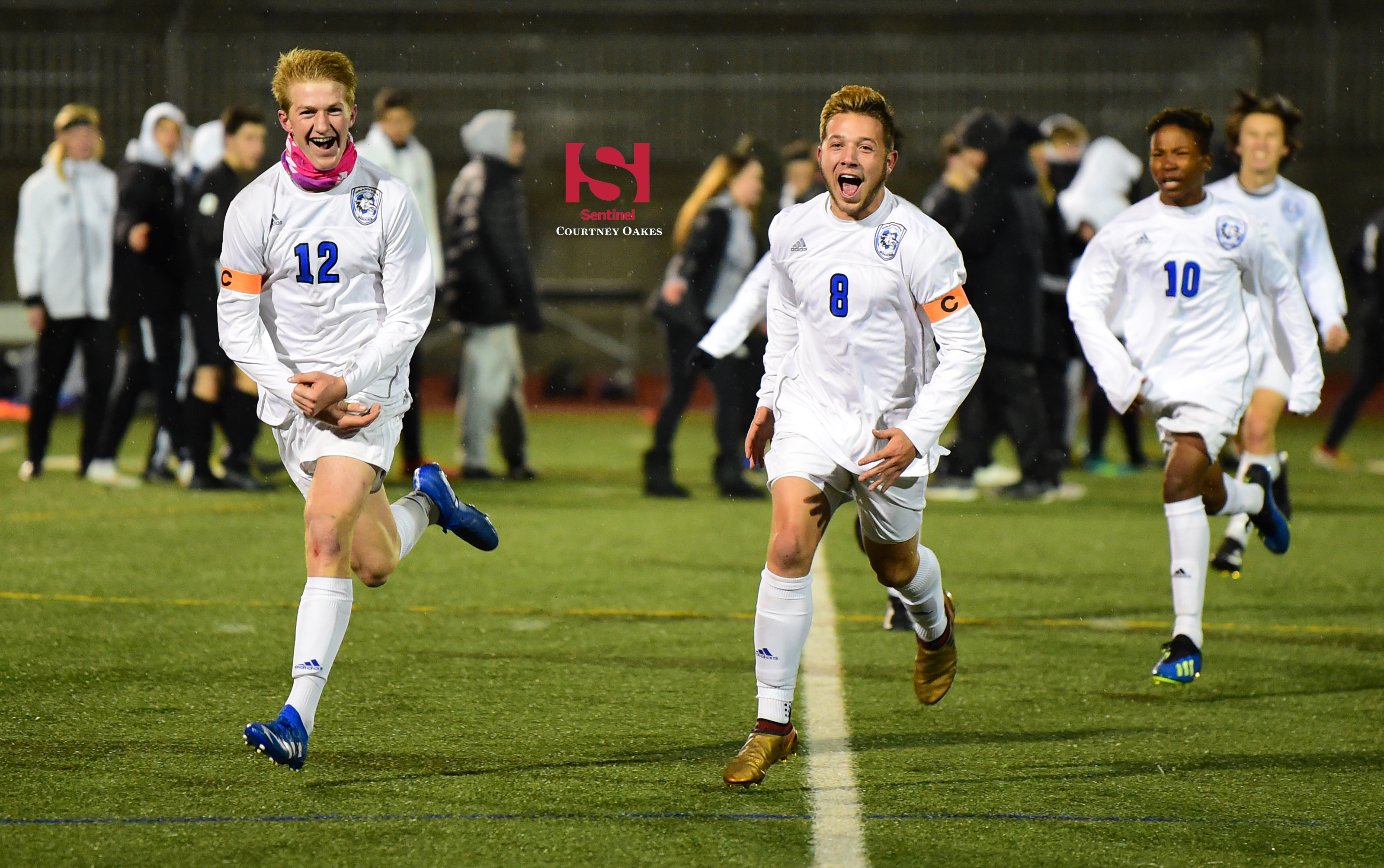 PARKER | With a chance to play for the Class 5A state championship against the only team to beat it during the regular season, the Grandview boys soccer team would not be denied Wednesday night.
On the same frigid turf at EchoPark Stadium where the Wolves' dreams were dashed last season in the semifinals by Denver East, they scored twice in the second half and held on for a cathartic 2-0 victory over second-seeded Boulder to earn a spot in Friday's state championship game against fellow Centennial League member Arapahoe.
Seniors Peter Goldy and Jaime Luna scored on headers in a span of less than a minute early in the second half and the Panthers never recovered as coach Brian Wood's Grandview team finished off a victory that got the program into the 5A state final for the third time overall, but first time since 2007.
The Wolves played in the second semifinal game and knew that they had a chance to gain revenge on the eighth-seeded Warriors, who outlasted 2017 state champion and 13th-seeded Broomfield on penalty kicks in the first game.
Grandview lost to Arapahoe 3-2 in Centennial League play Sept. 25, though it was able to rebound and still win the league championship when Cherokee Trail — which the Wolves beat in a penalty shootout in the quarterfinals — knocked off the Warriors.
A first half that saw both sides with only moderate chances, Grandview's came off long throw-ins from seniors Jeffrey Mattney and Raymond Jackson and Boulder's on a variety of free kicks taken by Kenneth Jew, ended in a scoreless tie.
Successful on a set pieces all season long, the Wolves broke out a new one early in the second half when they earned a corner kick after a shot by senior Noe Ortiz Pena.
Senior Ian Oltman drove a ball high and across the mouth of the Panthers' goal and Goldy found it with his head and beat Boulder goalkeeper Toby Bateman with a shot that went in as he fell down behind the goal.
Much like Grandview did in a second round win over Rangeview, it applied pressure again immediately after the subsequent kickoff and it paid off when Jackson put a ball in front of the to Luna, whose soft header caught Bateman unaware and settled into the net for his team-leading 12 goal of the season.
Senior keeper Cobi Wood made four saves in the shutout for the Wolves, as his veteran defense sacrificed their bodies to block shots and keep Boulder from getting back into the game.
Now, Grandview can turn its attention to its first state championship shot since 2007 when it lost an All-Centennial League, All-Aurora affair to Smoky Hill. The Wolves lost their other finals appearance to Smoky Hill as well in 2004.
Courtney Oakes is Sentinel Sports Editor. Reach him at 303-750-7555 or [email protected] Twitter: @aurorasports. FB: Sentinel Prep Sports
(3) GRANDVIEW 2, (2) BOULDER 0
Score by halves:
Grandview  0  2 — 2
Boulder      0  0 — 0
SCORING
Second half
Grandview — Peter Goldy (Ian Oltman), 50th minute
Grandview — Jaime Luna (Raymond Jackson), 50th minute