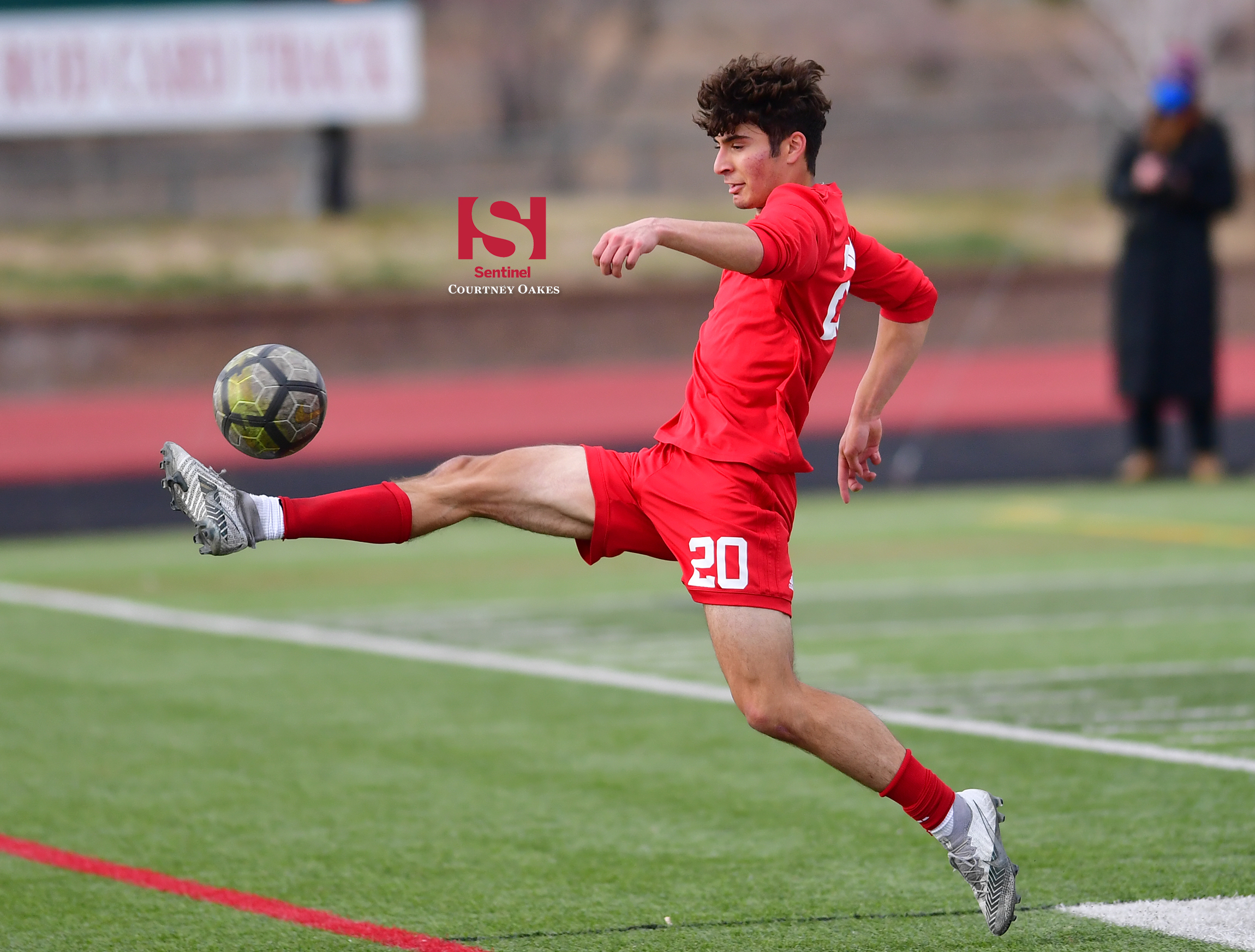 AURORA | The Regis Jesuit boys soccer team scored three times in the second half to pull away from Highlands Ranch in Continental League play Wednesday at Lou Kellogg Stadium.
The Raiders — who have taken over the No. 1 spot in CHSAAnow.com's Class 5A rankings — had a one-goal lead at halftime on a penalty kick score by senior Alejandro Herrera, then doubled its lead with a goal by senior Brendan O'Toole and got to more from senior Jaden Ohlsen to improve to 7-0 on the season.
Coach Rick Wolf's Regis Jesuit team also recorded its seventh shut out in as many games this season and set up a showdown for the league championship with similarly unbeaten Castle View. Weather permitting, the Raiders and SaberCats are scheduled to play at 4 p.m. Saturday — the final day of the boys soccer regular season — at Douglas County Stadium.
Each league qualifies two teams for the Class 5A playoffs, so both Regis Jesuit and Castle View will advance, but a win could mean a top-three seeding in the 16-team playoff.
Against Highlands Ranch, Herrera's goal turned out to be the game-winner. He was awarded a penalty kick on contact in the goal box and finished the chance to put Regis Jesuit on the scoreboard.
The Raiders' lead grew to 2-0 in the second half when Ohlsen pushed a pass ahead to O'Toole, who beat the Falcons' goalkeeper with a low shot inside the far post.
Ohlsen's first goal came after a long throw-in created a loose ball that he was able to finish with the keeper out of the net and he scored again with just under five minutes remaining when a long ball bounced over a Highlands Ranch defender and created an open chance.
Courtney Oakes is Sentinel Colorado Sports Editor. Reach him at [email protected] Twitter: @aurorasports. IG: Sentinel Prep Sports
(1) REGIS JESUIT 4, HIGHLANDS RANCH 0
Score by halves:
High. Ranch  0  0 — 0
Regis Jesuit   1  3 — 4
SCORING
First half
Regis Jesuit — Alejandro Herrera
Second half
Regis Jesuit — Brendan O'Toole (Jaden Ohlsen)
Regis Jesuit — Ohlsen
Regis Jesuit — Ohlsen