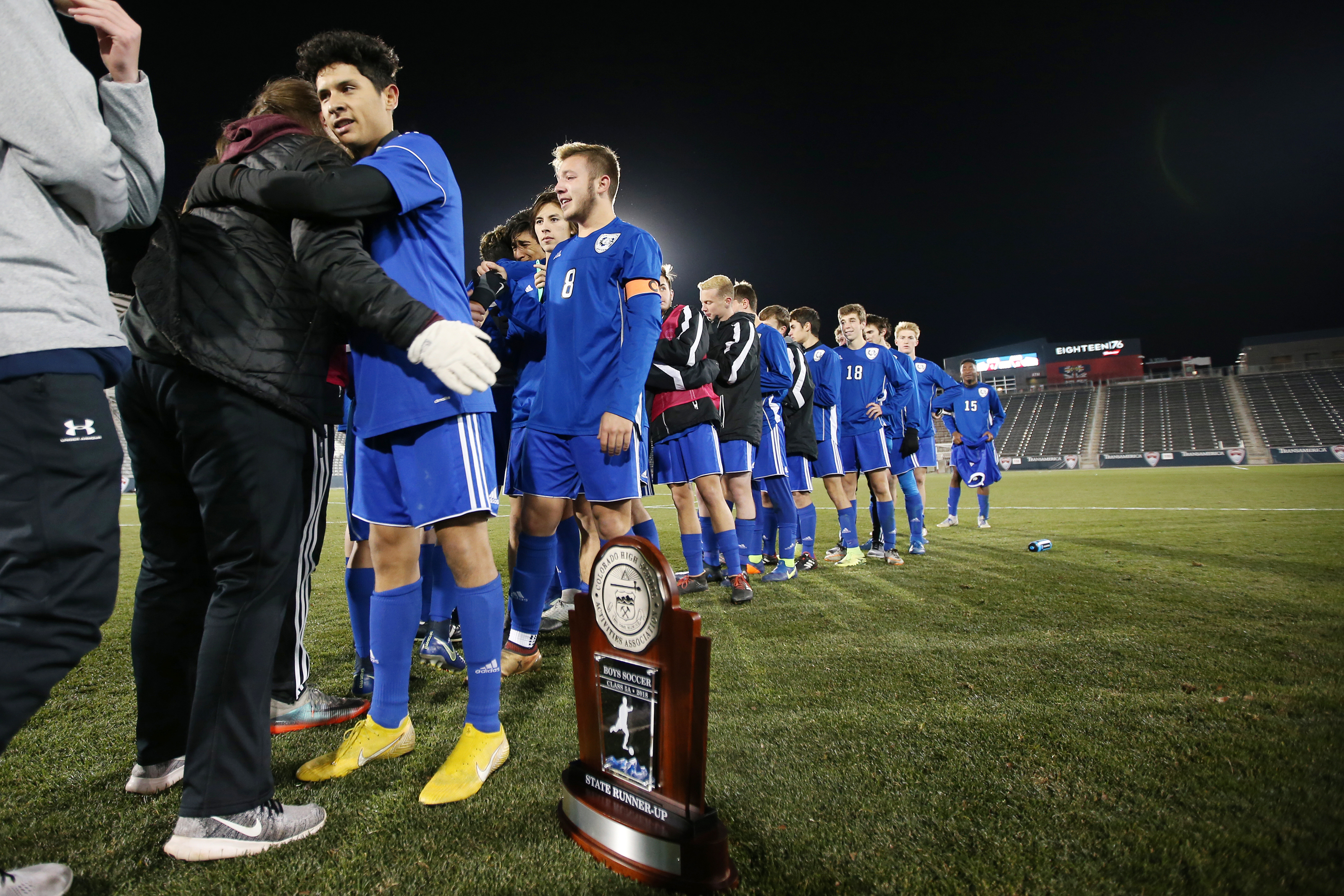 Raymond Jackson and his fellow seniors on the Grandview boys soccer team — 17 strong — heard a lot of outside doubts in 2018.
Many didn't believe the Wolves could even match last season's run to the Class 5A state semifinals, much less play at Dick's Sporting Goods Park on the final night of the season.
Yet there Grandview was Nov. 9, battling Arapahoe on a professional pitch as one of the last two teams standing. And though they walked off the field with the runner-up trophy after a 2-1 defeat, the Wolves emerged with plenty of pride in what they'd done.
"A lot of people at the beginning of the season didn't think we were even going to make the playoffs and we did that; then some had us going out in the quarterfinals and we made it past that, then they had us losing to Boulder (in the semifinals) and we got past that," Jackson said.
"They thought last year was our only chance of making it somewhere, but ultimately we got somewhere Grandview hasn't been in awhile. So that feels good."
The Wolves used that as motivation as they put together the best season the program has had since its last trip to the state championship game, which came in 2007.
Grandview also appeared in the title game in 2004 and though it has yet to hoist the state championship trophy, it was still sweet for coach Brian Wood, who was on the sidelines for the previous two trips as well.
"It's really hard to get there and not win, but at the same time, it was great to get there," Wood said. "This was a great group of guys and though we'd like to end on a win, I'm proud of the boys and also proud of how Arapahoe played."
The Wolves (17-2) lost in both of its previous finals to Centennial League rival Smoky Hill — still Aurora's most recent state champion after its win in 2007 — and encountered another league foe in this final in Arapahoe, the No. 8 seed in the tournament that won the league meeting between the teams 3-2.
"I thought 'Can I have one final when we don't have to play another Centennial League team?'" Wood said wryly.
"It's nice to play somebody you know, but it would be nice to have somebody else to beat up on."
Though they knew each other well, both teams played in the final for the first time and on the big stage on the Colorado Rapids' home field.
Buoyed by a large and vocal crowd, the Warriors — appearing in the state final for the first time since 1997 and seeking the program's sixth all-time state title — struck first in the early going, but the Wolves responded just seven minutes later.
Jackson — who finished the season as Grandview's assist leader — found lethal senior Noe Ortiz Pena, who took a quick touch after he received a pass and buried a shot from 25 yards out.
The Wolves' penchant for scoring again as defenses try to recover after giving up a goal (like it did on goals by Peter Goldy and Jaime Luna in a semifinal win over Boulder Nov. 7) nearly came into play again, but they were unable to get another shot past Arapahoe goalkeeper Spencer Cobb.
Cobb made nine saves in the opening half as the Warriors survived Grandview's opening barrage.
"We came out full bore; we came in with the mindset that we were playing on a professional pitch, but it's still a regular game," Jackson said. "It seemed like Arapahoe took in all the pressure we were going to give before they gave it back."
The Warriors began to give it back in the second half and got the go-ahead goal on a quick restart, an open look and a shot that found its way through traffic and into the goal with just over 12 minutes left.
Grandview's desperate effort to get the tying goal came up short.
The Wolves' senior group departs with a 33-5 record over the past two seasons — three of those losses to Arapahoe — plus trips to the semifinal and state championship game.
"This has been one of the most successful groups we've ever had coming through here," Wood said. "This was a really great group that really brought back a lot of the expectations and things that we had in the first few years here."
Courtney Oakes is Sentinel Sports Editor. Reach him at 303-750-7555 or [email protected] Twitter: @aurorasports. FB: Sentinel Prep Sports