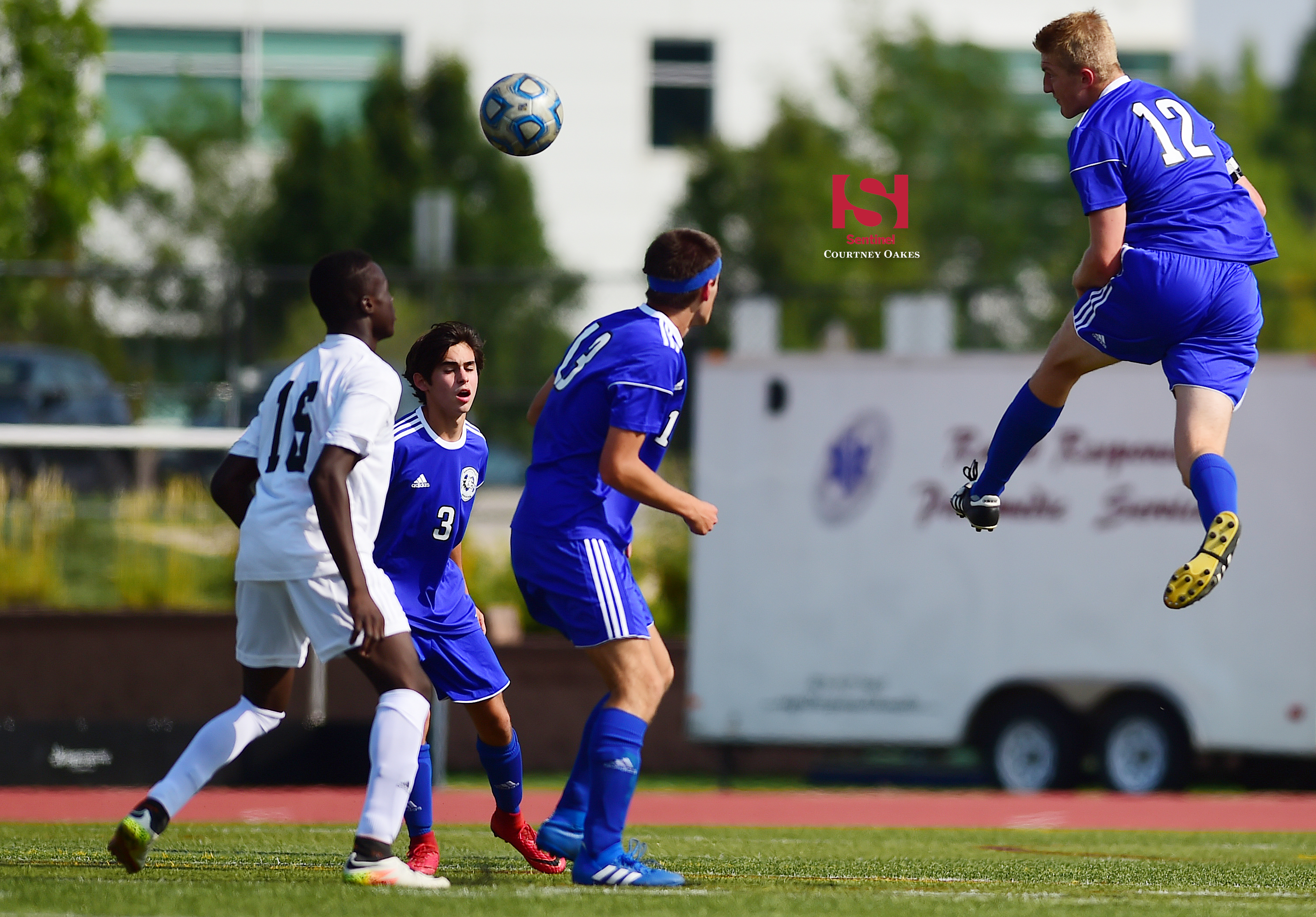 AURORA | A capsule look at the two games involving Aurora teams in the second round of the 2018 Class 5A boys state soccer playoffs scheduled to be played on Oct. 31, 2018:
Courtney Oakes is Sentinel Sports Editor. Reach him at 303-750-7555 or [email protected] Twitter: @aurorasports. FB: Sentinel Prep Sports
2018 CLASS 5A BOYS SOCCER 2ND ROUND MATCHUPS
NO. 22 CHERRY CREEK (7-8-1) VS. NO. 6 CHEROKEE TRAIL (13-2-1)
4 p.m., Legacy Stadium
Breakdown: Cherry Creek and Cherokee Trail meet in the postseason just three weeks after they faced off in Centennial League play in a 3-2 decision won by the Cougars on Oct. 9. All five goals in the game were scored in the opening half, with Marcello Barretto, Ben Garcia and Luis Mercado tallying for Cherokee Trail…Cherry Creek comes into the second round after a 2-1 overtime upset win over No. 11 Ralston Valley in the opening round Oct. 25 at the North Area Athletic Complex in a game that saw junior Bryce Loui score a golden goal less than a minute into overtime to end it. Junior Nolan Roberta also scored for the Bruins. Cherry Creek reports no statistics to MaxPreps, but the Bruins have scored 25 goals in 16 games this season and yielded 30…Cherokee Trail plays in the second round after escaping with a 3-2 overtime win over No. 27 Legend in its first round contest Oct. 25 at Stutler Bowl. Senior Carlos Melendez tallied the game-winner in the extra session for coach Tori Hardy's Cougars, who let a 2-1 lead slip away after they allowed an own goal late in the opening half. Ben Garcia and Cole Seperich also scored for Cherokee Trail. Senior Mike Menzies leads the Cougars with 15 goals, while Garcia now shares second with seniors Dylan Reimer and Mitchell Martinez with seven apiece. Winner: The Cherry Creek-Cherokee Trail winner moves on to the quarterfinals where it will face either No. 19 Rangeview or No. 3 Grandview.
NO. 19 RANGEVIEW (12-4) VS. NO. 3 GRANDVIEW (14-1-1)
6 p.m., Legacy Stadium
Breakdown: Rangeview and Grandview meet again more than two months after they opened the regular season against each other on Aug. 23, a game won 2-1 by Wolves when senior Jaime Luna scored in the second half to break a deadlock. Senior Peter Goldy scored the other goal for Grandview, while junior Rashid Seidu-Aroza accounted for Rangeview's lone goal…Rangeview delivered one of the three upsets in the opening round of the playoffs when it visited No. 14 Mountain Range and prevailed 3-2 for its 10th win in the past 11 games. The EMAC champions got two goals from Seidu-Aroza — who currently leads all of Class 5A with 27 goals — plus another from junior Braidon Nourse that proved to be the game-winner, while Nourse, Seidu-Aroza and sophomore Eric Cerna had assists. Three of the four losses this season for the Raiders thus far came to teams that remain among the 16 teams still alive in the postseason (No. 3 Grandview, No. 6 Cherokee Trail and No. 23 Rocky Mountain). Rangeview has scored 75 goals, just one fewer than 5A leader Denver East, but has also allowed 36 goals against on the season. Seidu-Aroza has 27 goals, senior Alexis Flores has scored 17 goals to go with 17 assists and senior Wally Solanke has tallied 12 goals. Senior Jason Chavez has notched 16 assists…Grandview blanked low-scoring No. 30 seed Greeley West 3-0 in the first round with senior Raymond Jackson's early goal holding up as the game-winner, while senior Noe Ortiz Pena and junior Ivan Luna also found the back of the net. Senior Jose Raya was credited with the only assist for the Wolves, who racked up 12 shots on goal and allowed just one. Grandview has now won seven straight games dating back to its only loss of the season, a 3-2 Centennial League loss to Arapahoe Sept. 25. The Wolves' diverse offense has had 14 players score at least one goal with senior Jaime Luna's 10 putting him atop the scoring list, with Ortiz Pena (a transfer from William Smith who didn't play in the team's first matchup with Rangeview) is next with eight. Jackson paces the team in assists with eight, while Ortiz Pena and senior Ian Oltman have six assists. Senior keeper Cobi Wood needed to make just one save against Greeley West to record his eight shutout. Winner: The Rangeview-Grandview winner moves on to the quarterfinals where it will face either No. 22 Cherry Creek or No. 6 Cherokee Trail.
— Full Class 5A state playoff scoreboard and schedule, here