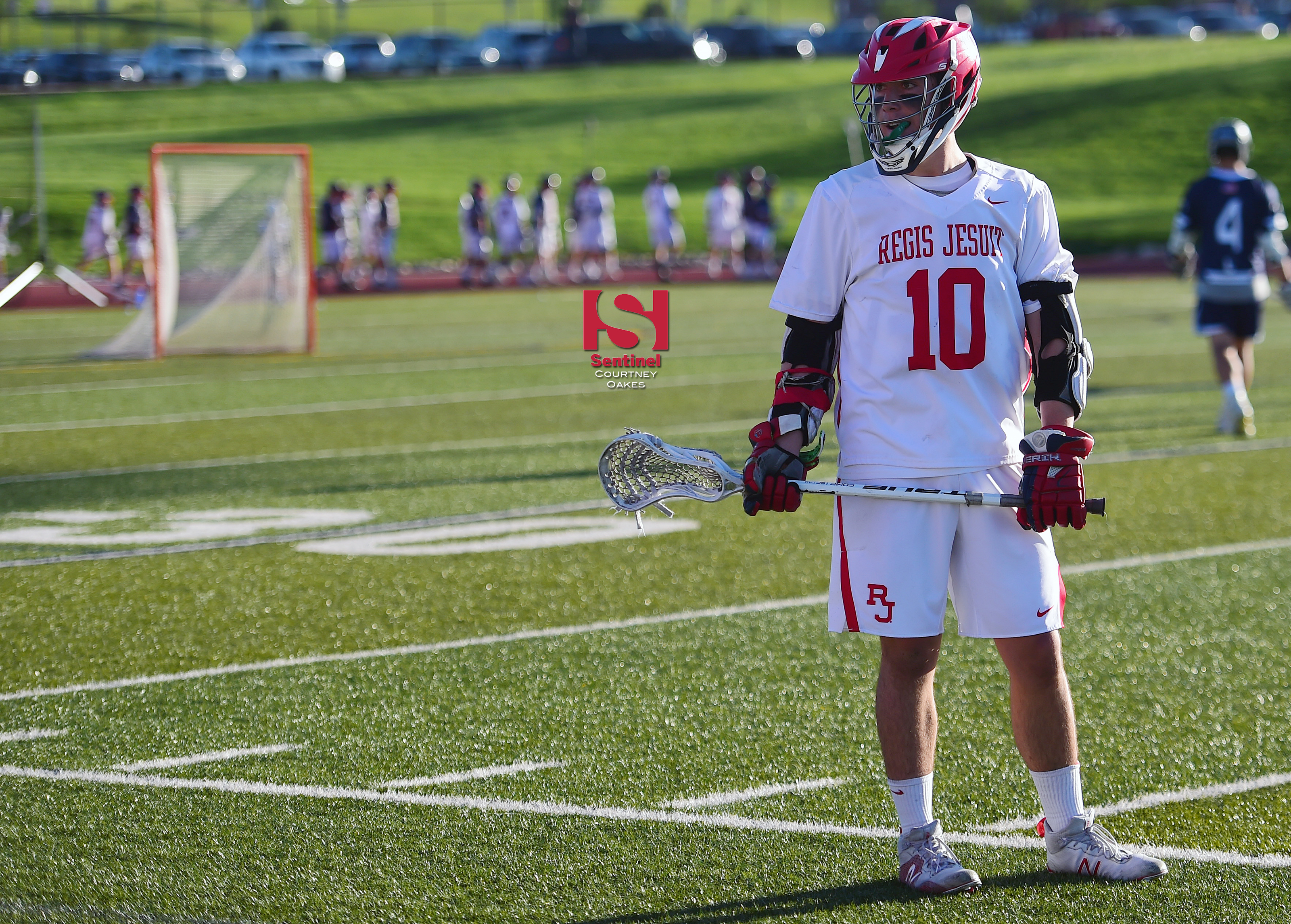 Aurora teams won plenty at the end of the spring prep sports season, but none did it quite like the Regis Jesuit boys lacrosse team.
The Raiders mowed down opponents in the postseason and were rarely challenged as they finished the season undefeated against Colorado teams and with just one loss total (18-1).
Regis Jesuit — which downed Kent Denver 10-4 in the Class 5A state championship game May 18 at Mile High Stadium — were fueled by supreme talent all over the field, a lot of which appears on the 2018 Sentinel All-Aurora Boys Lacrosse Team, which is selected by the Sentinel in conjunction with input and balloting of Aurora coaches.
Coach Jim Soran's Raiders owned the most prolific offense in 5A — by more than a double-digit goal margin — and the fulcrum of that attack was senior Jake Taylor, by far the classification's top goal scorer who piled up 62 goals to go with 16 assists for 79 points, second-best in 5A.
Taylor, who has given his verbal commitment to Notre Dame, was one of two All-Americans on offense for Regis Jesuit, as he is joined in the honor by junior midfielder Reed Babcock, a University of Denver commitment.
Babcock racked up 31 goals on the season and lifted his game up during the postseason, when he had hat tricks against Chaparral and Columbine.
Senior Anders Erickson — who was a major part of the Regis Jesuit ice hockey team's state championship in the winter — proved a key cog as well in the lacrosse title, as he racked up an Aurora-best 35 assists (which tied for third-most in the state) in addition to 34 goals.
Also in the midfield, senior Will Dennen — a state champion No. 1 doubles tennis player in the fall at Regis Jesuit — played to an All-South Suburban League first team level and also earned Academic All-American distinction. He had 18 goals and 11 assists.
Despite ushering in a lot of new faces on defense, Regis Jesuit also had one of the stingiest defenses in the state and allowed just 5.8 goals per game. With help from an offense that maintained significant possession, the Raiders were particularly good when it mattered most as they allowed a combined six goals in the semis and final.
Drexel signee and senior LSM Charlie Maly and University of Utah-bound Dom Mata were relentless forces in the back, while senior Patrick Roe played to an All-American level as a defensive midfielder as well. Senior Matthew McCarthy — a state finalist in doubles during the tennis season in the fall — had large shoes to fill in the goal and did so quite well.
Though it fell shy of a playoff berth, Cherokee Trail had a talented roster that earned one more win than the previous season and made other games more competitive.
Junior LSM Malik Sparrow was very much a game-changer and earned recognition as the Centennial League's Player of the Year, seemingly a rarity for a non-offensive player.
Sparrow earned all-league first team honors with three other teammates including seniors Chase Street (attack) and Cameron Gilmore (midfield), the highest-scoring duo in the Centennial League and one of the tops in the state as well.
Street racked up 43 goals — topped by an eight-goal outburst against Eaglecrest — and the University of Utah-bound Gilmore added 38, while they had 15 and 13 assists, respectively.
Grandview missed out on its accustomed spot in the postseason, but a solid senior class helped a young roster to a solid 8-8 mark.
Among that group was senior Colby Moore, a University of Denver signee who yet again gave the Wolves a stopper on the defensive end. Moore's savvy in key moments was crucial for Grandview.
In the midfield, sophomore Ty Hussey earned All-Centennial League first team honors and led Grandview with 24 goals, including the overtime winner that kept the Predators Cup (in the rivalry with Cherokee Trail) with the Wolves.
Courtney Oakes is Sentinel Sports Editor. Reach him at 303-750-7555 or [email protected] Twitter: @aurorasports. FB: Sentinel Prep Sports
2018 SENTINEL ALL-AURORA BOYS LACROSSE TEAM
FIRST TEAM — Attack: Anders Erickson, Regis Jesuit, sr.; Chase Street, Cherokee Trail, sr.; Jake Taylor, Regis Jesuit, jr.; Midfield: Reed Babcock, Regis Jesuit, jr.; Will Dennen, Regis Jesuit, sr.; Cameron Gilmore, Cherokee Trail, sr.; Ty Hussey, Grandview, soph.; Defense: Charlie Maly, Regis Jesuit, sr. (LSM); Dom Mata, Regis Jesuit, sr.; Colby Moore, Grandview, sr.; Malik Sparrow, Cherokee Trail, jr. (LSM); FOGO: Joe Kassal, Regis Jesuit, jr.; SSDM: Patrick Roe, Regis Jesuit, sr.; Goalie: Matthew McCarthy, Regis Jesuit, sr.
SECOND TEAM — Attack: Cade Bruckman, Grandview, soph.; Nick Ringhofer, Regis Jesuit, sr.; Logan Wells, Eaglecrest, jr.; Midfield: James Bowers, Smoky Hill, sr. (M); Alec Breeden, Regis Jesuit, jr. (M); Adam Weintraut, Eaglecrest, sr.; Jordi Yomona, Rangeview, sr. (M); Defense: Vinny Mata, Regis Jesuit, jr.; Tyler Maccagnan, Eaglecrest, jr. (LSM); Spenser Nam, Cherokee Trail, sr. (D); FOGO: Trevor Crosby, Grandview, sr.; SSDM: Max Smith, Regis Jesuit, sr.; Goalie: Alex Gomez, Overland, sr. (G)
HONORABLE MENTION — Derek Cain, Regis Jesuit, sr.; Will Desmond, Regis Jesuit, sr. (M); Hasan Elsayed, Overland, sr. (D); Keats Hall, Cherokee Trail, sr. (M); Christian Hansen, Grandview, sr. (LSM); Miles Hart, Eaglecrest, jr. (G); Alex Hess, Rangeview, jr. (G); Tate Holleran, Grandview, sr. (A); Cordell Jensen, Cherokee Trail, sr. (M); Luke Keefe, Regis Jesuit, jr. (D); Aryan Kraus, Cherokee Trail, jr. (M); Beau Laracuente, Rangeview, sr. (D); Max Loyola, Regis Jesuit, sr. (D); Bo O'Shaughnessy, Regis Jesuit, jr. (M); Demarius Pittman, Smoky Hill, sr. (DM); Jack Ringhofer, Regis Jesuit, fr. (A); Jack Rogers, Grandview, jr. (A); Dashim Tekle, Overland, sr. (DM); Brad Terry, Regis Jesuit, sr. (G); Izzy Trejo, Rangeview, sr. (FO); Logan Wells, Eaglecrest, jr. (A); Austin Whitcher, Grandview, sr. (D)