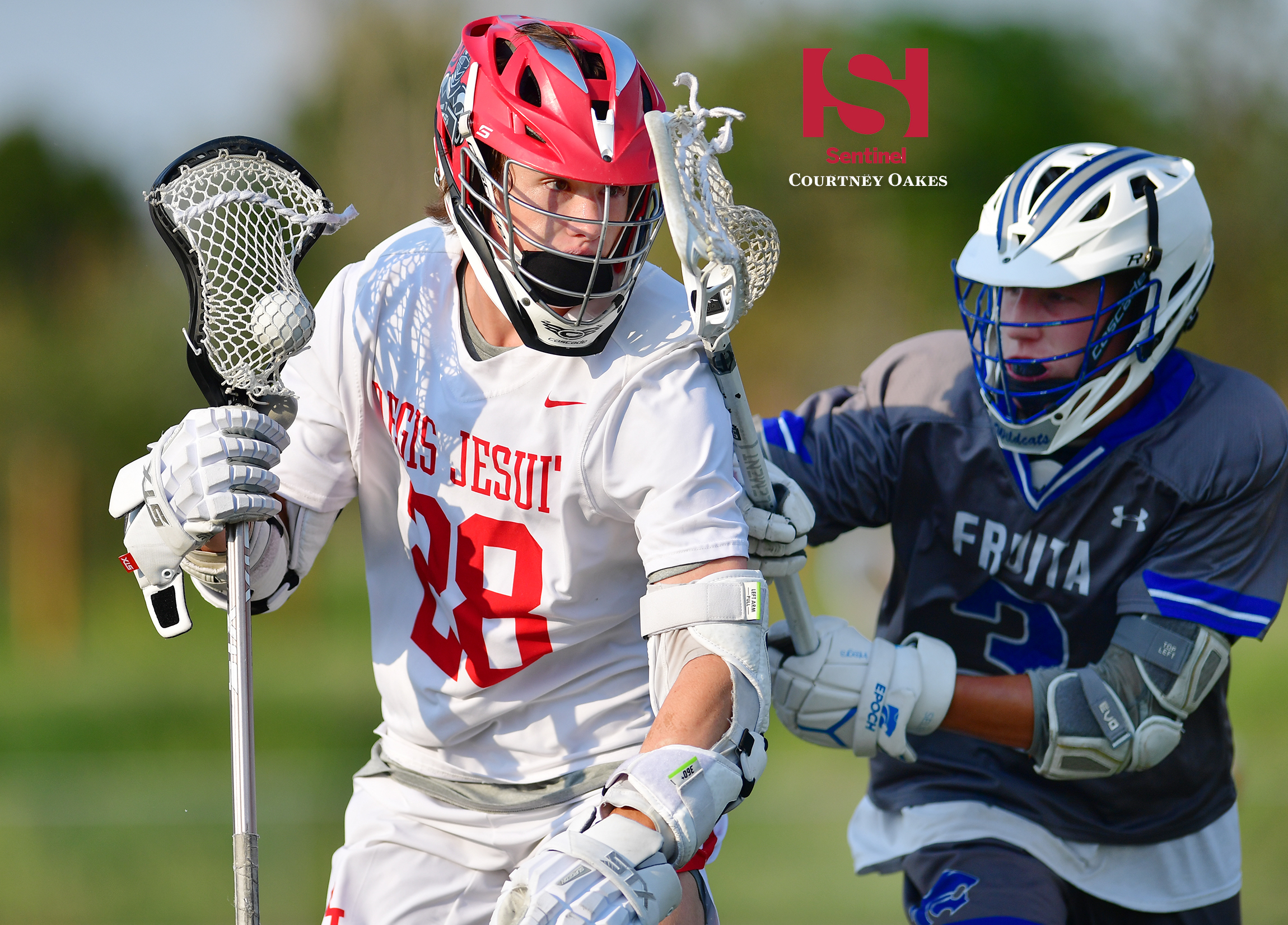 AURORA | The Regis Jesuit boys lacrosse team trades an opponent it didn't know well for one it knows very well as it progresses in the Class 5A state playoffs.
The Raiders opened the postseason Tuesday evening against an unfamiliar foe in Fruita Monument — which didn't play a single Metro area opponent during the regular season — knowing that a showdown with Colorado Academy potentially lay ahead.
Sixth-seeded Regis Jesuit earned the chance to face the Mustangs, one of its rivals, with an 18-4 victory over the 11th-seeded Wildcats at toasty Lou Kellogg Stadium. Coach Jim Soran's team improved to 9-2 and moves into a quarterfinal matchup set for 5:30 p.m. Thursday at Colorado Academy.
One of the Raiders' senior captains — midfielder Jack Egan — came up with a steal and a goal just 48 seconds into the contest and it started an eight-goal opening barrage in the first period for Regis Jesuit.
Senior Will McFadden scored three of his game-high five goals in the first quarter, senior Jack Ringhofer (who had three goals and two assists on the night) and Egan scored twice to put the Raiders in the driver's seat early against Fruita Monument (9-2).
The lead allowed Soran to rotate some younger players in for some experience in some spots, while regulars still got in some work in preparation to play Colorado Academy, which Regis Jesuit last faced during the 2019 regular season.
Junior Logan White scored three goals in the second half and the Raiders upped the lead to double digits in the early stages of the four quarter.
Courtney Oakes is Sentinel Colorado Sports Editor. Reach him at [email protected] Twitter: @aurorasports. IG: Sentinel Prep Sports
(6) REGIS JESUIT 18, (11) FRUITA MONUMENT 4
Score by quarters:
Fruita Mon.   1  2  1  0 —   4
Regis Jesuit  8  1  4  5 — 18
First quarter: Regis Jesuit — Jack Egan, 11:12; Regis Jesuit — Will McFadden, 10:03; Regis Jesuit — McFadden, 9:06; Fruita Monument — Branson Padgett (Jeremy Rice), 6:56; Regis Jesuit — Jack Ringhofer (Ryan Coughlin), 6:24; Regis Jesuit — Egan, 5:45; Regis Jesuit — Ringhofer, 4:23; Regis Jesuit — McFadden (Fletcher Sullivan), 2:41; Regis Jesuit — Matthew Cain, 0:02
Second quarter: Regis Jesuit — McFadden (Sullivan), 10:53; Fruita Monument — Carter Stephens, 4:49; Fruita Monument — Rice (Stephens), 1:50
Third quarter: Regis Jesuit — Logan White (Ringhofer), 10:09; Fruita Monument — Stephens, 6:40; Regis Jesuit — Ringhofer, 6:20; Regis Jesuit — White (Ringhofer), 4:44; Regis Jesuit — McFadden (White), 1:45
Fourth quarter: Regis Jesuit — No. 29, 10:22; Regis Jesuit — Sullivan, 7:22; Regis Jesuit — White, 6:40; Regis Jesuit — No. 27, 3:16; Regis Jesuit — Taylor Rael, 1:24