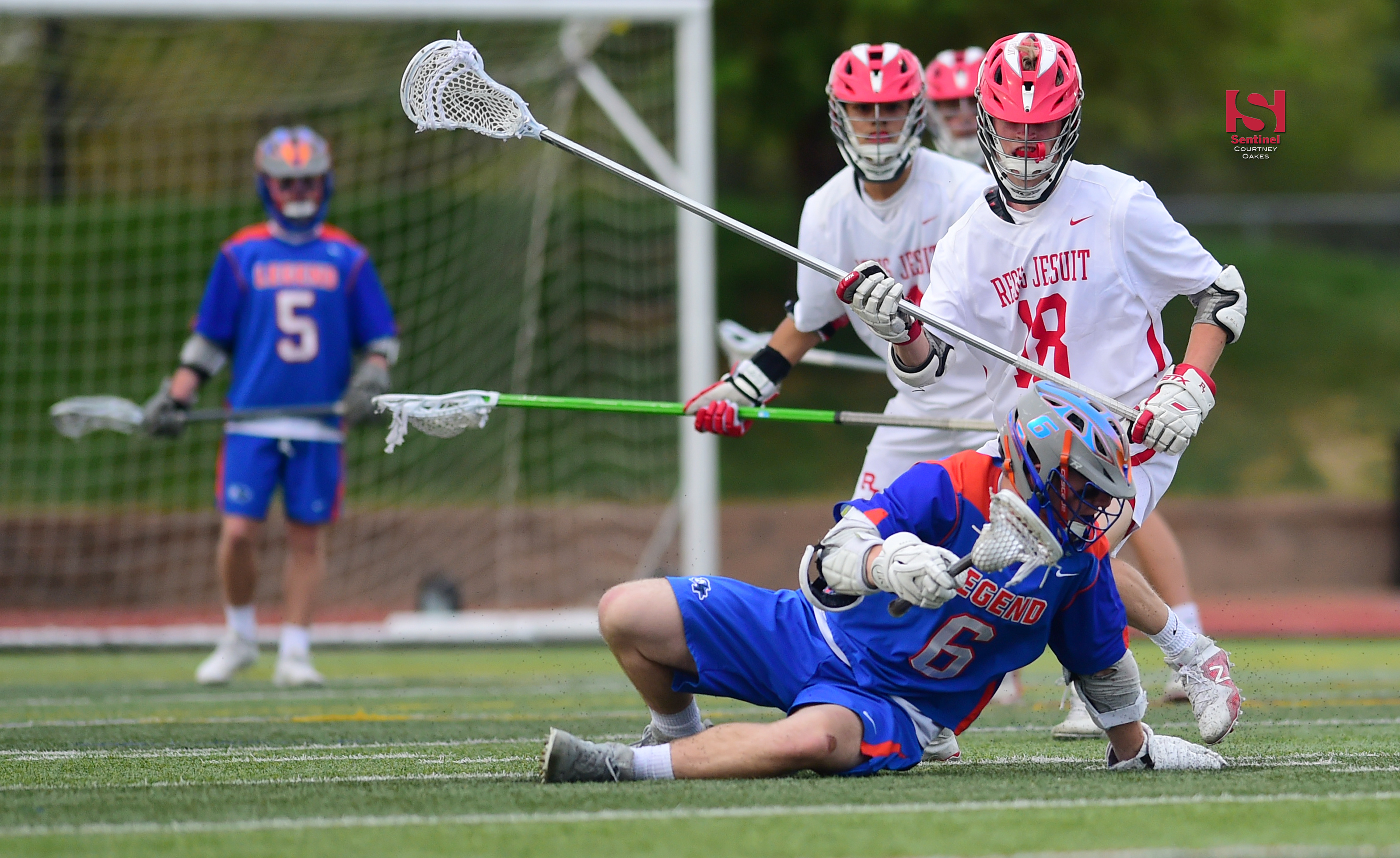 The strength of Regis Jesuit's boys lacrosse team was demonstrated often during the Raiders' run to the Class 5A state championship.
That dominance was reflected in the makeup of Colorado's contingent on the list of 2018 All-Americans, which came out Monday from US Lacrosse.
Four of the state's 13 All-American awards came from Regis Jesuit in recently graduated long stick middle Charlie Maly and midfielder Patrick Roe, along with seniors-to-be Jake Taylor (attack) and Reed Babcock. All four were first team selections on the 2018 Sentinel All-Aurora Boys Lacrosse Team as well.
In addition, graduated Regis Jesuit midfielder Will Dennen earned Academic All-American honors as one of 13 selections from the state.
Roe — an All-State performer as well as a defensive midfielder — is headed to Notre Dame, where he'll be joined in 2019 by Taylor, who was far and away Colorado's state leader in goals with 62 in the 2018 season.
Dennen, who collected 18 goals and 11 assists as a senior, is also headed to Notre Dame to focus on academics. He was a 5A state champion in boys tennis as well.
Maly (a Drexel signee) helped lead a Regis Jesuit defense that allowed just 5.8 goals per game and was especially good in the biggest games with just six goals surrendered in the semifinals and championship game combined.
University of Denver commitment Babcock had two playoff hat tricks and registered 31 goals for the season.
Kent Denver, Regis Jesuit's foe in the 5A final, garnered plenty of awards as well with two All-American selections and three Academic All-American nods, while coach Ben Brenneman was hailed by US Lacrosse as Colorado Coach of the Year.
Arapahoe, Castle View, Chaparral, Cherry Creek, Columbine and Dawson School were all represented on the All-American list, while Air Academy, Columbine, Denver East, George Washington, Golden and Monarch had players hailed as Academic All-Americans.
 Courtney Oakes is Sentinel Sports Editor. Reach him at 303-750-7555 or [email protected] Twitter: @aurorasports. FB: Sentinel Prep Sports
2018 COLORADO US LACROSSE BOYS ALL-AMERICANS
Academic All-Americans: Theoron McAdoo (defense), Golden; WILL DENNEN (MIDFIELD), REGIS JESUIT; Daniel Rahe (attack), Denver East; Carter Rodny (defense), Air Academy; Jonathan Flat (midfield), Air Academy; Will Abbey (midfield), Pomona (Golden); Lukas Drexler-Bruce (goalie), Kent Denver; Timmy Saffold (midfield), Kent Denver; Willy Verneris (midfield), Kent Denver; George Fenton (attack), George Washington; Ian Baldwin (attack), Ponderosa; Jared Hodell (midfield), Monarch; Jacob Hinson (defense), Columbine
All-Americans: Brett Boos (midfield), Chaparral; Ryan Bergner (attack), Kent Denver; Knox Dent (goalie), Cherry Creek; Gavyn Pure (attack), Dawson School; Gabe Mein (attack), Columbine; George Kandel (midfield), Kent Denver; CHARLIE MALY (LONG STICK MIDDIE), REGIS JESUIT; PATRICK ROE (MIDFIELD), REGIS JESUIT; Gabe Minisini (attack), Cherry Creek; Bobby Baltzer (midfield), Arapahoe; Marcus Trujillo (defense), Castle View; REED BABCOCK (MIDFIELD), REGIS JESUIT; JAKE TAYLOR (ATTACK), REGIS JESUIT
Boys' Coach of the Year: Ben Brenneman, Kent Denver