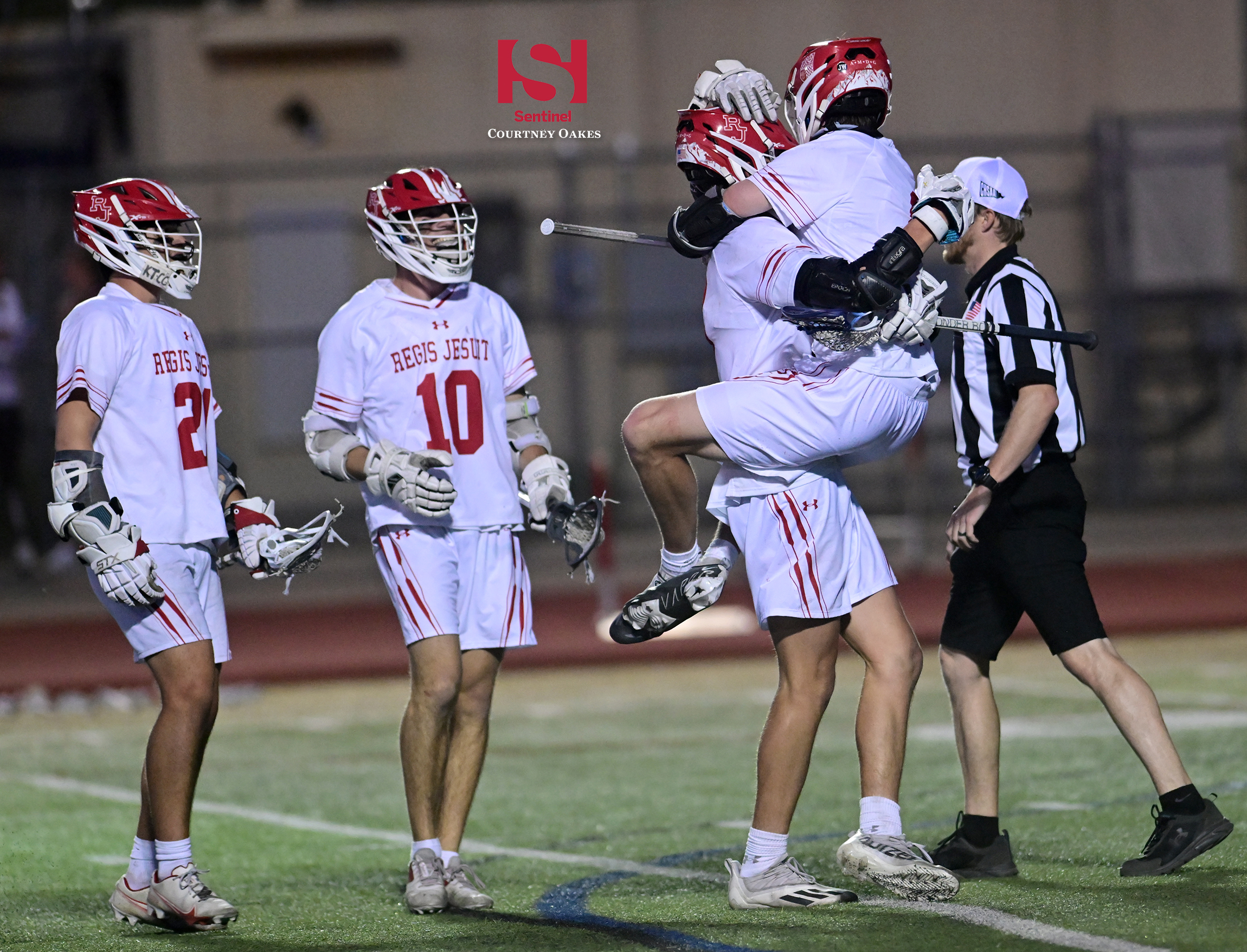 AURORA | Through three-plus quarters Wednesday, the Regis Jesuit boys lacrosse team found itself on the ropes against visiting Kent Denver, but came to life when it mattered the most.
The Raiders — the top seed in the Class 5A state playoffs — played well in spurts against the eighth-seeded Sun Devils, but the visitors to Lou Kellogg Stadium took advantage of nearly every mistake the Raiders made and defended well enough to have a lead with 4 minutes, 28 seconds, remaining in their state quarterfinal matchup.
Sparked by junior Fletcher Sullivan, Regis Jesuit completely dominated crunch time, as it scored four goals and possessed the ball for nearly the entire remaining minutes on its way to an 11-9 victory and a spot in the 5A state semifinals. Senior Logan White tallied three of his five goals in the final period and Sullivan scored four goals for coach Jim Soran's Raiders, who ended up with the most goals of any of the eight teams that played in the quarterfinals.
"I think we just needed to be reminded that we are one of the best teams in Colorado and we just have to play as a team to prove it," said Sullivan, who was a force in the closing run with an assist and multiple faceoff wins after he had scored three of Regis Jesuit's five goals coming into the final period.
"In that fourth quarter, we started playing more as a team, we shared the ball more and we started trusting each other more," he added. "I think teamwork is what lit that spark."
Next up for Regis Jesuit is a semifinal against defending state champion and fifth-seeded Mountain Vista, which knocked off fourth-seeded Colorado Academy 6-5.
The Raiders and Golden Eagles will meet at Peter Barton Stadium on the campus of the University of Denver at 5 p.m. May 23 after it was shifted back two days due to impending inclement weather. Seventh-seeded Poudre School District — which upset No. 2 Cherry Creek 9-8 in overtime — and No. 6 Arapahoe (a 6-3 winner over No. 3 Valor Christian) meet in the other semifinal.
On a night that saw three upsets in four games, Kent Denver came out trying to make it 4-for-4 for underdog teams. The Sun Devils (who lost to Regis Jesuit by just two goals during the regular season) broke out to a 3-0 lead and every time Regis Jesuit rallied, had an answer.
The Raiders had a 4-3 lead in the second quarter that disappeared when Kent Denver secured an elusive loose ball that turned into a Ben Dutton goal. Dutton scored again — with a behind the back shot — in the closing seconds of the half to put Kent Denver ahead.
"There were a lot of transition goals that hurt us," senior defenseman George Bowdouris said. "I think our defense is really good 6-on-6, but the transition goals hurt us."
The second half saw the score tied twice — though the Raiders could have had the lead if not for several deflections off goalposts and solid play by Kent Denver's goalie — before the Sun Devils took an 8-7 lead on Nick Johnson's goal with 4:28 left. Kent Denver hardly had the ball the rest of the way and scored again with 38 seconds left, but faced an insurmountable deficit.
Sullivan assisted on a goal by junior Mattie Cain that tied the score, then junior Ethan Hughes put the Raiders in front with a goal he scored while tumbling to the ground and White added two more goals — including one with 2:47 left that later held up as the game-winner after Kent Denver's final goal — to expand the lead.
The final goal came after a pack of players fought for control of a groundball that went from midfield into Regis Jesuit's end and finally ended up in the stick of junior goalie Spencer Day, who started the transition the other way that led to White's final goal.
"They (the offense) has been doing it all season, so it was great to see them do it in the last quarter," Bowdouris said.
Soran could only say so much to the team, which finally understood the urgency they had to play with as their season hung in the balance.
"I think they were realizing that it was time," Soran said. "They hadn't really been playing with much heart and they had to turn it up. They knew it was the end if they didn't."
Regis Jesuit now heads into a matchup with Mountain Vista, a team it defeated 13-12 during the regular season.
"They are a great team and very good offensively, so we have to play our best defense," Soran said. "I think our strength is defense, so we'll go at them.
"We have more work to do, but we're where we want to be."
Courtney Oakes is Sentinel Colorado Sports Editor. Reach him at [email protected] Twitter: @aurorasports. IG: Sentinel Prep Sports
2022 CLASS 5A BOYS LACROSSE QUARTERFINALS
(1) REGIS JESUIT 11, (8) KENT DENVER 9
Score by quarters:
Kent Denver  3  2  2  2 —  9
Regis Jesuit   1  3  2  5 — 11
SCORING
First quarter: Kent Denver — Cade Oxley, 7:25; Kent Denver — Oxley (Nick Johnson), 5:47; Kent Denver — Johnson, 5:07; Regis Jesuit — Fletcher Sullivan, 3:36
Second quarter: Regis Jesuit — Sullivan, 10:45; Regis Jesuit — Logan White (Cal Schieffer), 6:36; Regis Jesuit — White, 5:49; Kent Denver — Ben Dutton, 4:46; Kent Denver — Dutton, 0:08
Third quarter: Regis Jesuit — Sullivan, 6:46; Kent Denver — Dutton (Johnson), 6:35; Kent Denver — Christopher Eiselein, 3:04
Fourth quarter: Regis Jesuit — Sullivan, 7:16; Regis Jesuit — White, 6:21; Kent Denver — Johnson, 4:28; Regis Jesuit — Mattie Cain (Sullivan), 4:12; Regis Jesuit — Ethan Hughes, 3:05; Regis Jesuit — White, 2:47; Regis Jesuit — White, 1:49; Kent Denver — Eiselein, 0:38