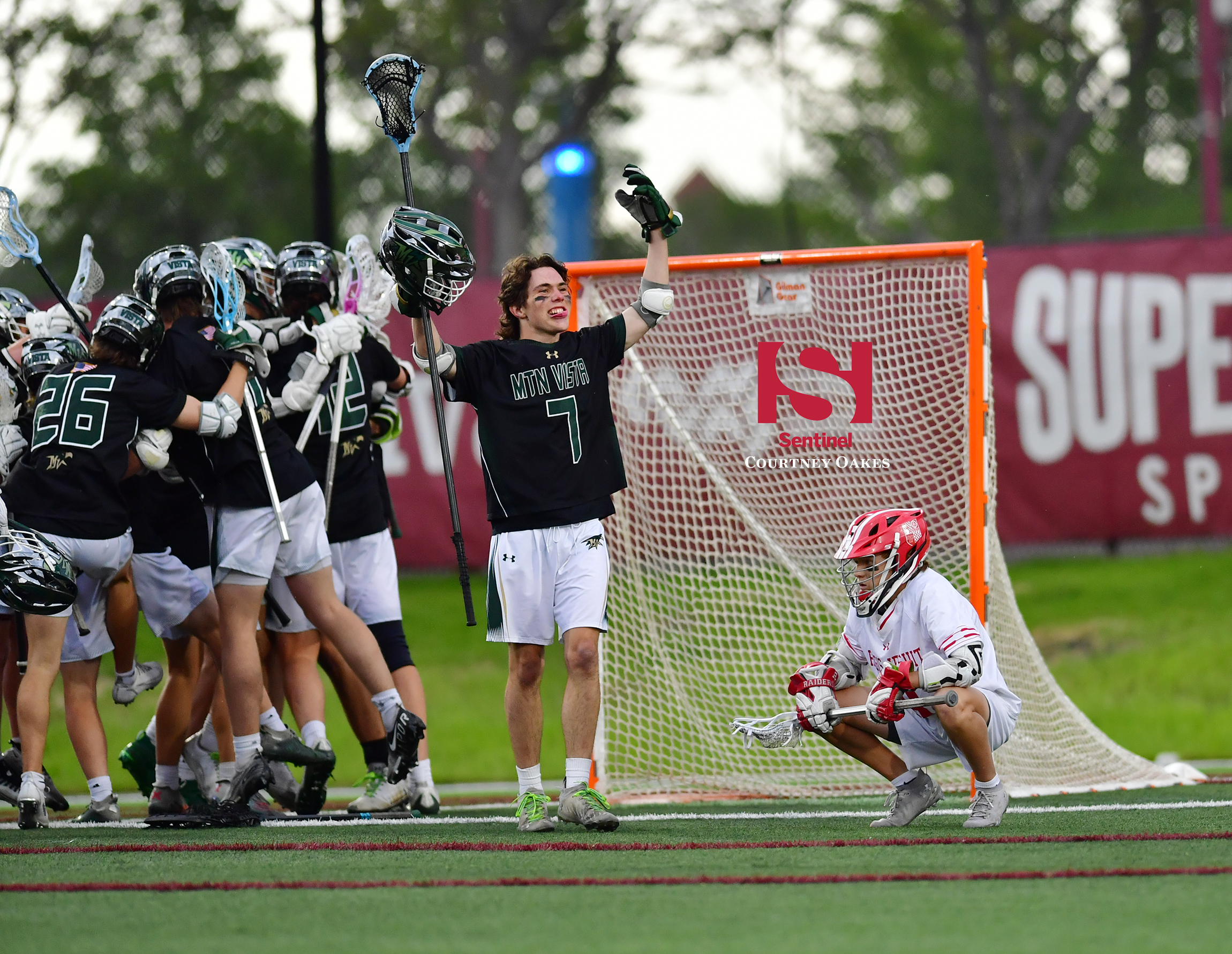 DENVER | Fletcher Sullivan earned space and had the goalie beat as the final seconds elapsed Monday at Peter Barton Stadium.
The Regis Jesuit junior launched a low shot that, if it found its mark, would have given the Raiders new life by sending their Class 5A boys lacrosse semifinal with Mountain Vista into overtime.
But the goalpost had other ideas, as it barred Sullivan's shot from going in with an audible clang that brought a heartbreaking end to Regis Jesuit's season in a 9-8 loss to the fifth-seeded Golden Eagles, who advanced to the state championship game for the second season in a row.
Sullivan finished with four goals, while senior Logan White added two and junior Mattie Cain and senior Charlie Denlinger also scored for coach Jim Soran's Raiders, who finished the season 15-3. Both Colorado losses for Regis Jesuit came to the teams that will play for the state championship at 7:30 p.m. Friday in Mountain Vista as well as No. 6 Arapahoe, which defeated No. 7 Poudre School District in the other semifinal.
Courtney Oakes is Sentinel Colorado Sports Editor. Reach him at [email protected] Twitter: @aurorasports. IG: Sentinel Prep Sports
2022 CLASS 5A BOYS LACROSSE STATE SEMIFINALS
May 23 at Peter Barton Stadium (Univ. of Denver)
(5) MOUNTAIN VISTA 9, (1) REGIS JESUIT 8
Score by quarters:
Mtn. Vista       5  1  2  1 — 9
Regis Jesuit     1  3  2  1 — 8
SCORING
First quarter: Mountain Vista — Riley Jenkins, 10:02; Mountain Vista — Jake Stopkoski, 9:15; Mountain Vista — Stopkoski, 3:03; Mountain Vista — Stopkoski, 2:47; Regis Jesuit — Mattie Cain (Conner Nesbitt), 2:34; Mountain Vista — Jenkins, 1:52
Second quarter: Regis Jesuit — Logan White, 11:25; Regis Jesuit — Fletcher Sullivan, 9:54; Mountain Vista — Brady Brown, 5:40; Regis Jesuit — White (Sullivan), 5:08
Third quarter: Regis Jesuit — Sullivan, 10:58; Regis Jesuit — Sullivan, 2:17; Mountain Vista — Brady Brown, 1:24; Mountain Vista — Stopkoski, 5.9
Fourth quarter: Regis Jesuit — Charlie Denlinger, 5:48; Mountain Vista — Joel Palasz (Dillon Pless), 1:38; Regis Jesuit — Sullivan, 1:15