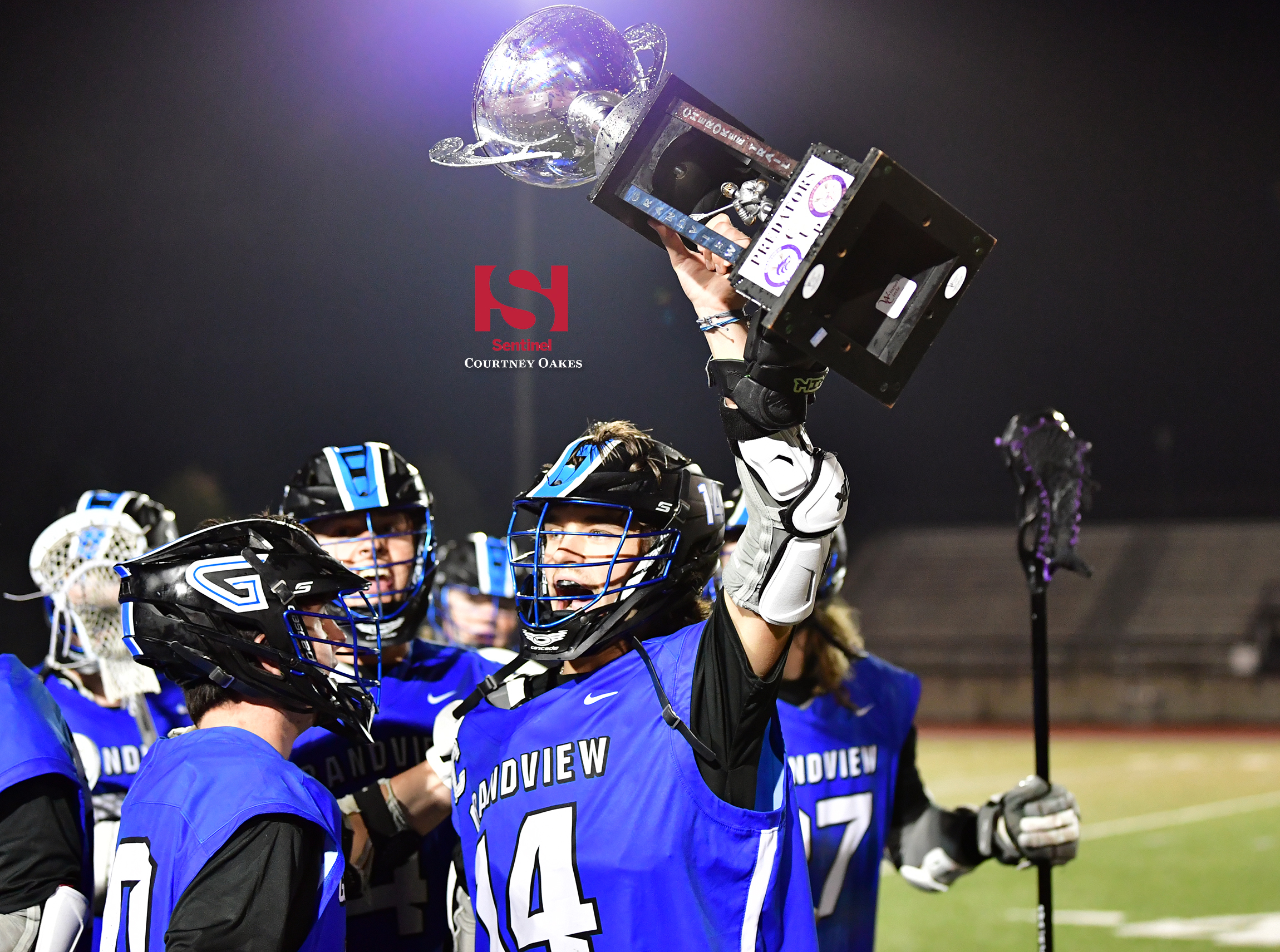 AURORA | The Grandview boys lacrosse team has firmly sunk its teeth into the Predators Cup and it doesn't want to let go of it anytime soon.
The Wolves kept custody of the traveling trophy in its series with fierce rival Cherokee Trail for a sixth straight year — seven since the game wasn't contested last season due to the coronavirus pandemic — with a spirited 18-12 victory Monday night at soggy Legacy Stadium.
Grandview scored at least four goals in every quarter — topped by six in the second quarter that gave it a good lead it would hold the rest of the way — and kept the Cougars at bay to improve to 3-0 in the first season under coach Keith Lindgren.
"In the three years I've been here that we've played, we've won it every time and never given it to CT," said senior Luke McGahey, who looked forward to restoring the trophy to its usual place in the school's commons area.
"We're trying to keep it that way," he added.
Junior John Alie led the Grandview attack with seven goals to go with three assists, while McGahey and fellow senior Tommy Cole added three apiece, junior Nikolas Moore had a pair of goals and three assists as the Wolves matched their season-high offensive output set in their opener against Dakota Ridge.
Junior goalie Luke Parish stopped 16 of the 25 shots he saw for Grandview.
Cherokee Trail went ahead 2-0 early on goals by junior Evan Gibbs and senior Flint Thielen, but trailed by a goal at the end of one quarter and eventually by seven after three after it was outscored 10-4 in the middle two quarters.
Coach Jamie Calhoun's team scored four straight goals in the fourth quarter before its comeback came up short. Thielen and Gibbs each scored four times for the Cougars, who had their highest goal total of the season.
Cherokee Trail — which got its last win against Grandview in the series back in 2013 before the arrival of the Predators Cup — now sits at 2-2.
Both teams return to action Thursday on the road, with Cherokee Trail at Arapahoe at 5 p.m. and Grandview at Kent Denver at 6 p.m.
Courtney Oakes is Sentinel Colorado Sports Editor. Reach him at [email protected] Twitter: @aurorasports. IG: Sentinel Prep Sports
GRANDVIEW 18, CHEROKEE TRAIL 12
Score by quarters:
Grandview  4  6  4  4 — 18
Cher. Trail  3  2  2  5 — 12
SCORING
First quarter: Cherokee Trail — Evan Gibbs; Cherokee Trail — Flint Thielen; Grandview — John Alie; Grandview — Jaxon Kelly; Grandview — Noah Wehrman; Grandview — Alie; Cherokee Trail — Brek Thielen
Second quarter: Grandview — Alie; Cherokee Trail — Jacob Burnette, 8:54; Grandview — Alie, 7:50; Grandview — Alie, 5:58; Grandview — Nikolas Moore, 5:15; Grandview — Ronan Abeyta (Moore), 4:24; Cherokee Trail — Gibbs, 3:11; Grandview — Luke McGahey, 59.2
Third quarter: Grandview — McGahey, 8:46; Grandview — Wehrman, 8:18; Grandview — Tommy Cole, 7:51; Cherokee Trail — Grant Green, 5:55; Grandview — Alie (Abeyta), 1:49; Cherokee Trail — Flint Thielen, 1:33
Fourth quarter: Grandview — Cole (Moore), 9:59; Grandview — Alie, 8:18; Cherokee Trail — Flint Thielen, 6:46; Cherokee Trail — Gibbs, 5:47; Cherokee Trail — Flint Thielen, 5:06; Cherokee Trail — Bode Thielen, 3:26; Grandview — McGahey, 1:44; Grandview — Cole, 1:31; Cherokee Trail — Gibbs, 1:09