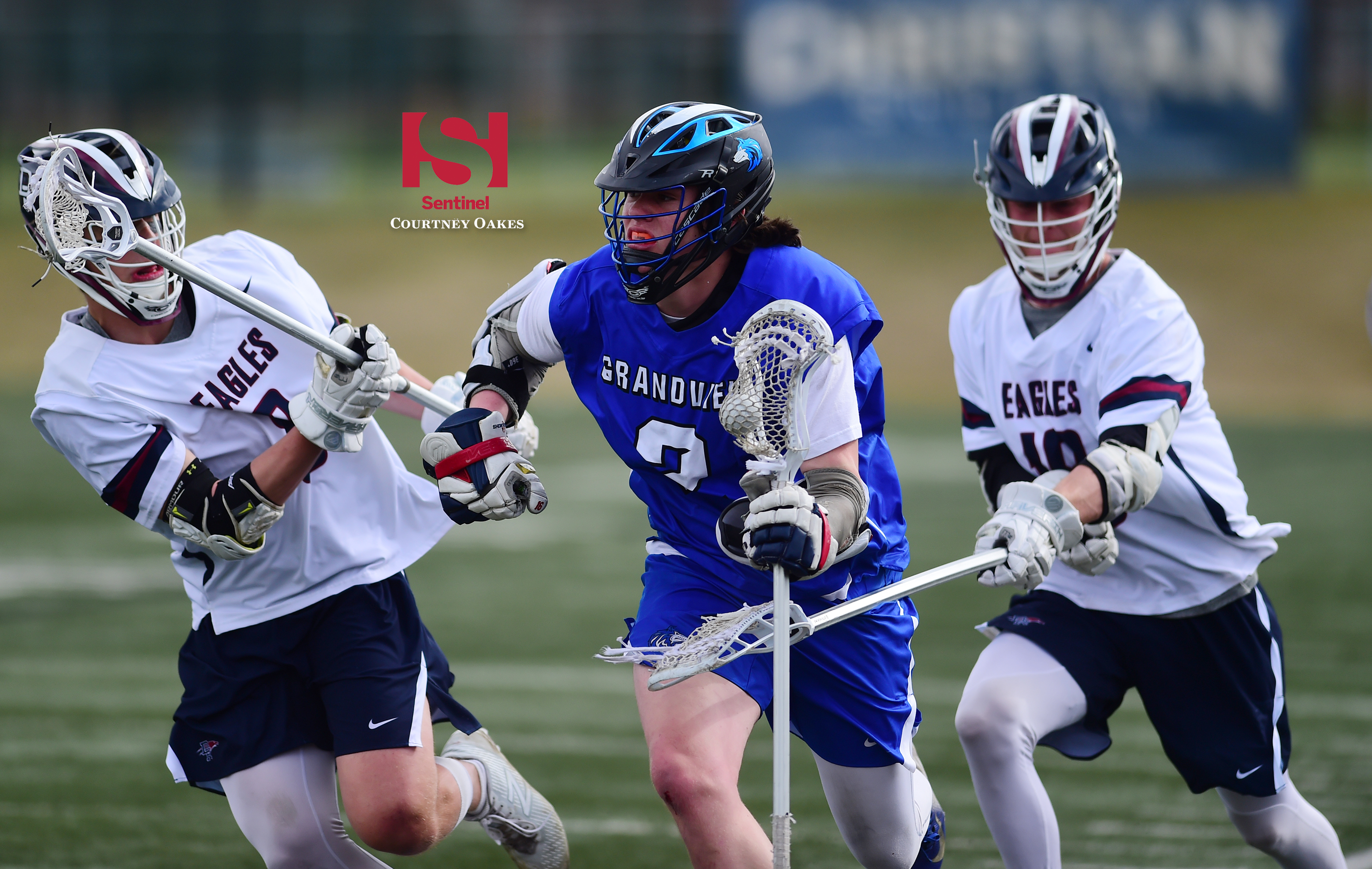 LITTLETON | With back-to-back games against Arapahoe and Cherry Creek looming, the Grandview boys lacrosse team could have been caught looking past its matchup against Dakota Ridge Wednesday.
The Wolves might have lost focus at times against the Eagles at Trailblazer Stadium, but were dialed in plenty — especially on the offensive end — on their way to a 19-8 victory.
A four-goal burst in the span of a minute and a half in the opening quarter got the ball rolling for Grandview on its way to a season-high offensive output. Coach Scott Hussey's team improved to 5-1 overall ahead of a Saturday game against top-ranked Arapahoe at Littleton Public Schools Stadium.
Against Dakota Ridge, the Wolves had 10 different goal scorers and were paced by Jack McGahey with four goals — including another behind-the-back tally — while fellow juniors Cade Bruckman and Ty Hussey scored three goals apiece and senior Jack Rogers had two goals and two assists besides difference-making work in the faceoff circle.
Courtney Oakes is Sentinel Colorado Sports Editor. Reach him at 303-750-7555 or [email protected] Twitter: @aurorasports. FB: Sentinel Prep Sports
GRANDVIEW 19, DAKOTA RIDGE 8
Score by periods:
Grandview       7  4  3  5 — 19
Dakota Ridge   1  4  1  2 —   8
SCORING
First period: Grandview — Cade Bruckman (Noah Schmidt), 9:16; Grandview — Luke McGahey (Bruckman), 9:07; Grandview — Jack McGahey (Bruckman), 8:14; Grandview — Ty Hussey, 7:46; Grandview — Evan Humphrey, 7:10; Grandview — Jack McGahey (Luke McGahey), 6:17; Dakota Ridge — Drew Eickelman, 4:33; Grandview — Bruckman, 1:08
Second period: Grandview — Hussey, 11:27; Dakota Ridge — Ryan Kissinger (Charlie Offerdahl), 10:04; Dakota Ridge — 35, 9:14; Grandview — Trevor Prins; Grandview — Jack McGahey (Bruckman); Dakota Ridge — Kissinger (Drew Eickelman), 5:25; Dakota Ridge — Offerdahl, 5:03; Grandview — Bruckman (Jack Rogers), 2:36
Third period: Dakota Ridge — Drew Eickelman; Grandview — Jack McGahey (Rogers), 6:15; Grandview — Hussey, 2:48; Grandview — Rogers, 2:35
Fourth period: Grandview — Tommy Cole (Kyle Trumble); Dakota Ridge — Jacobi Villamaria (Kissinger), 6:05; Grandview — Rogers (William McClure), 5:06; Dakota Ridge — Nathaniel Stewart, 4:33; Grandview — McClure (Prins), 3:34; Grandview — Trumble, 2:52; Grandview — Cole (Keegan Watts), 10.1