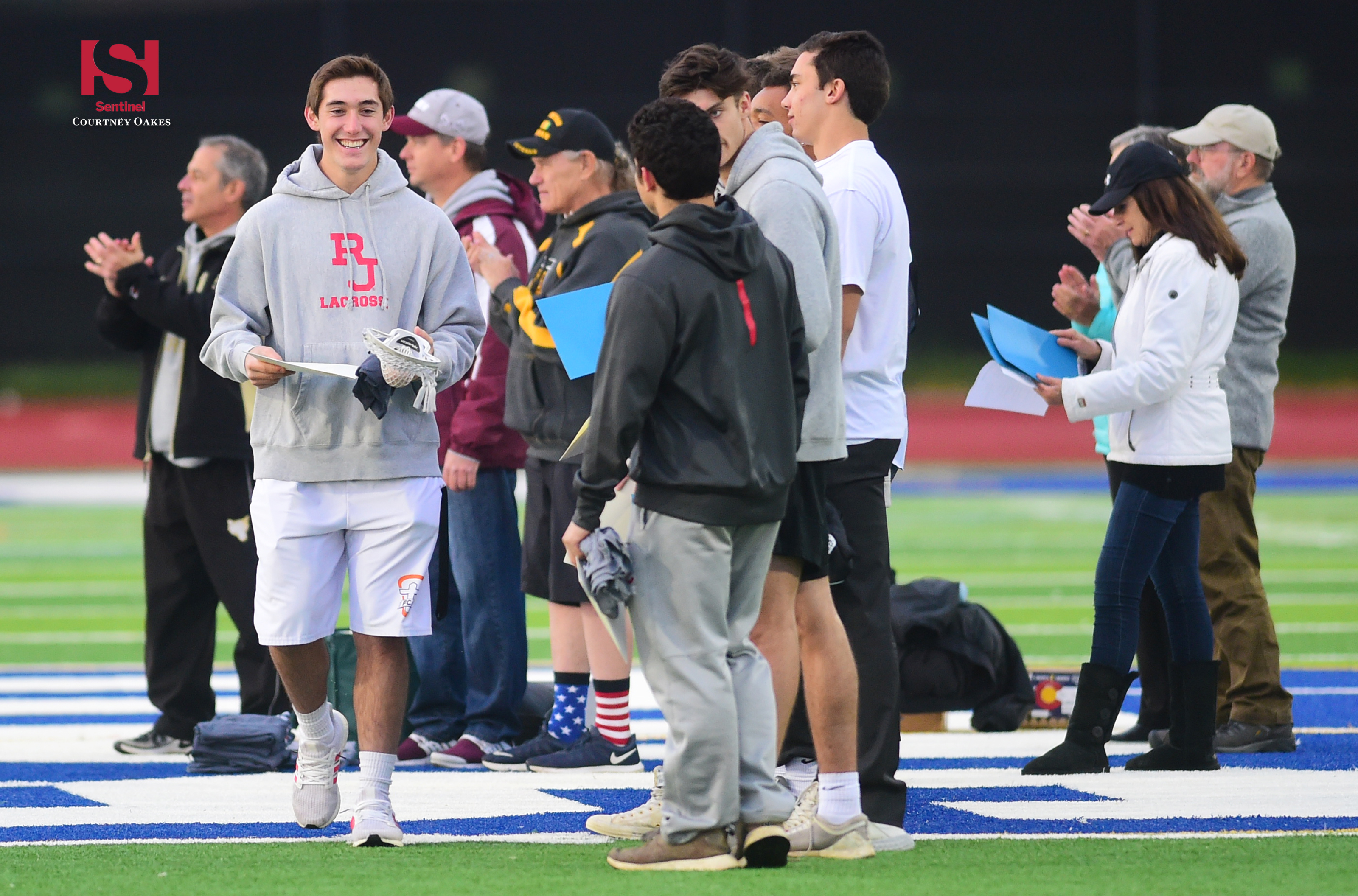 DENVER | Aurora boys lacrosse players from a variety of places earned postseason accolades for the recently completed 2019 season.
The Colorado High School Coaches Association recognized award winners prior to the annual Froehlicher-Toll All-State Game May 23 at All-City Stadium with plenty of locals onhand.
The Regis Jesuit senior duo of attackman Jake Taylor and midfielder Reed Babcock — who helped the Raiders reach the Class 5A state quarterfinals — were two of Colorado's 13 players selected as All-Americans. The University of Notre Dame-bound Taylor racked up a team-high 49 goals and added 16 assists for Regis Jesuit, while Babcock (a University of Denver recruit) chipped in 25 goals and 19 assists in 17 games.
The 14-player list of Academic All-Americans from Colorado included another Regis Jesuit player in senior Bohdan O'Shaughnessy, while Overland senior Hasan Elsayed also earned the prestigious honor.
Regis Jesuit's Isaac Lloyd received one of the special annual awards — the Doc Stabler Award — which goes annually to a player recognized by the organization as "not only an outstanding lacrosse player, but has demonstrated excellence in the academic classroom, displayed leadership abilities, shown school and community involvement over and above the lacrosse field and is considered to have overall superior personal characteristics."
Grandview's Scott Hussey — who led the Wolves to their best-ever season that included 14 wins, a home game in the 5A playoffs and a trip to the quarterfinals — was selected 5A's Coach of the Year.
Hussey — who also garnered the Centennial League Coach of the Year award — also got to co-coach the Orange Team at the annual Froelicher-Toll game, guiding a roster that included his son, Grandview junior Ty Hussey (a first team All-State selection).
Regis Jesuit coach Jim Soran co-coached the Black Team, which included a trio of Raiders in Taylor, Babcock and senior defender Luke Keefe, plus Cherokee Trail senior LSM Malik Sparrow.
Courtney Oakes is Sentinel Colorado Sports Editor. Reach him at 303-750-7555 or [email protected] Twitter: @aurorasports. IG: Sentinel Prep Sports
2019 COLORADO HIGH SCHOOL BOYS LACROSSE AWARDS
All-Americans: JAKE TAYLOR, ATTACK (REGIS JESUIT) — NOTRE DAME; Lance Tillman, attack (Valor Christian) — North Carolina; Gabe Minisini, attack (Cherry Creek) — Undecided; Caden Meis, midfield (Legend) — Drake; Max Hewitt, midfield (Kent Denver) — Army (West Point 2020); REED BABCOCK, MIDFIELD (REGIS JESUIT) — UNIVERSITY OF DENVER; Marcus Trujillo, defense (Castle View) — Hobart; Aidan Abram, defense (Erie) — University of Denver; Cole Finley-Ponds, defense (Denver East) — Johns Hopkins; Brody Rule, defense (Highlands Ranch) — Bryant; Pace Billings, defense (Kent Denver) — Princeton (2020); Eric Pacheco, FO/midfield (Valor Christian) — Loyola; Ryan Burdi, goalie (Green Mountain) — Colorado Mesa
Academic All-Americans: Brady desGarennes (Golden), California Polytechnic State University; Carson Smail (Cherry Creek), University of Colorado; Jonathan Gruener (Dawson/Peak to Peak), University of Colorado; Andrew Mottram (Littleton), Lehigh University; HASAN ELSAYED (OVERLAND), UNIVERSITY OF COLORADO; August "Mustang" Sally (Denver East), University of Richmond; Jacob Brunner (Lakewood), Johns Hopkins; Thomas Lennon (Lewis-Palmer), Colgate University; Oliver Greenwald (Kent Denver), Duke University; Will Moreland (Kent Denver), University of Michigan; John "Jack" Thompson (Rock Canyon), University of Denver; Connor Brook (Colorado Academy), Colgate University; BOHDAN O'SHAUGHNESSY (REGIS JESUIT), UNIVERSITY OF NOTRE DAME; Leo Grossman (Columbine), University of Colorado
Award winners: Doc Stabler Award — ISAAC LLOYD (REGIS JESUIT); Coach of the Year — 5A: SCOTT HUSSEY (GRANDVIEW); 4A: Nate Hallahan (Green Mountain); Assistant Coach of the Year — 5A: Roger Yago (Wheat Ridge); 4A: Steve McGee (Thompson Valley); Man of the Year — Dax Roane (Monarch); Ken Ranta Sportsmanship Award — Tom Cox (Aspen); Zach Hills Inspirational Award — Dawson Santangelo (Dawson School); Colin Cassidy Memorial Award — Trent Graves (Ralston Valley)