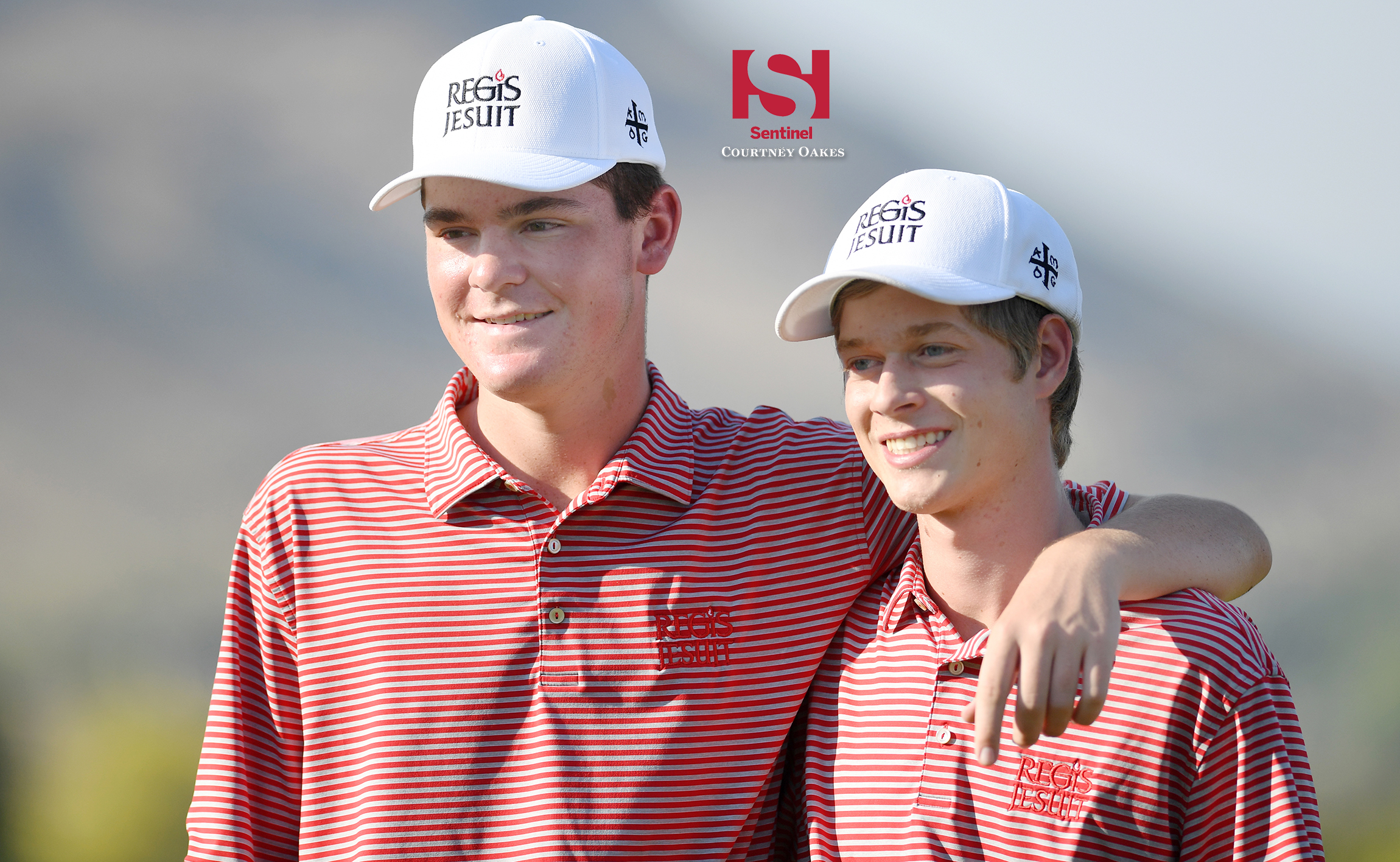 The most naturally inclined sport of the fall — golf — for social distancing went off mostly without a hitch for Aurora teams in 2020.
Golfers began practice before any of the other fall sports that were allowed to be played in the midst of the coronavirus pandemic (though that is the case in a typical year as well) and culminated the season with a Class 5A state tournament at The Club at Rolling Hills in Golden that ended in remarkable fashion.
The 2020 Sentinel Colorado All-Aurora Boys Golf Team, as determined by performance at the Class 5A or 4A state tournaments, includes the Regis Jesuit trio of seniors Teddy Hummel and Ryan Occhionero as well as junior Liam Wood in addition to Grandview junior Kenny VanWormer and Eaglecrest sophomore Andrew White.
Coach Craig Rogers Regis Jesuit program didn't have a four-player team at state for the first time in several years — a testament to a loaded regional tournament they ended up in — but the three Raiders that made it to the state tournament played well.
Occhionero played solidly in Continental League play as he earned second team all-league honors, with a best effort a tie for seventh in the meet at Meadow Hills G.C.
He saved his best for his last round of the season at the state tournament, when he closed with a flurry and made a run at winning the individual state championship that ended with the heroics of Valor Christian's Lucas Schulte on the final hole.
Occhionero put himself in the top 10 with a 77 on the opening day of the state tournament, which was made difficult for all qualifiers by a gusting wind and a change in pin locations from practice rounds.
Occhionero's performance in the second round was incredibly clutch and he finished with a round of 70, just one stroke behind Ralston Valley's Trey Kirschner for the best score of the day.
Despite their scorching second round showings, Occhionero and Kirschner ended up settling for a share of second place after Schulte made an eagle on Hole No. 18 that delivered him the individual state title and secured the team championship for his Eagles in one fell swoop.
Occhionero — who finished with seven birdies in two state rounds — secured Regis Jesuit's highest individual finish at the 5A state tournament since Spencer Painton won the individual title back in 2013. He also helped the Raiders to third for their highest finish since they won the third of back-to-back-to-back state titles in 2017.
Hummel joined Occhionero on the All-Continental League second team during the regular season in which he posted a second place individual finish (at The Pinery) and tied for third in the league tournament at Meadow Hills G.C.
Hummel tied for 20th in his first state appearance in 2019 and while he shot one stroke higher on a different course (with a two-day total of 154), he finished alone in 16th place this season. Hummel made five birdies in the second round at state and had seven over two days.
Wood didn't play in all of the league tournaments thanks to the tremendous depth of the Raiders, but he earned his way onto the regional team. He took advantage of the chance and finished just one stroke behind Occhionero and Hummel in qualifying.
On an opening day that challenged the entire field, Wood ended up with an 84. He bounced back with a 72 in the second round (making two birdies in the process) to tie for 22nd.
The Centennial League was loaded this season in the golf ranks between Arapahoe — which finished two strokes out of first place in 5A — plus Cherry Creek and 4A runner-up Mullen.
VanWormer and White both held their own among the elite individual talent, as White finished third in the final standings to get first team all-league honors and VanWormer finished 11th, one point off a spot on the all-league team.
With two previous state trips under his belt, VanWormer was the most state-experienced Aurora golfer when he earned a third trip.
One of two state qualifiers for the Wolves — senior Josh Stone was the other — VanWormer finished in a tie for 27th with a two-day total of 157. He began his state career with a tie for 61st place in 2018, moved up to 37th as a sophomore (finishing a stroke behind Occhionero) and made the jump of another 10 spots this season.
White had a dynamic varsity debut last season and he finished in a tie for 14th place at the state tournament, making him the leading returner among locals for the 2020 season. He performed well in Centennial League play and shared medalist honors in the final tournament played at Murphy Creek G.C., which clinched his third-place spot in the final league standings.
The state tournament proved difficult from the start for White, who made bogey or worse on six of his first seven holes in the first round. The back nine of his final round also proved difficult as White finished tied for 48th.
Courtney Oakes is Sentinel Colorado Sports Editor. Reach him at 303-750-7555 or [email protected] Twitter: @aurorasports. IG: Sentinel Prep Sports
2020 SENTINEL COLORADO ALL-AURORA BOYS GOLF TEAM
FIRST TEAM: Teddy Hummel, sr., Regis Jesuit; Ryan Occhionero, sr., Regis Jesuit; Kenny VanWormer, jr., Grandview; Andrew White, soph., Eaglecrest; Liam Wood, jr., Regis Jesuit
HONORABLE MENTION: Mason Bernard, sr., Cherokee Trail; Tyler Cassaday, sr., Cherokee Trail; Josh Stone, sr., Grandview; Dawson Thulin, jr., Vista PEAK