FORT LUPTON | Vista PEAK junior Dawson Thulin birdied his final hole Tuesday to lift himself into a tie for third place at the first EMAC Major boys golf tournament.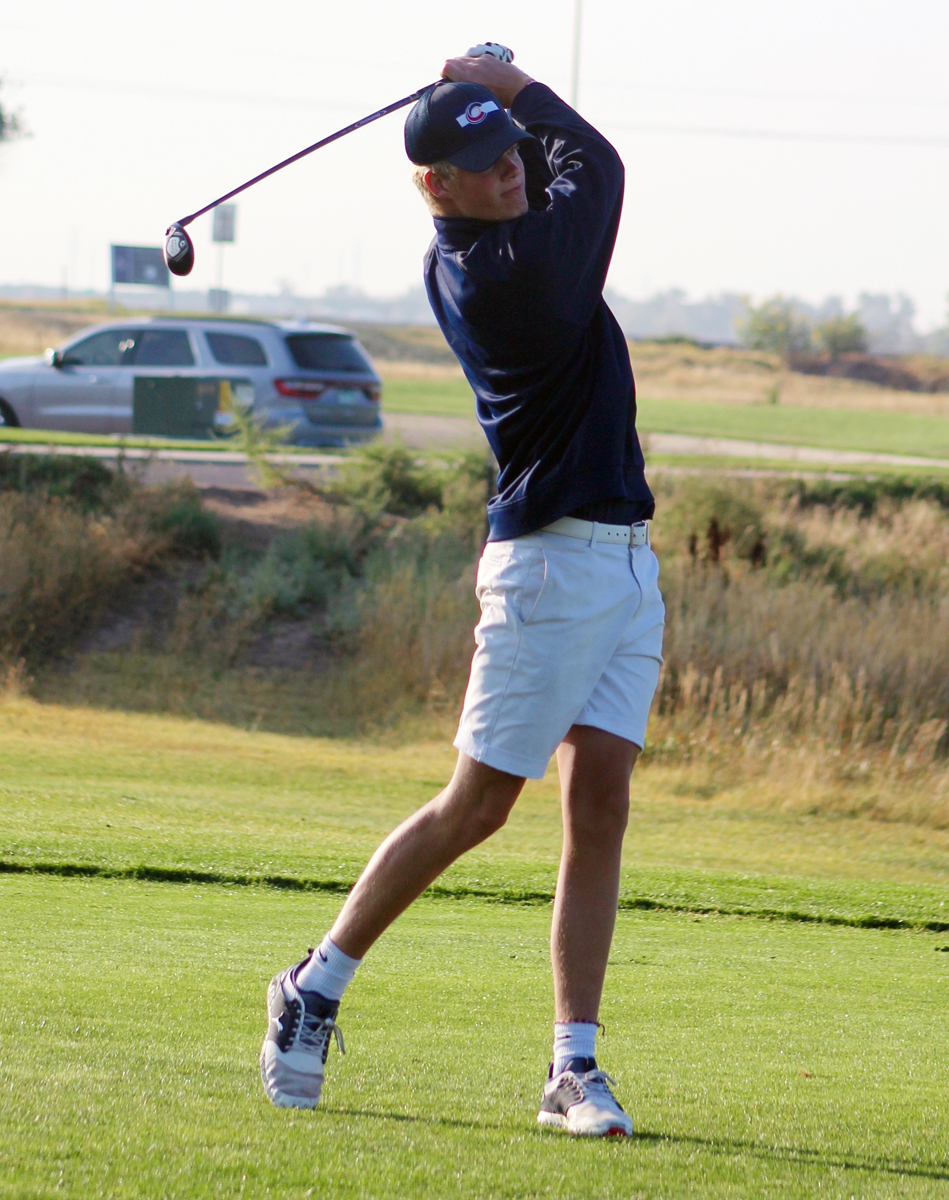 Thulin picked up a stroke on the par-5 Hole No. 18 at Coyote Creek Golf Course with his fourth birdie of a round that finished with a plus-5 76 and left him in contention with the second and final league tournament ahead in two weeks.
Behind Thulin — who finished seven strokes behind Prairie View's Jeff Nelson, the only player to shoot under par on the day — Vista PEAK shot 251 to finish in third place as a team behind leader Brighton (236) and Prairie View (236).
Dallon DeLoach paced fourth-place Rangeview, which finished eight strokes behind Vista PEAK, with an 83 that left him in seventh place.
Rofiul Mohamed Nasir shot 112 for the lowest score for Aurora Central, while placed ninth, while Harold Johnson (99) paced the two Gateway players in the field and Cameron Klanecky (103) had the best score of a pair from Hinkley.
Thulin finished third in the league standings behind Nelson and Kyle Leydon of Brighton last season and that's where he finds himself heading into the second major at 9 a.m. Sept. 15 at Murphy Creek G.C. in Aurora.
Courtney Oakes is Sentinel Colorado Sports Editor. Reach him at 303-750-7555 or [email protected] Twitter: @aurorasports. IG: Sentinel Prep Sports
2020 EMAC BOYS GOLF MAJOR NO. 1
Sept. 1 at Coyote Creek G.C.
Team scores (par 213): 1. Brighton 236; 2. Prairie View 241; 3. VISTA PEAK 251; 4. RANGEVIEW 259; 5. Westminster 263; 6. Thornton 290; 7. Northglenn 295; 8. Adams City 351; 9. AURORA CENTRAL 396; GATEWAY and HINKLEY N/S
Top 10 individuals (par 71): 1. Jeff Nelson (Prairie View) 69; 2. Kyle Leydon (Brighton) 72; T3. DAWSON THULIN (VISTA PEAK) 76; T3. Bielley Phasay (Westminster) 76; T5. Coby Puzio (Brighton) 80; T5. Jerry Logan (Westminster) 80; 7. DALLON DELOACH (RANGEVIEW) 83; 8. Jadon Lockwood (Brighton) 84; T9. JADEN JEFFERSON (VISTA PEAK) 86; T9. Marcus Sanchez (Prairie View) 86; T9. Payton Crawford (Prairie View) 86
Aurora team-by-team results (in order of finish)
Vista PEAK (251): Dawson Thulin 76, Jaden Jefferson 86, Connor Angelini 89, Brody Severin 89; Rangeview (259): Dallon DeLoach 83, Trevor Sexton 88, DeAngelo Williams 88, Khiem Davison 93, Nate Urban 100; Aurora Central (396): Rofiul Mohamed Nasir 112, Jahki James 142, Lorenzo Johnson 142, Simeon Veasley 142, Nicholas Portillo 147; Gateway (NS): Harold Johnson 99, Ronan McNeal 145; Hinkley (NS): Cameron Klanecky 103, Mikale Hayes 105
Other team-by-team results (in order of finish)
Brighton (236): Kyle Leydon 72, Coby Puzio 80, Jaden Lockwood 84, Caleb Rankin 87, Jack Trevino 110; Prairie View (241): Jeff Nelson 69, Payton Crawford 86, Marcus Sanchez 86, Keagan Bond 90, Owen Crawford 96; Westminster (263): Bielly Phasay 76, Jerry Logan 80, Joel Loya 107, Brandon Gutierrez 138; Thornton (290): Evan Montelongo 96, Isaiah Silva 96, David Ibanez 98, Yuriah Quintana 99; Northglenn (295): Tyler Garcia 91, Giovanni Quintanilla 102, Nick Debell 102, Jaxson Wright 121, Rye Taylor 124; Adams City (351): Levi Deaguero 114, Jace Long 117, Daniel Long 120, Seth Deaguero 135, Maximus Gutierrez 140