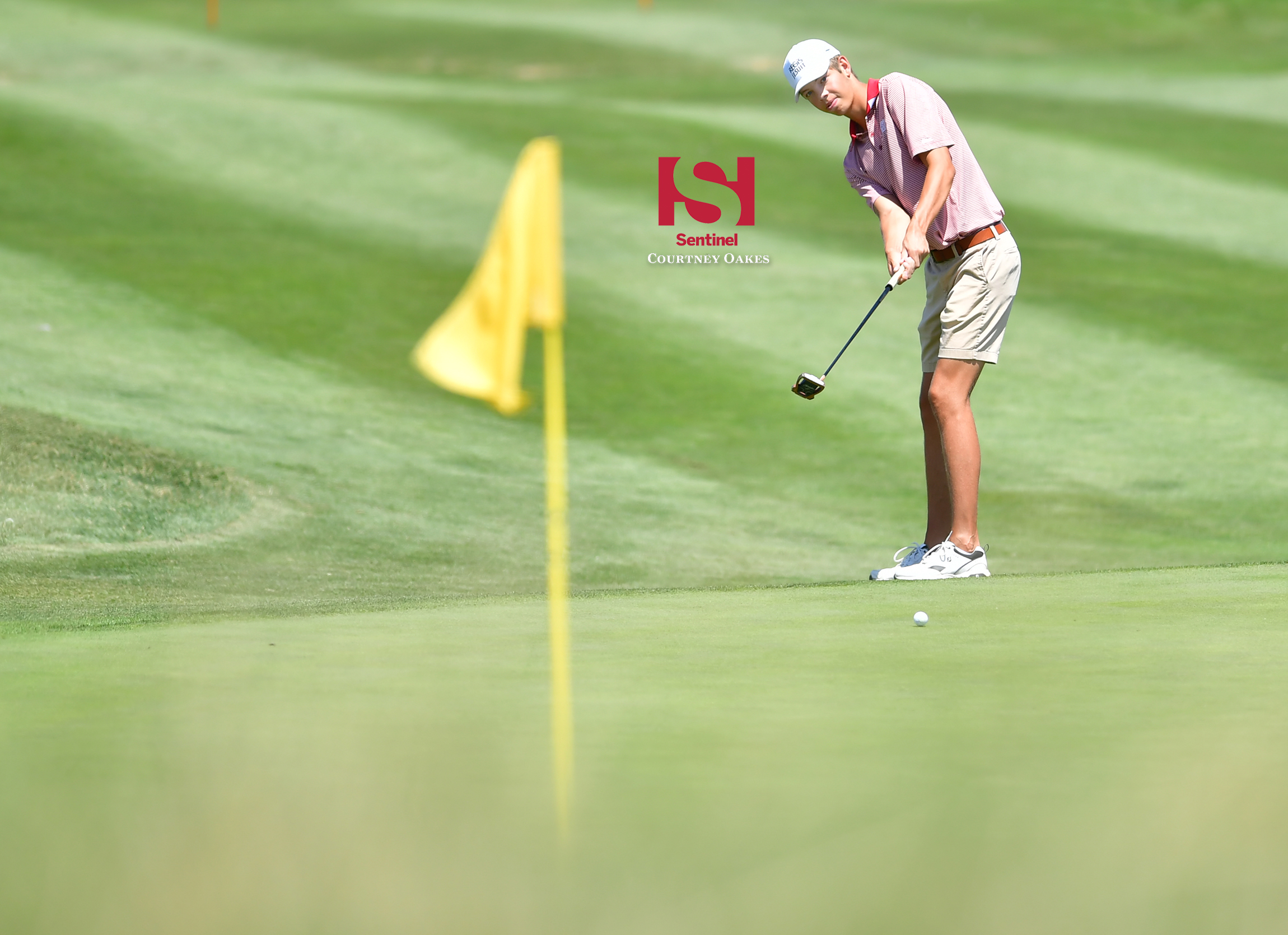 LITTLETON | The Continental League boys golf season got underway Thursday at sun-drenched Broken Tee Golf Course, where Regis Jesuit got off to a strong start.
Coach Craig Rogers' Raiders — featuring two players who appeared in last season's Class 5A state tournament — tied for second among 11 scoring teams with a team total of 302, the same as Highlands Ranch. Both teams finished seven strokes behind Rock Canyon, which also had the meet medalist in Nathan Kim, the only player to shoot under par with a 3-under 69.
One of those returning qualifiers for Regis Jesuit, senior Cole Dewey, got to 2-under after 10 holes and finished with a 1-over 73 that put him in a tie for fifth place individually. Fellow senior Colson Morley — who had a four-birdie round — was just a stroke behind that with a 74 that placed him ninth.
Photo gallery from the tournament, here
Seniors Eli Handler and Jake Irvine shot 76 and 79, respectively, to round out Regis Jesuit's scoring, while sophomore Ryland Doolittle carded an 81.
The next Continental League tournament is scheduled for Aug. 10 at King's Deer Golf Club.
Courtney Oakes is Sentinel Colorado Sports Editor. Reach him at [email protected] Twitter: @aurorasports. IG: Sentinel Prep Sports
2022 CONTINENTAL LEAGUE BOYS GOLF TOURNAMENT NO. 1
Aug. 4 at Broken Tee G.C.
Team scores: 1. Rock Canyon 295; T2. REGIS JESUIT 302; T2. Highlands Ranch 302; 4. Legend 304; 5. Heritage 307; 6. Mountain Vista 320; T7. ThunderRidge 321; T7. Castle View 321; 9. Ponderosa 328; 10. Douglas County 332; 11. Chaparral 392
Top 10 individuals (par 72): 1. Nathan Kim (Rock Canyon) 69; T2. Mason Conrad (Rock Canyon) 72; T2. Spencer Schlagel (Legend) 72; T2. Kade Bracken (Castle View) 72; T5. COLE DEWEY (REGIS JESUIT) 73; T5. Billy Verstraate (Highlands Ranch) 73; T5. Zane Aiken (Ponderosa) 73; T5. Gavin Amella (Castle View) 73; 9. COLSON MORLEY (REGIS JESUIT) 74; T10. Trevor Seeley (Legend) 75; T10. Connor Scheich (Mountain Vista) 75; T10. Jack Bakken (Highlands Ranch) 75
Regis Jesuit results: Cole Dewey 73; Colson Morley 74; Eli Handler 76; Jake Irvine 79; Ryland Doolittle 81
Team-by-team results (in order of finish)
Rock Canyon (295): Nathan Kim 69, Mason Conrad 72, Blake Kozlowski 76, Trey Kahrhoff 78, Jeff Hinman 80; Highlands Ranch (302): Billy Verstraate 73, Jack Bakken 75, Kyle Schumacher 76, Aiden Krusoe 78, Nas Kim 80; Legend (304): Spencer Schlagel 72, Trevor Seeley 75, Jake Dost 77, Timothy Gibas 80, Aron Mcwhorter 91; Heritage (307): Gavin Crowley 76, Brody Mackey 76, Matt McNitt 76, Sebastian Hein 79, Joe Culig 80; Mountain Vista (320): Connor Scheich 75, Brayden Scheich 79, Luke Duffy 83, Nico Depew 83, Cooper Woolley 84; ThunderRidge (321): Austin Hunt 77, Ryan Oro 78, Ben Mackert 83, Kyle Bubier 83, Dylan Johnson 86; Castle View (321): Kade Bracken 72, Gavin Amella 73, Evan McKean 85, Matthew Cayton 91, Nolan Farrar 92; Ponderosa (328): Zane Aiken 73, Bryar Moss 76, Zach Caldarella 84, Will Valkner 95, Mason Goettling 97; Douglas County (332): Hunter Glasser 76, Talen Turnbaugh 76, Anthony Klonaris 88, Hayden Osborn 92, Landon Berchem 97; Chaparral (392): William Harbison 91, Wyatt Judd 95, Jace Hays 102, Zachary Todd 104, Preston Adams 108