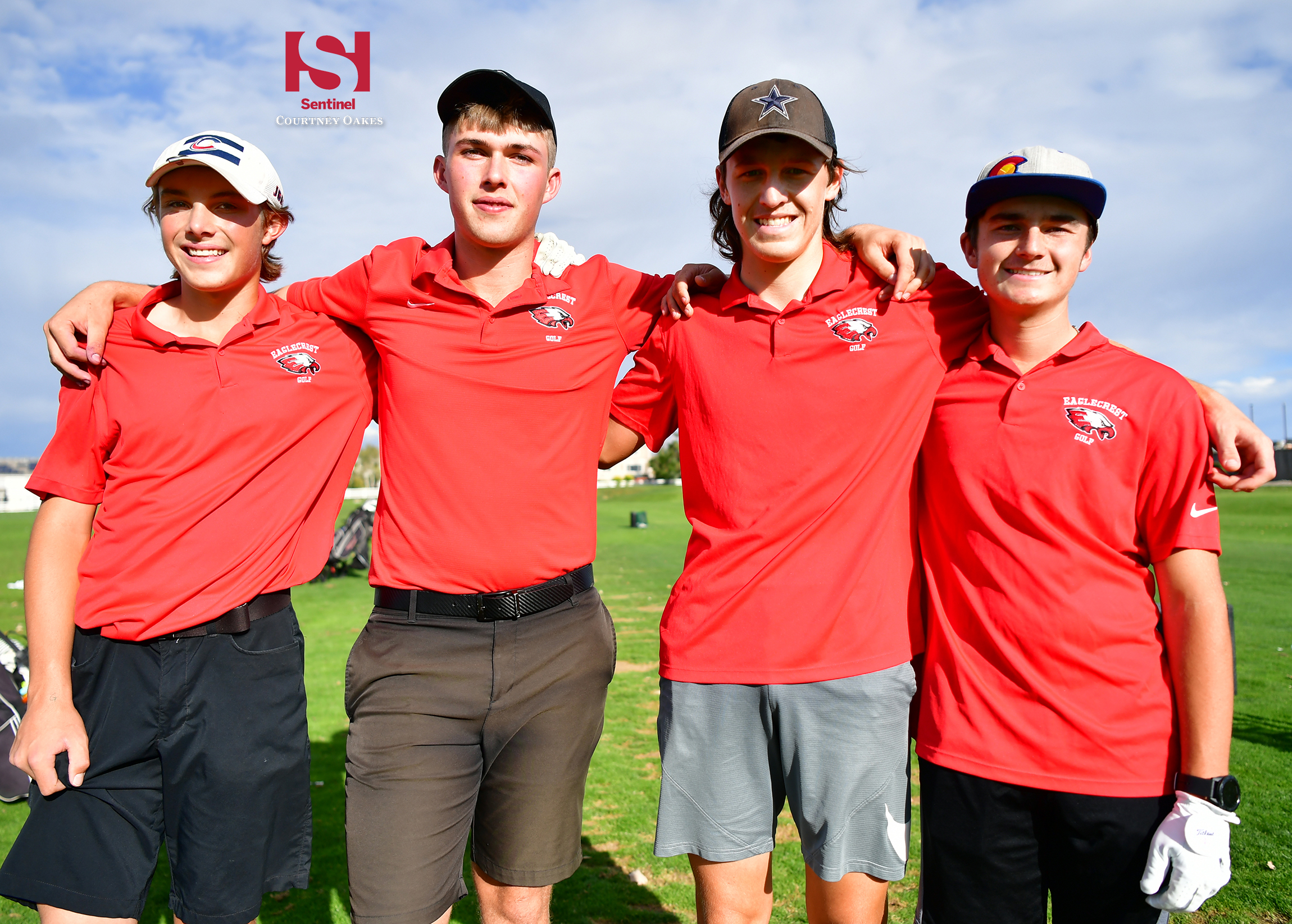 AURORA | For the past three years, Andrew White spent a lot of time by himself at Murphy Creek G.C. as he prepared to play in the Class 5A boys state golf tournament.
The Eaglecrest senior — now a four-time state qualifier — has welcome company this time.
White has had a blast preparing for state, which runs Monday and Tuesday at City Park G.C. in Denver, as freshman brother Gregory, fellow senior Preston Unrein and junior Noah Bennett have been with him every step of the way as the first four-player team in school history to qualify for state.
"In the past, the two or three weeks before state, it's just been me out here doing my thing, but having everybody here has been so fun," White said at recent Eaglecrest practice. "We knew this would be our best team ever coming into the season."
The Raptors had reason for optimism coming into the season with the return of White, the arrival of his brother, Gregory, and noticeable improvement from Unrein and Bennett (along with Jackson Atencio). All of them worked and practiced during the summer at Murphy Creek G.C., where Bennett said he spends more of his non-sleeping hours than at his home.
The group played competitively in a stacked Centennial League throughout the regular season and got a chance to shine at its regional tournament when it was away from the league powers as they were distributed throughout regionals based on league finish.
The Raptors — with assistant John Olander coaching in place of Stan Adams, who was recovering from a medical procedure — finished in second place on Sept. 19 at the Western Region at Adobe National Golf Course behind Highlands Ranch, which earned them the second automatic team state qualifying spot.
"After my last hole, I looked at the leaderboard and I was in shock that we were second," Bennett said. "Even when we played good in our league tournaments, we would finish like fourth or fifth, in that range, so getting second was amazing."
Andrew White won the regional with a 2-under-par 71, his brother shot 74 to finish fourth and Bennett's 79 clinched the second place finish. Unrein's 82 also would have been good enough at Eaglecrest finished four strokes clear of third-place ThunderRidge.
"I finished first, so I got to go and watch everybody else finish," said Andrew White, who won by a stroke. "From the beginning of the day, I got excited when I saw we were all playing well. I had a good feeling and I ending winning and getting the whole team in, so it was pretty awesome."
Now, Eaglecrest gets to set its sites on what it can do at the state tournament.
Individually, the Raptors all have different goals at the state tournament — Andrew White aims to earn all-state first team honors (which would require a top-10 finish), Gregory White's goal is a spot in the top 20, Bennett would like to break 80 both days and Unrein said he would be happy with a middle of the pack individual finish — but all believe the team can finish in the upper half of the team standings.
"I feel like we can definitely be up there if all four of us play well," Gregory White said. "There's no reason why we can't be in the top five. I feel like if we go out and have fun and enjoy it, we'll be fine."
Added Andrew White: "This is two days, not one and there are a lot of really good teams out there, but golf is something where anything is possible."
The Raptors will have company from the Aurora area at state, as Regis Jesuit also has four players in the field, while Cherokee Trail has two and Grandview one.
Coach Craig Rogers' Raiders grabbed four of the individual spots available from the Central Region tournament as seniors Cole Dewey, Eli Handler and Jake Irvine and sophomore Roland Thornton all shot low enough to make the cut.
For Dewey, Irvine and Thornton, it will be a second straight trip to the state tournament, while Handler appears for the first time. Irvine posted the second-highest finish of any Aurora player at last season's state tournament when he tied for 16th and he's coming off a regular season in which he tied for first place in two Continental League tournaments.
Thornton tied for 49th and Dewey tied for 60th last season as Regis Jesuit finished ninth.
Cherokee Trail sophomore Christopher O'Donnell is the other city player besides Andrew White and the Regis Jesuit trio with previous state experience. O'Donnell, who finished in a tie for 52nd last season, had an outstanding season that saw him shoot in the 70s in every round for coach Jason Leclaire's Cougars.
The Cougars had a season worthy of playing at state as a team, but only O'Donnell and freshman Brayden Forte were able to make the cut at the Northern Region. Forte appears to be peaking at the right time as he won the Centennial League tournament at Aurora Hills G.C. with a round of 69 and he posted a top-eight regional finish with a 72.
Grandview finished a city-best sixth as a team in last season's state standings, but graduated all four of its qualifiers. Junior Michael Rosman is the lone qualifier for coach Kurtis Bailey's team and will make his debut at state.
Courtney Oakes is Sentinel Colorado Sports Editor. Reach him at [email protected] Twitter: @aurorasports. IG: Sentinel Prep Sports