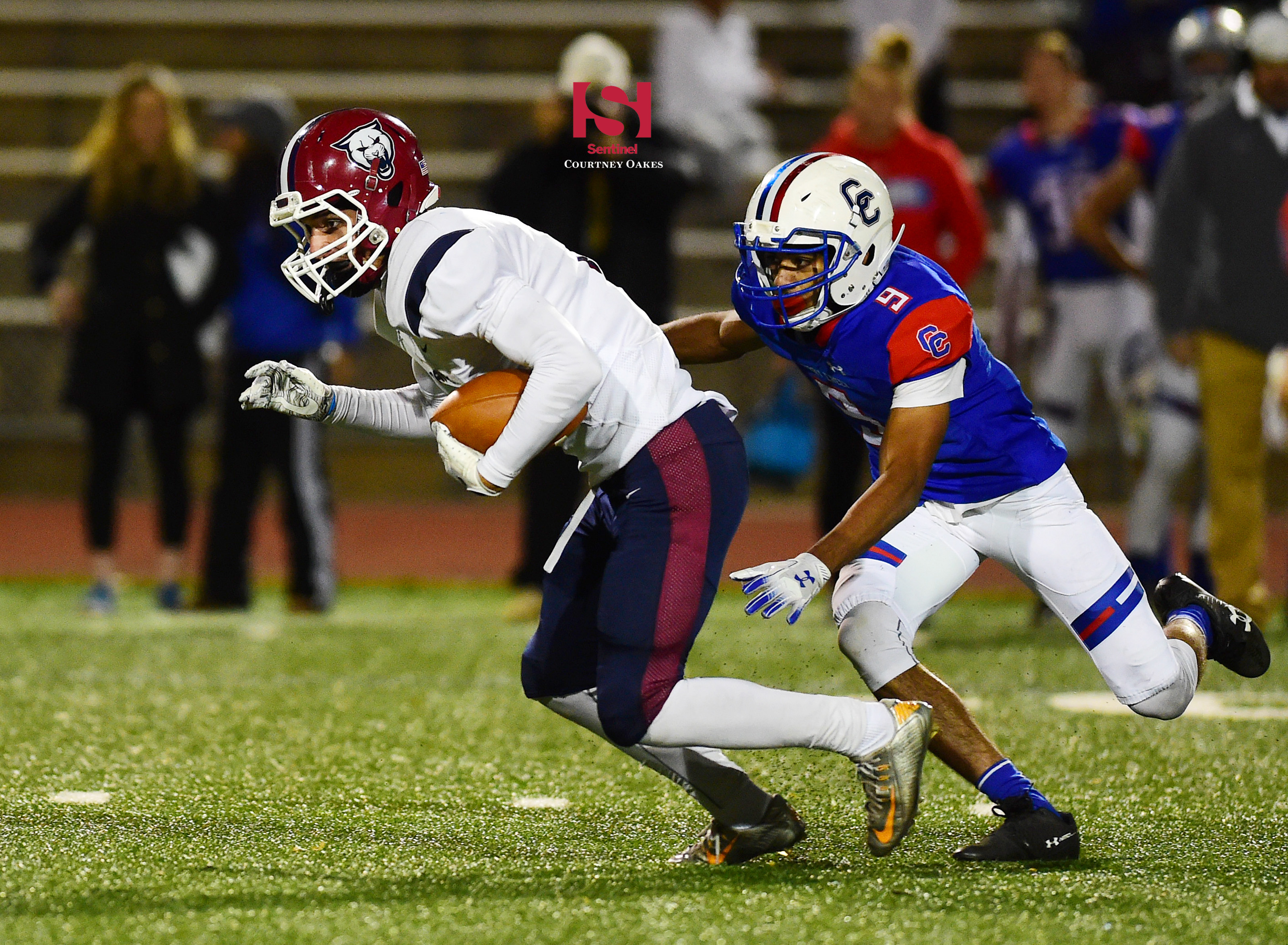 AURORA | With just one week left in the prep football regular season for Class 5A teams — and two for 4A teams — one league championship has been claimed by an Aurora team, while two more sit within reach for local squads.
Regis Jesuit became the city's first program to automatically qualify for the 5A playoffs when it won comfortably on the road at Fountain-Fort Carson in Week 9 to claim the South League championship. The Raiders moved to 4-0 in league play and would hold the tiebreaker with the Trojans even with a loss in its season finale.
Smoky Hill — which remains Aurora's only undefeated team and one of just four unbeatens in all of 5A — needs a win against Westminster in its regular season finale Oct. 26 at Stutler Bowl in order to claim the Metro 10 championship and an automatic postseason bid.
Grandview is also in position to win the title of the rugged Metro East conference if it is able to knock off currently unbeaten Cherry Creek in an Oct. 26 clash at Legacy Stadium.
Full Aurora Week 9 football scoreboard, here.
Courtney Oakes is Sentinel Sports Editor. Reach him at 303-750-7555 or [email protected]: @aurorasports. FB: Sentinel Prep Sports
AURORA'S WEEK 9 FOOTBALL ROUNDUP
AURORA CENTRAL (1-7 overall, 0-3 in 4A Metro League): The Trojans had their hands full with visiting Ponderosa Oct. 18 and were held off the scoreboard until the fourth quarter in a 43-8 Metro League loss at Aurora Public Schools Stadium. Raul Varela threw a touchdown pass in the final quarter and Avery Rivers ran in a two-point conversion in the fourth quarter. Next up: Aurora Central pays a 4 p.m. visit to All-City Stadium Oct. 26 to face Denver South (2-6, 0-3). (Aurora Week 9 scoreboard)
CHEROKEE TRAIL (7-2 overall, 2-2 in Metro East): The Cougars gave undefeated Cherry Creek all it wanted for the first three quarters Oct. 19 at Stutler Bowl, but couldn't get over the hump in a 35-14 Metro East defeat. The second touchdown pass of the night from sophomore quarterback Jayden Lavigne to senior wide receiver Sean Roberts — a 13-yard strike — pulled Cherokee Trail within 21-14 with less than two minutes left in the third quarter, but the Bruins responded with a lengthy march for another score and followed that with an interception to effectively put the game away. Next up: Cherokee Trail faces Eaglecrest (8-1, 3-1) in a Metro East power matchup at 7 p.m. Oct. 25 at Legacy Stadium. (Aurora Week 9 scoreboard)
EAGLECREST (8-1 overall, 3-1 in Metro East): The Raptors rebounded from their first loss of the season on a short week with a solid 35-7 victory over Arapahoe Oct. 18 at Legacy Stadium. Senior quarterback Dylan James (172 yards rushing) and junior running back Isaiah Emecheta (receiving and rushing) each reached the end zone twice for Eaglecrest, while senior Jalen Stewart had 139 yards on the ground and contributed the team's fifth rushing touchdown. Next up: Eaglecrest plays host to Cherokee Trail (7-2, 2-2) in a Metro East tilt at 7 p.m. Oct. 25. (Aurora Week 9 scoreboard)
GATEWAY (1-7, 1-2 in 4A Metro League): The Olys made the long trek to play at unbeaten Montrose and fell 42-0 in Metro League play Oct. 19. Gateway found its most success offensively on the ground as senior running back Marvon Odunoye gained 103 of the team's 122 rushing yards. Next up: Gateway welcomes Heritage (7-1, 2-1) to Aurora Public Schools Stadium at 6:30 p.m. Oct. 26. (Aurora Week 9 scoreboard)
GRANDVIEW (8-1 overall, 3-1 in Metro East): The Wolves got a monster game from senior running back Jordan Billingsley on their way to a 51-21 victory over Overland Oct. 19 at Legacy Stadium. Billingsley rushed for a season-high 244 yards and also tallied a season-best five touchdowns to lead Grandview, while sophomore quarterback Jacob Burr and junior fullback Cade Bruckman also reached the end zone. Junior Jack Rogers recorded a late safety for the Wolves' defense and senior Brandy Okeke proved especially disruptive with 10 tackles and a sack. Next up: Grandview has a 7 p.m. Oct. 26 home contest against Cherry Creek (9-0, 4-0) at Legacy Stadium with a chance to win the Metro East title. (Aurora Week 9 scoreboard)
HINKLEY (4-4 overall, 0-3 in 4A Pioneer League): The Thunderbirds played host to Fruita Monument Oct. 20 at Aurora Public Schools Stadium and saw the Wildcats put up their third straight explosive offensive outing in a 49-25 win. Junior quarterback Xavier Starks threw for 214 yards, hit junior J.J. Lee (115 yards receiving) for two touchdowns and also connected with junior Jeremiah Taylor for a score. Senior Alan Acevedo knocked through a field goal try to round out the T-Birds' scoring. Next up: Hinkley travels to Centaurus (2-6, 0-3) for a 7 p.m. contest Oct. 26. (Aurora Week 9 scoreboard)
OVERLAND (1-8 overall, 0-4 in Metro East): The Trailblazers hung around with Grandview early in an Oct. 19 Metro East contest at Legacy Stadium before the Wolves wore them down for a 51-21 win. Overland scored defensively early when senior DJ Reid returned a fumble to the end zone, but the next points wouldn't come until the third quarter on sophomore Jaheim Roper's rushing touchdown. Seniors Luis Ruiz and Delano Dickerson hooked up on a 98-yard touchdown in the fourth quarter. Next up: Overland plays host to Arapahoe (4-5, 0-4) at 7 p.m. Oct. 25 in its regular season finale. (Aurora Week 9 scoreboard)
RANGEVIEW (1-8 overall, 1-7 in Metro 10): The Raiders had trouble slowing Westminster Oct. 19 at Aurora Public Schools Stadium, as the Wolves rushed for 366 yards and rung up their season-high in points in a 48-7 victory. Sophomore quarterback Reece Berkey hooked up with senior wide receiver Kobe Frazier on a jump-ball touchdown in the second quarter for the lone score for Rangeview. Next up: Rangeview wraps up the regular season with a 1 p.m. Oct. 27 game against Denver East (7-2, 7-1) at All-City Stadium. (Aurora Week 9 scoreboard)
REGIS JESUIT (5-4 overall, 4-0 in South League): The Raiders wrapped up the South League championship with a strong 45-14 road win at Fountain-Fort Carson Oct. 18. Senior running back Kiahn Martinez recorded his sixth game with multiple touchdowns as he reached the end zone three times in addition to 156 yards rushing, while junior Gordon McKeehan scored via rush and reception for Regis Jesuit. Freshman quarterback Nicco Marchiol threw for 191 yards and touchdowns to McKeehan and junior Bryce Sloan, while junior Bryce Parsons had an interception and fumble recovery for the Raiders' defense, which generated five turnovers. Next up: Regis Jesuit concludes the regular season with a 7 p.m. Oct. 26 game on home turf at Lou Kellogg Stadium against Douglas County (1-8, 1-3). (Aurora Week 9 scoreboard)
SMOKY HILL (9-0 overall, 8-0 in Metro 10): The Buffaloes had no trouble remaining unbeaten, as they came away with a trip to the North Stadium with a 49-0 victory over Mountain Range Oct. 19. Sophomore quarterback Leslie Richardson III did major damage with his arm, as he threw for 214 yards and five touchdowns (two apiece to sophomore Alec Pinkowski and junior Kaleb Starling and one to junior Ryan Hollingsworth), while senior Niall Ackerman tossed one to sophomore Maurice Walker later. Junior Obie Sanni rushed for 164 yards and a score. Next up: Smoky Hill finishes up the regular season with a Metro 10 title showdown against Westminster (7-2, 7-1) at 7 p.m. Oct. 26 at Stutler Bowl. (Aurora Week 9 scoreboard)
VISTA PEAK (6-2 overall, 2-1 in 4A Pioneer League): The Bison dropped a game off the lead in the Pioneer League with a 35-18 loss to league unbeaten Standley Lake on Oct. 19 at the North Area Athletic Complex. Junior running back Gene Sledge rumbled for 164 yards and two touchdowns for Vista PEAK, while sophomore Ja'Derris Carr also got into the end zone. Next up: Vista PEAK has a road contest at Five-Star Stadium at 7 p.m. Oct. 25 against Thornton (2-6, 1-2). (Aurora Week 9 scoreboard)