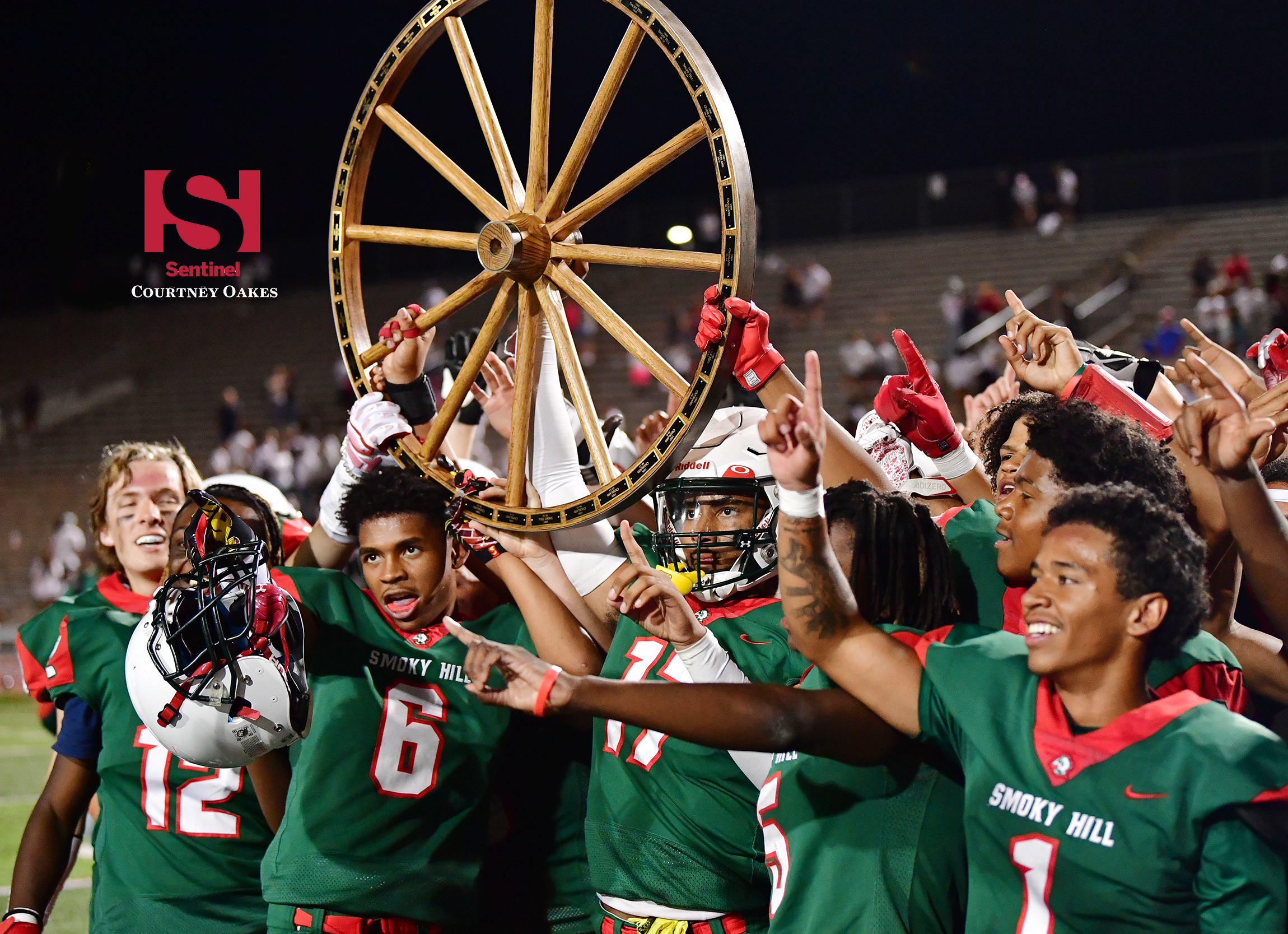 GREENWOOD VILLAGE | Traditionally, a Wagon Wheel rolls over the ground.
So, too, did the Smoky Hill offense on Friday night at Stutler Bowl, with six touchdowns coming from the run game — including three by senior running back Marvin Jones Jr. — on its way to a 47-8 victory over Overland in the 40th anniversary of the rivalry between the two Aurora schools.
Jones Jr. scored two short touchdowns and added a 72-yard burst, while junior quarterback Ty Bowers also scored twice on the ground and Saul Ibrahim added another for coach Tom Thenell's Smoky Hill team, who kept the Wagon Wheel traveling trophy for a fourth straight season. Since the trophy debuted in the series in 2014, the Buffaloes and Trailblazers (who won four straight from 2014-2017) have now held it equal times.
Standout linebacker and budding placekicker Max Zueger also had a huge impact in the season opener, as he helped Smoky Hill's defense allow just a single score and produce multiple turnovers. For good measure, Zueger drilled field goals of 44 and 31 yards in the final quarter as the Buffaloes pulled away.
Overland got its lone touchdown on a screen pass from junior Komari Owens to senior Jamille Humphrey, who took it 47 yards to the end zone. Coach Kyle Reese's team also came up with multiple takeaways, but were unable to take advantage.
In a complete 180 degree turn from the 2020 game — an air-filled 49-39 Smoky Hill victory which saw then-Buffaloes quarterback Leslie Richardson III toss six touchdown passes — the ground game figured heavily in this contest.
Jones Jr. got into the end zone for the first time from seven yards out as the only score of the opening quarter, then Smoky Hill sandwiched Humphrey's touchdown with 1 yard runs for Bowers and Jones Jr. for a 21-8 halftime lead.
The push for the first score of the second half went to Smoky Hill when Jones Jr. took a handoff up the middle, got a block and cut to the sideline, where he outraced several Overland defensive backs.
The Buffaloes took their foot off the gas a bit late, but still tacked on 20 points in the fourth quarter, including consecutive field goals by Zueger. A Quincy Johnson interception set up Bowers' 1-yard touchdown and Ibrahim crashed into the end zone from a yard out as Smoky Hill took time off the clock its last scoring drive.
In Week 2, Smoky Hill has a rare opportunity to play out of state coming up, as it has a Sept. 3 road contest against Windermere, Florida. Overland, meanwhile, visits Eaglecrest at Legacy Stadium on the same day.
Courtney Oakes is Sentinel Colorado Sports Editor. Reach him at [email protected] Twitter: @aurorasports. IG: Sentinel Prep Sports
SMOKY HILL 47, OVERLAND 8
Score by quarters:
Overland     0    8  0    0 —  8
Smoky Hill   7  14  6  20 — 47
SCORING
First quarter
Smoky Hill — Marvin Jones Jr. 7 yard run (Max Zueger kick)
Second quarter
Smoky Hill — Ty Bowers 1 yard run (Zueger kick)
Overland — Jamille Humphrey 47 yard pass from Komari Owens (Christopher Linzy run)
Smoky Hill — Jones Jr. 1 yard run (Zueger kick)
Third quarter
Smoky Hill — Jones Jr. 72 yard run (kick failed)
Fourth quarter
Smoky Hill — Zueger 44 yard field goal
Smoky Hill — Zueger 31 yard field goal
Smoky Hill — Bowers 1 yard run (Zueger kick)
Smoky Hill — Saul Ibrahim 1 yard run (Zueger kick)