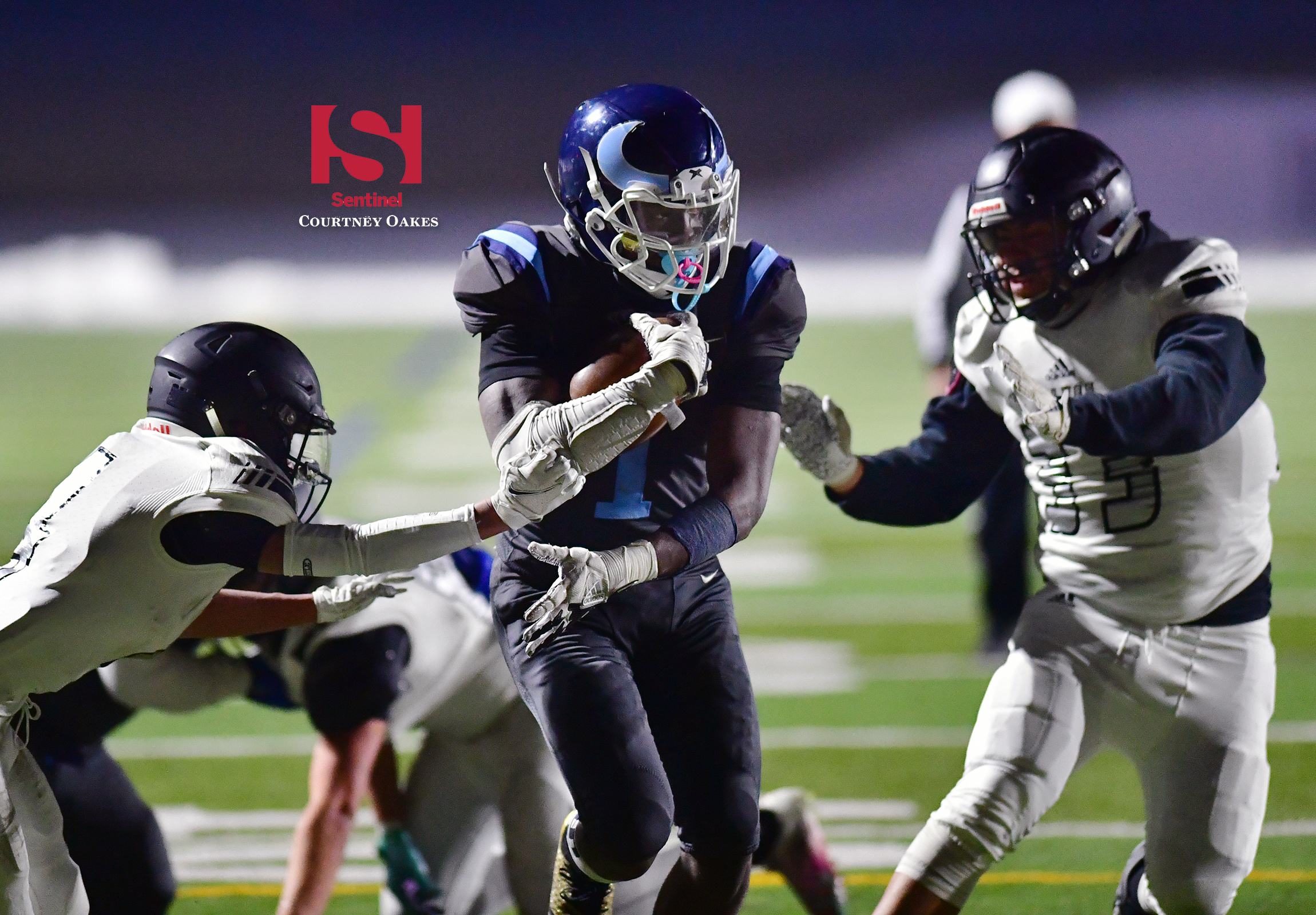 AURORA | More than 400 days since they last stepped onto the football field for a game — and with preparation for its season opener involving running around the school parking lot and cafeteria — things understandably were a little rough for the Vista PEAK football team Thursday.
The Bison were certainly sloppy to begin things in the first quarter of their spring debut against Westminster at frigid Aurora Public Schools Stadium, but finally found some rhythm and were never really threatened in a 40-6 victory.
Senior Ja'Derris Carr established a school record with five touchdowns — four rushing, one receiving — and accounted for just over 200 yards of total offense and senior Montral Hamrick also rushed for a score for coach John Sullivan's team, which picked up a victory in the first game it played since a Class 4A playoff loss to Heritage on Nov. 15, 2019.
"We come in with these grandiose plays that you are going to pick right up where you left off and you forget that these kids haven't done this in a year and a half," Sullivan said. "I think they were a little shocked early that things weren't rolling like they do it practice all the time.
"We got the first one of out of the way and it was nice to see the smiles on kids' faces."
Carr had a smile on his face the whole night as he picked up where he left off from his junior season, when he had nearly 2,000 yards of total offense and 27 touchdowns in 11 games.
The Princeton University recruit already has five to his credit and picked up three of them in the second quarter, starting the scoring with a 3-yard run a few minutes into the period that broke a scoreless tie.
Carr rushed for a 25-yard score a few minutes later, then caught a pass from junior quarterback Jordy Ruiz that he scored with from 28 yards out as the Bison led 20-6 at the break. It felt good for Vista PEAK's offense to finally get some momentum.
"It was frustrating at the start, we felt in our minds like we should have been blowing this team out, but we had a lot of adversity we had to go through," Carr said. "With no preseason and not being able to practice outside because of the snow and stuff like that, it was hard. It will be much better next week."
For good measure, Carr scored on a seven-yard run in the late stages of the third quarter, then watched Hamrick rumble for a 51-yard touchdown early in the fourth quarter that extended the lead to 33-6.
After freshman Cortlen Johnson Jr. did some hard running to get Vista PEAK into the red zone later in the quarter — following a fumble recovery by junior Christopher Marquez — Carr finished off his scoring binge with a six-yard burst up the middle into the end zone.
"I was begging my coaches to put me in because I thought I was getting close to a school record," said Carr, who had two four-touchdown games last season against Gateway and Fruita Monument. "It felt great. I want to keep breaking records and scoring more touchdowns."
The Vista PEAK defense yielded just 136 yards of total offense and played hard to the end, with the exclamation point being a huge hit applied by senior lineman Braylen Nelson on Westminster quarterback Conley Moskot in the fourth quarter.
Sullivan was pleased with the win and was hoping that his team could get in some good practice to work on things for a better start when it returns to the field at 6:30 p.m. March 25 to face Hinkley.
"It was weird being out here, but a good weird," he said.
Courtney Oakes is Sentinel Colorado Sports Editor. Reach him at [email protected] Twitter: @aurorasports. IG: Sentinel Prep Sports
VISTA PEAK 40, WESTMINSTER 6
Score by quarters:
Westminster  0    6  0    0 —  6
Vista PEAK     0  20  6  14 — 40
SCORING
Second quarter
Vista PEAK — Ja'Derris Carr 3 yard run (Miguel Mendez III kick), 8:09
Vista PEAK — Carr 25 yard run (Mendez III kick), 5:58
Westminster — Guillermo Macias (kick blocked), 0:29
Vista PEAK — Carr 28 yard pass from Jordy Ruiz (Mendoza III kick), 12:00
Third quarter
Vista PEAK — Carr 7 yard run (run failed), 1:45
Fourth quarter
Vista PEAK — Montral Hamrick 51 yard run (Mendez III kick), 8:45
Vista PEAK — Carr 6 yard run (Mendez III kick), 5:57
RUSHING
Westminster: Alvaro Fuentes 12-57, Victor Lopez 5-20, Guillermo Macias 5-19, Jason Valencia 7-15, Alex Diaz 3-(minus 3), Conley Moskot 6-(minus 13)
Vista PEAK: Ja'Derris Carr 18-174, Monty Hamrick 6-60, Cortlen Johnson Jr. 5-24, Walter Goodloe 1-3, Bryson Torrie 1-3, Victor Owens 7-3, Christopher Marquez 1-0
PASSING
Westminster: Moskot 3-11, 41 yards
Vista PEAK: Jordy Ruiz 2-3, 63 yards, 1 touchdown; Owens 1-5, 3 yards; Chonsey Kibble Jr. 0-1
RECEIVING
Westminster: Gilbert Bujanda IV 1-20, Yeshua Jaramillo 1-12, Jason Valencia 1-9
Vista PEAK: Marquez 1-35, Carr 1-28, Anthony Sotelo-Lares 1-3