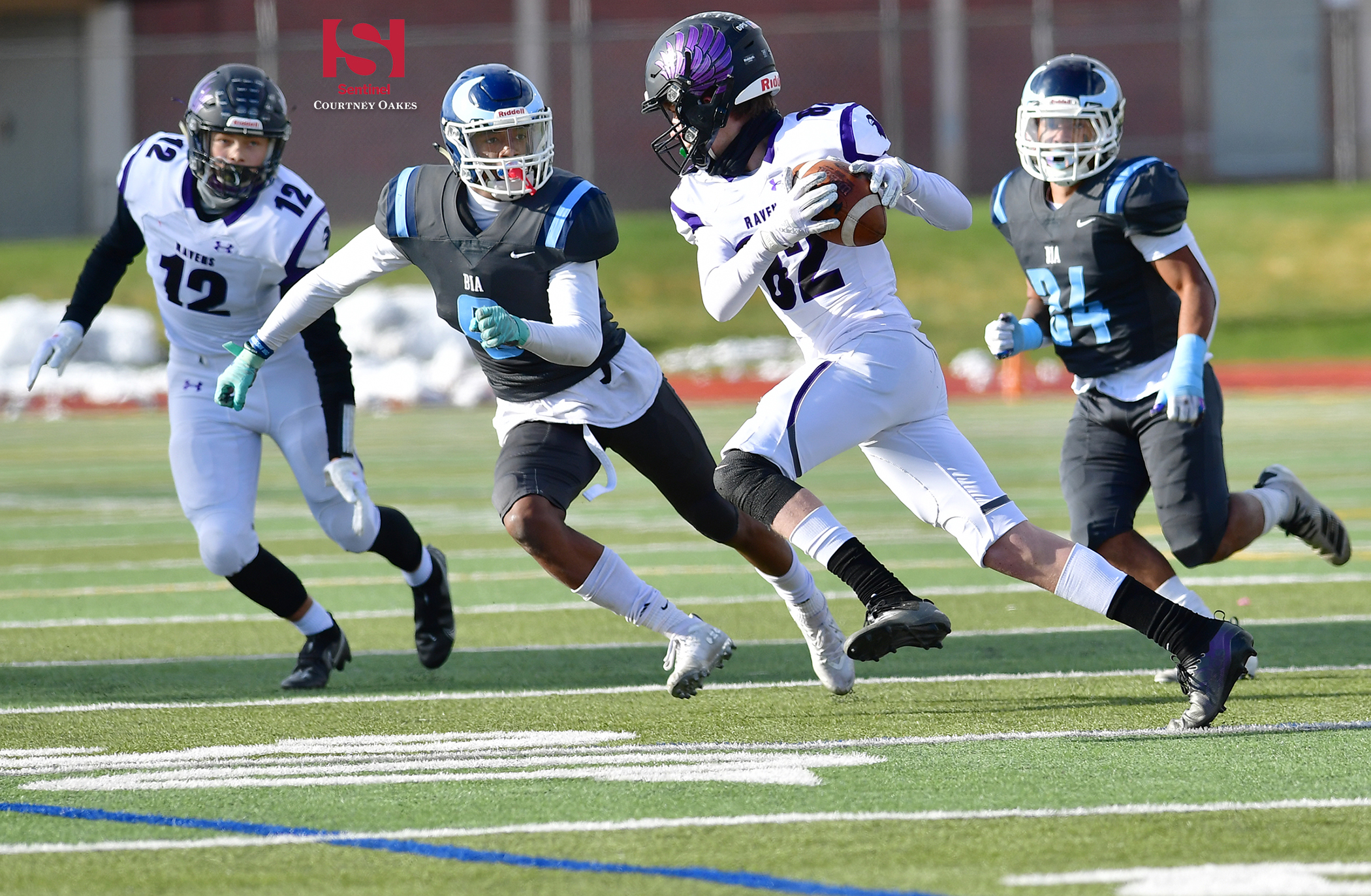 AURORA | A familiar script to the last couple of weeks unfolded for the Vista PEAK football team Saturday, only this time the end result was not a happy ending.
The Bison had overcome turnovers, penalties and periods of struggles with execution in a few of the previous four weeks in building a 4-0 record, but those things eventually spelled doom for them at Aurora Public Schools Stadium in an 18-15 loss to Denver South.
Coach John Sullivan's Vista PEAK team — which came into the game ranked No. 1 in Class 5A — got a touchdown run from senior Ja'Derris Carr before he exited with an injury and a touchdown toss from junior Jordy Ruiz to sophomore Anthony Sotelo-Lares, but fell to 4-1 overall and 3-1 in South League play.
The Bison had an 8-6 lead going into the final quarter, but watched the Ravens (5-0, 4-0) use their Julian Buerk-led passing attack to score the go-ahead touchdown and also got a defensive score on a Yohannes Antonio interception return to get enough to win. Vista PEAK had another tough offensive game after scoring 13 in a close win over the Far Northeast Warriors the previous week.
Carr — whose exit with an injury early in the fourth quarter hurt the Bison — got the game started off right with a 38-yard touchdown run that was followed by a wide open two-point conversion toss from senior Victor Owens to junior Christopher Marquez for an 8-0 edge.
Denver South got into the end zone in the second quarter on the first of Buerk's touchdown passes to tighten the game up.
Despite some chances generated by a fumble recovery by junior Kyvae Stuart, a fumble recovery and return from junior Trenton Sullivan (whose own fumble was covered by junior Bryson Torrie) and an interception by senior Jaylen Carrizales, Vista PEAK's offense couldn't put any more points on the scoreboard.
The Bison — already missing bruising senior running back Montral Hamrick due to injury — tried to get Carr going and he picked up 121 yards until he got injured on a 14-yard run with just over 10 minutes left in the final quarter.
On the next play after Carr's departure, senior Walter Goodloe had the ball knocked loose and the Ravens recovered, launching a series that resulted in the go-ahead touchdown nine plays later when Buerk slipped a pass over Stuart's fingertips into the arms of sophomore Rashad Caldwell, who scored.
Antonio's interception of a Ruiz pass towards the sideline and subsequent return to the end zone boosted Denver South's lead to double digits at 18-10, but Ruiz responded by driving his team 64 yards in five plays. He dropped a pass into Sotelo-Lares' arms from 33 yards out as Vista PEAK moved within three with 52.1 seconds remaining.
Denver South easily recovered the subsequent onside kick, however, and was able to run out the clock without picking up a first down as Vista PEAK ran out of time outs.
Vista PEAK wraps up the six-game regular season with a home game at 6:30 p.m. April 23 at APS Stadium against Denver East (1-4).
Courtney Oakes is Sentinel Colorado Sports Editor. Reach him at [email protected] Twitter: @aurorasports. IG: Sentinel Prep Sports
(3) Denver South 18, (1) Vista PEAK 15
Score by quarters:
Denver South  0  6  0  12 — 18
Vista PEAK      8   0  0  7 — 15
SCORING
First quarter
Vista PEAK — Ja'Derris Carr 38 yard run (Christopher Marquez pass from Victor Owens), 7:37
Second quarter
Denver South — Jake Perruccio 15 yard pass from Julian Buerk (run failed), 1:08
Fourth quarter
Denver South — Rashad Caldwell 11 yard pass from Buerk (run failed), 6:51
Denver South — Yohannes Antonio 32 yard interception return (kick blocked), 2:02
Vista PEAK — Anthony Sotelo-Lares 33 yard pass from Jordy Ruiz (Miguel Mendez III kick), 52.1
RUSHING
Denver South: Daniel Jiple 12-28, Sterling Bryce Jones 4-8
Vista PEAK: Ja'Derris Carr 14-121, Victor Owens 12-45, Miguel Mendez III 1-2, Bryson Torrie 3-1, Walter Goodloe 1-0
PASSING
Denver South: Julian Buerk 18-29, 180 yards, 2 touchdowns, 1 interception' Weston Wolkov 2-3, 4 yards
Vista PEAK: Jordy Ruiz 7-11, 82 yards, 1 touchdown, 1 interception; Owens 2-3, 11 yards, 1 interception
RECEIVING
Denver South: Jayshawn Leyba 9-83, Rashad Caldwell 6-49, Jake Perruccio 4-35, Romeo Clarvoe 1-15, Wolkov 1-4
Vista PEAK: Anthony Sotelo-Lares 3-50, Christopher Marquez 3-25, Torrie 1-11, Owens 1-8