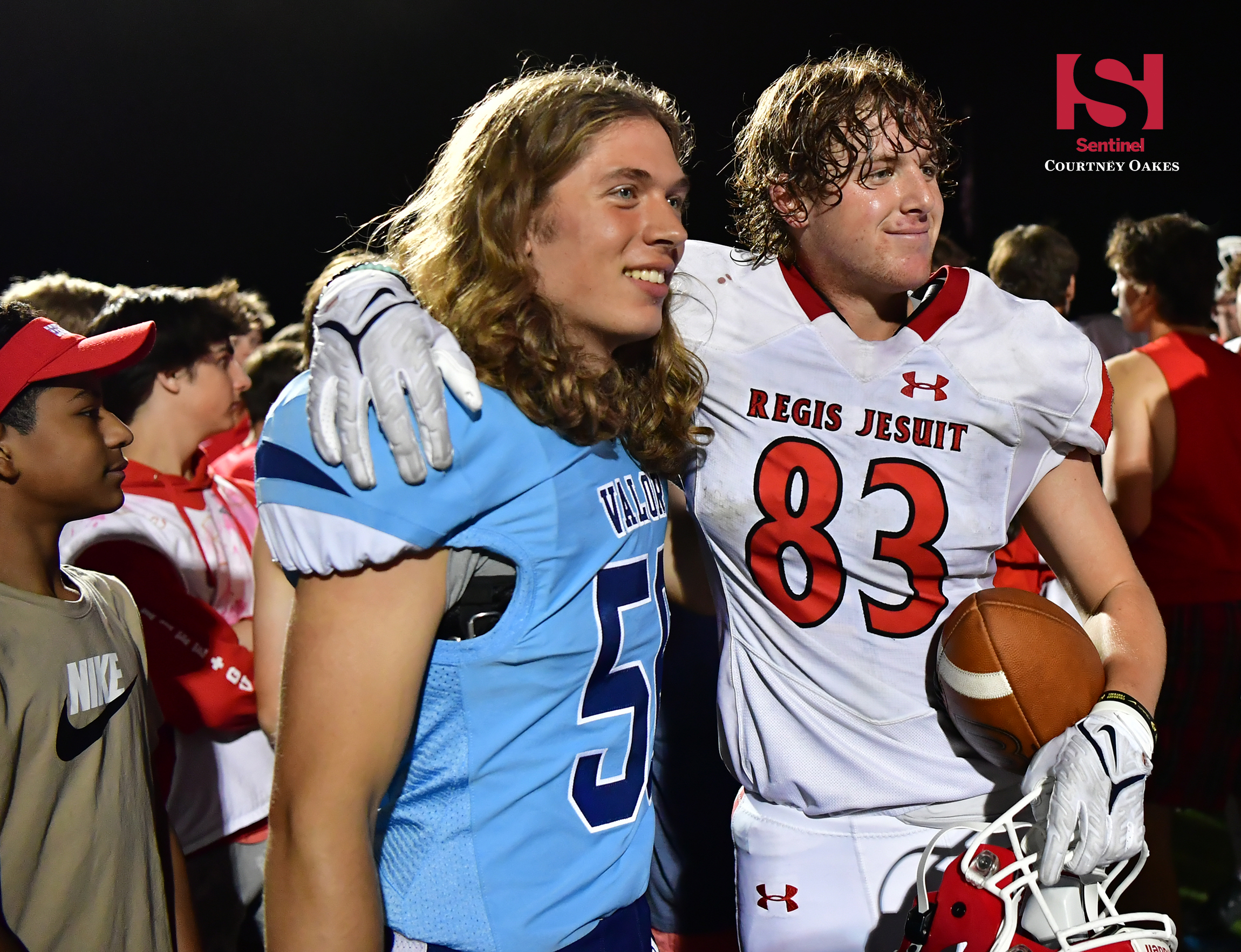 HIGHLANDS RANCH | The Regis Jesuit football team came out on top of a wild rollercoaster of a season opener with an overtime victory over Valor Christian Friday night.
In a showdown between two of the top four teams in Class 5A, which included typical early-season mistakes on both sides, the Raiders came away with the only points of overtime when senior quarterback Exander Carroll hooked up with sophomore Grayson McPherson on a touchdown pass that gave them a thrilling 23-17 victory.
Seconds after McPherson was swarmed by teammates in the end zone, the entire field at Eagles Stadium — where Valor Christian hadn't lost since the end of the 2019 season — was flooded by a wave of Regis Jesuit fans that lingered for a long time afterwards to celebrate one of the program's biggest wins of late.
"I'm proud of how our kids just kept fighting," Regis Jesuit coach Danny Filleman said. "There were times when some other teams might have packed it up, but these guys just kept fighting. That says a lot about the character of our team — and their team — and our leadership.
"We still made mistakes and it was ugly at times on both sides, but when you can beat a team like Valor on their home field, it's a really good win for us. …We'll see them again."
In the first game of his third season as a starter at quarterback, Carroll threw two touchdown passes, the other a 73-yarder to fellow senior D'Andre Barnes, while junior Anthony Medina rushed for a touchdown and junior Pierce Martin connected on a 39-yard field goal in the victory.
The win might have come in regulation as Carroll moved Regis Jesuit methodically down the field and into the red zone to set up a short field goal attempt, but Martin's kick got blocked and the game went to overtime. It took only one play to end it on the Raiders' possession as Carroll delivered a pinpoint pass to a wide open McPherson.
"It felt so good (the last drive), we got down inside the 20 and lined up to take the field goal and I thought 'We're about to win the game,' then it got blocked," Carroll said. "Then we just had to go into overtime and get it done. …The defense won this game, though."
Indeed Regis Jesuit's defense kept Valor Christian out of the end zone on three plays in its overtime possession and kicker Jeremy Claycamp — who was perfect on kicks last season — pushed his attempt wide for his second miss of the game.
With a team that includes a whopping 28 seniors, Filleman found it fairly easy to lay out what needed to happen in overtime to get the victory.
"We were moving the ball better towards the end of the game and grinding it out, so we had our calls that we wanted to do," Filleman said. "It was set up and we executed well. We practiced overtime in scrimmages and with us, so it was like 'Here's what we're doing.' The kids were confident and performed. It was fun to see it come true."
The teams traded blows the entire way, as each put up a touchdown and a field goal in the opening half to go into halftime tied at 10 apiece when Martin made a 39-yard field goal on the final play of the second quarter. That came after Medina's 52-yard touchdown run brought the Raiders from a 3-0 deficit to a 7-0 lead in the first quarter.
Each team found the end zone in the third quarter as well on successive big plays. Valor Christian's Roman Bradley rocketed up the middle for a 50-yard touchdown late in the third quarter, but the lead lasted just 45 seconds.
Carroll missed a few deep chances to Barnes — a state championship-winning sprinter as a sophomore — but after a short completion, Barnes broke out of a tackle, eluded two more would-be tacklers and went 73 yards for the tying score.
Regis Jesuit heads out of state in Week 2 to play Oaks Christian High School (1-1) in the Los Angeles area to continue a rugged schedule for the Raiders that will include a midseason showdown with three-time Class 5A state champion Cherry Creek, which ended their season last year.
Courtney Oakes is Sentinel Colorado Sports Editor. Reach him at [email protected] Twitter: @aurorasports. IG: Sentinel Prep Sports
(4) REGIS JESUIT 23, (2) VALOR CHRISTIAN 17 (OT)
Score by quarters:
Regis Jesuit      7  3  7  0  6 — 23
Valor Christian  3  7  7  0  0 — 17
First quarter
Valor Christian — Jeremy Claycamp 25 yard field goal, 2:25
Regis Jesuit — Anthony Medina 52 yard run (Pierce Martin kick), 0:23
Second quarter
Valor Christian — Gabe Sawchuk 1 yard run (Claycamp kick), 3:35
Regis Jesuit — Martin 39 yard field goal, 0:01
Third quarter
Valor Christian — Roman Bradley 50 yard run (Claycamp kick), 3:24
Regis Jesuit — D'Andre Barnes 73 yard pass from Exander Carroll (Martin kick), 2:39
Overtime
Regis Jesuit — Grayson McPherson 10 yard pass from Carroll