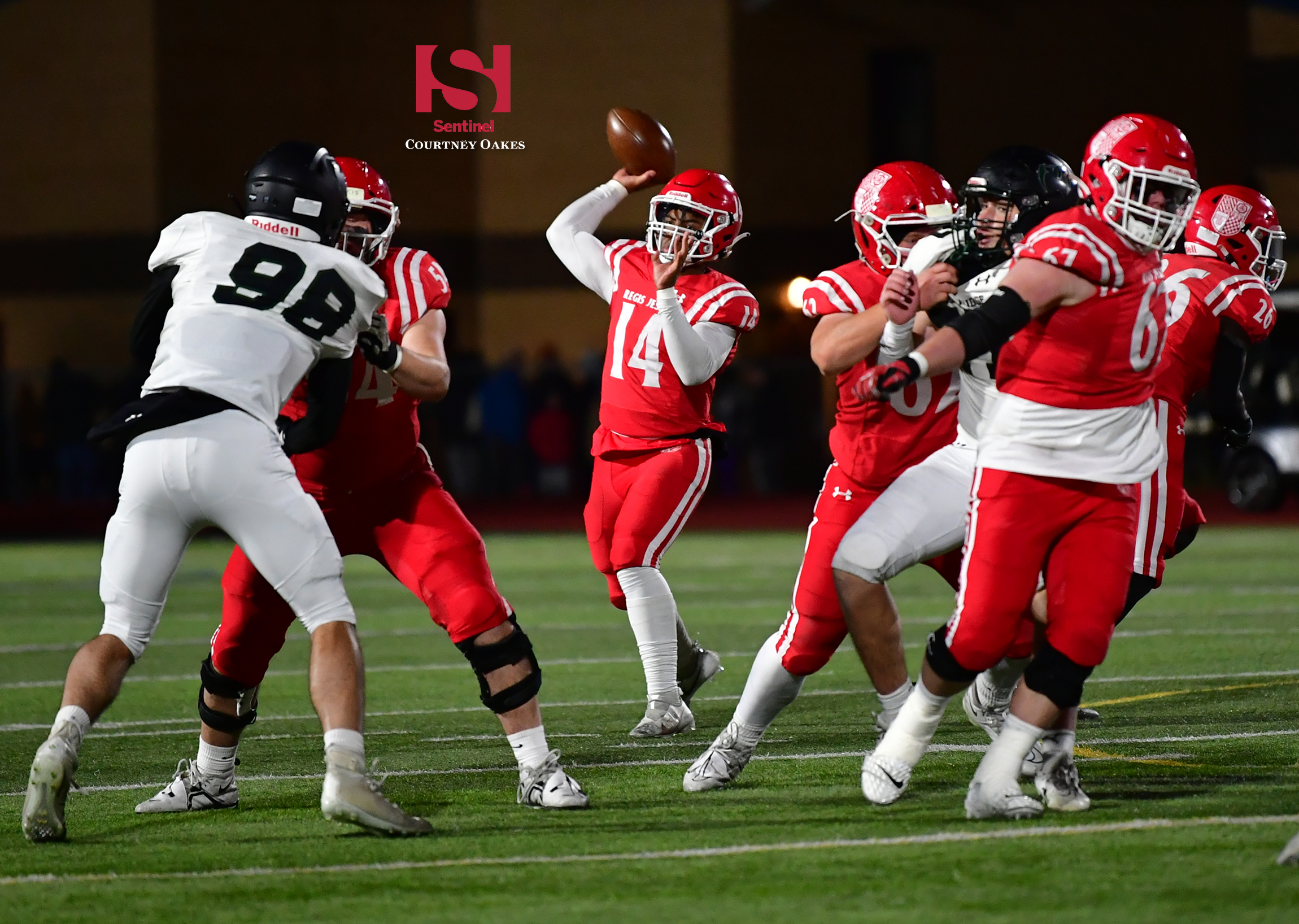 AURORA | The Regis Jesuit football team was held to a season-low 14 points in its regular season finale, a loss to Fountain-Fort Carson, but couldn't be stopped Friday night.
The Raiders found points much easier to come by when they got into Class 5A postseason play as they piled up a season-high 63 on their way to a 63-28 victory over 10th-seeded Fossil Ridge at frigid Lou Kellogg Stadium.
Regis Jesuit invoked the running clock mercy rule as it scored its most points since a 64-point effort in the 2016 season — a span of 74 games — as senior quarterback Exander Carroll passed for five touchdowns, rushed for two more and led nine scoring drives for coach Danny Filleman's Raiders, who improved to 7-4 on the season.
With the victory, Regis Jesuit advanced in Quadrant 3 into a quarterfinal matchup with No. 2 Valor Christian, which is scheduled for 7 p.m. Nov. 18. It will be a rematch of the season opener between the teams in which the Raiders topped the Eagles 23-17 in overtime.
Regis Jesuit joins fourth-seeded Grandview — a 20-0 winner over No. 20 Rocky Mountain — as Aurora programs that remain in the final eight.
The Raiders received the opening kickoff against Fossil Ridge and drove 80 yards with ease, as junior running back Anthony Medina did a lot of the work with his legs before Carroll stretched the ball across the goal line from 2 yards out for an opening touchdown.
Fossil Ridge responded with a 70-yard drive to tie it up on the first of four touchdown passes on the night from SaberCats' quarterback Tyler Kubat, but Regis Jesuit came right back with a 90-yard drive that stretched to the first play of the second quarter when senior D'Andre Barnes cut across the formation, caught a short toss from Carroll and made it to the end zone.
A loose ball on the ensuing kickoff was recovered by the Raiders, who went 29 yards in seven plays and was finished by Medina, who took a short toss from Carroll and rocketed into the corner of the end zone.
Regis Jesuit was off and rolling on a 35-point second quarter that also included two touchdown passes from Carroll to senior tight end Andrew Metzler, who would catch three scoring passes on the night, and one to senior Dylan McCollough.
Fossil Ridge scored on the final play of the first half and on its opening drive of the second half to cut the deficit to 21 points, but Regis Jesuit responded with another scoring drive that was capped by Jaden Thermidor's 12-yard touchdown run. After a third recovery on a short kickoff by the Raiders, Carroll hit a wide open Metzger for another score on the first play from scrimmage to make it 55-21.
Carroll's 1-yard touchdown run in the late stages of the third quarter capped the scoring and invoked the running block mercy rule with a margin of more than 40 points.
Courtney Oakes is Sentinel Colorado Sports Editor. Reach him at [email protected] Twitter: @aurorasports. IG: Sentinel Prep Sports
2022 CLASS 5A STATE FOOTBALL PLAYOFFS, SECOND ROUND
(7) Regis Jesuit 63, (10) Fossil Ridge 28
Score by quarters:
Fossil Ridge  7    7   7  7 — 28
Regis Jesuit  7  35  21  0 — 63
SCORING
First quarter
Regis Jesuit — Exander Carroll 2 yard run (Pierce Martin kick)
Fossil Ridge — Bryce Olson 13 yard pass from Tyler Kubat (Olson kick)
Second quarter
Regis Jesuit — D'Andre Barnes 4 yard pass from Carroll (Martin kick)
Regis Jesuit — Anthony Medina 15 yard run (Martin kick)
Regis Jesuit — Dylan McCollough 43 yard pass from Carroll (Martin kick)
Regis Jesuit — Andrew Metzger 25 yard pass from Carroll (Martin kick)
Regis Jesuit — Metzger 27 yard pass from Carroll (Martin kick)
Fossil Ridge — Marcus Mozer 46 yard pass from Kubat (Olson kick)
Third quarter
Fossil Ridge — Trek Keyworth 20 yard pass from Kubat (Olson kick)
Regis Jesuit — Jaden Thermidor 12 yard run (Martin kick)
Regis Jesuit — Metzger 36 yard pass from Carroll (Martin kick)
Fourth quarter
Regis Jesuit — Carroll 1 yard run (Martin kick)
Fossil Ridge — Domenic Leone 24 yard pass from Kubat (Olson kick)