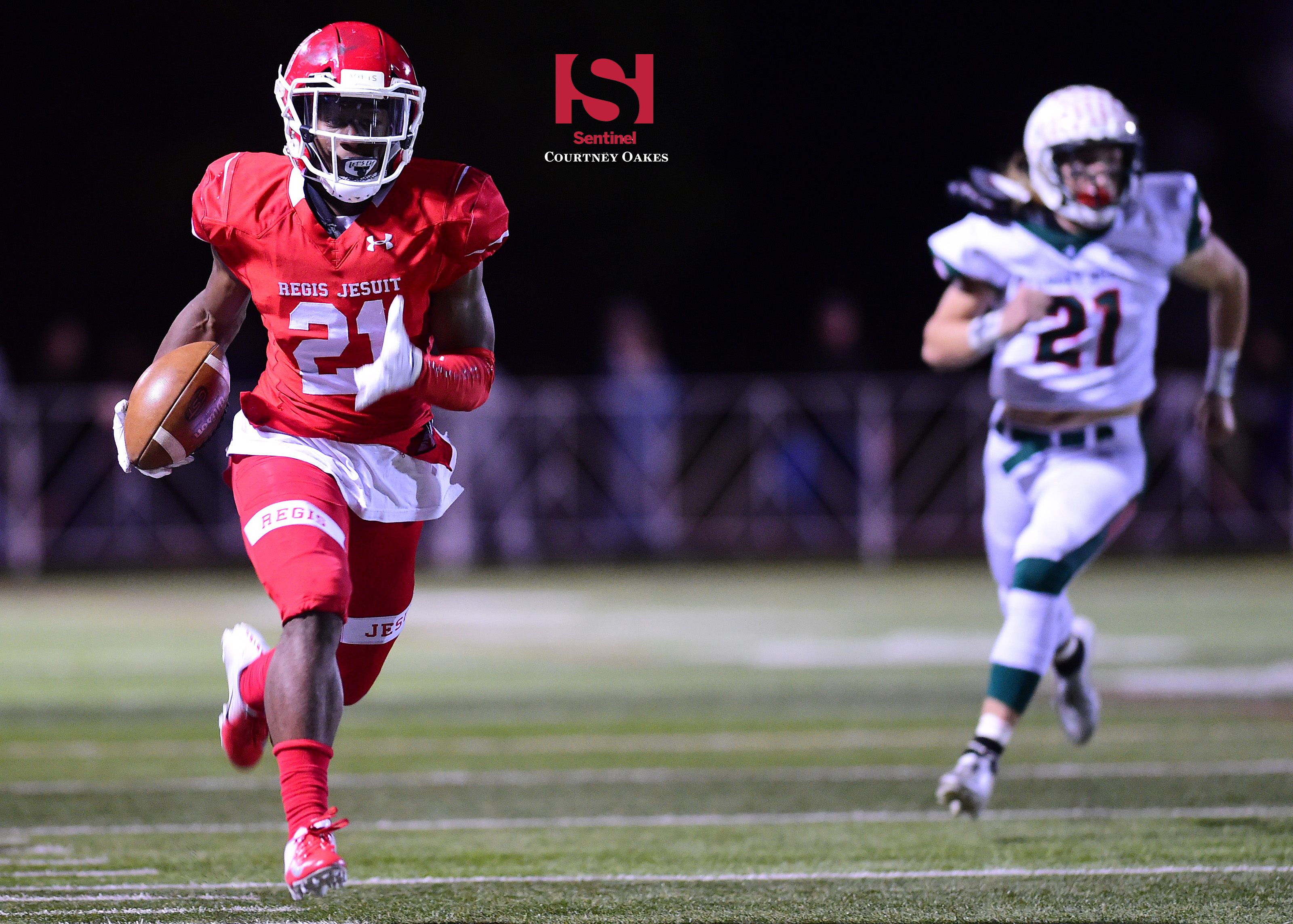 AURORA | The sixth straight playoff game for the Regis Jesuit football team in the 2018 season went better than any of the previous ones Friday night.
The Raiders sat 1-4 midway through the regular season with their postseason hopes fading as they went into league play. But coach Danny Filleman's team ran the table in the South League, qualified officially for the Class 5A state playoffs and moved into the second round with a 48-14 win over coach Tom Thenell and resurgent Smoky Hill in an all-Aurora battle.
Regis Jesuit scored a touchdown on its second play from scrimmage when freshman quarterback Nicco Marchiol connected with Ty McGuire on a 52-yard pass, senior Kiahn Martinez reached the end zone four times — two rushing, one receiving and one on a punt return — and the Raiders invoked the running clock, 40-point mercy rule early in the second quarter.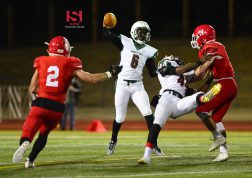 "We're really been in playoff mode for about six weeks after that Horizon game (a 26-22 loss), we said we had to win out to even make the playoffs," Filleman said. "We're treated it like that, our kids have treated it like that. It's been like the playoffs since then and now we get to continue on."
That playoff run will continue for the Raiders with the matchup they wanted, a second round matchup against top-seeded and 10-0 Valor Christian in a game set for 7 p.m. Nov. 9.
To get that chance, Regis Jesuit (7-4) had to derail a Smoky Hill team that was flying high after completing its first undefeated regular season since 1980 and qualifying for the playoffs for the first time in 11 seasons. The Buffaloes (10-1) believed they deserved a home game, but their faithful made the short trek to Lou Kellogg Stadium and packed the stadium.
Before that crowd got comfortable, however, the Raiders had the lead as the left-handed Marchiol threaded the needle on a pass to McGuire and he raced to the end zone for a 7-0 lead just 53 seconds into the contest.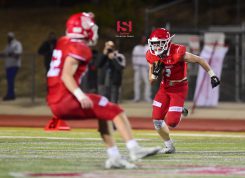 Senior safety Nick Warta then short-circuited the Buffaloes' attempt to answer when he outleaped junior Kaleb Starling to intercept a pass from sophomore Leslie Richardson III.
Then it was Martinez's time to shine as the senior — one of very few players on the Regis Jesuit offense with any previous playoff experience — as he took his second touch of the game to the end zone for a 56-yard rushing score.
A 5-yard Martinez touchdown run grew the lead again and he followed Marchiol's 29-yard touchdown toss to senior Carder Reed with an electrifying 46-yard punt return score and took a swing pass 41 yards on a one-play drive that made it 41-0 with 4:45 left in the opening half.
"I'm just doing what I needed to do for my team, I have to make plays regardless," said Martinez, who finished with 214 all-purpose yards (94 rushing, 41 receiving, 79 punt return) while getting most of the second half off.
"Punt return, kick return, defense, offensive, whatever I've got to do, I'm going to do it," added Martinez, who upped his touchdown total to 28 on the season.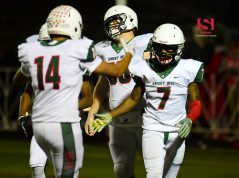 Smoky Hill scored twice in the third quarter against Regis Jesuit's reserve defense as Richardson III threw a 21-yard touchdown pass Starling and senior David Hoage crashed in for a 2-yard score.
But that was it for coach Tom Thenell's high-scoring Buffaloes — who came in averaging 36.3 points per game — as Warta came up with two interceptions and senior Charlie Quinn had another, which he returned to the end zone on the opening possession of the second half for the Raiders' final score.
"Our coach takes us (the defense) to Old Chicago if we get two turnovers in a game, so that drives us for sure," Warta said. "It felt great."
Regis Jesuit ended an undefeated season for another Aurora team for the second time in three seasons after it stopped then 11-0 Eaglecrest in a 5A quarterfinal in 2016.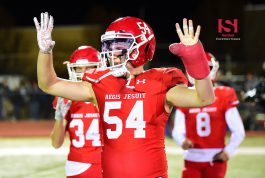 That Regis Jesuit team went on to fall to Pomona in the next round, but this season's version hopes to keep going.
"You always want to play the best; they are one of the best in the state right now and we want to play them and see where we are at," said Filleman, who has never faced the Eagles since taking over as head coach in 2015.
Added Martinez: "I've been waiting for this for four years, so I get my shot now."
The Buffaloes, meanwhile, had an encouraging first season under Thenell and figure to be back as they had less than a handful of seniors.
Courtney Oakes is Sentinel Sports Editor. Reach him at 303-750-7555 or [email protected] Twitter: @aurorasports. FB: Sentinel Prep Sports
(16) REGIS JESUIT 48, (17) SMOKY HILL 14
Score by quarters:
Smoky Hill      0   0  14  0 — 14
Regis Jesuit  27  14   7  0 — 48
SCORING
First quarter
Regis Jesuit — Ty McGuire 52 yard pass from Nicco Marchiol (Mariano Adame), 11:07
Regis Jesuit — Kiahn Martinez 56 yard run (kick blocked), 8:10
Regis Jesuit — Martinez 5 yard run (Adame kick), 6:10
Regis Jesuit — Carder Reed 29 yard pass from Marchiol (Adame kick), 5:01
Second quarter
Regis Jesuit — Martinez 46 yard punt return (Adame kick), 7:10
Regis Jesuit — Martinez 41 yard pass from Marchiol (Adame kick), 4:45
Third quarter
Regis Jesuit — Charlie Quinn 20 yard interception return (Adame kick), 10:24
Smoky Hill — Kaleb Starling 21 yard pass from Leslie Richardson III (Elisha Brown), 3:55
Smoky Hill — David Hoage 2 yard run (Brown kick), 10:25
RUSHING
Smoky Hill: Obie Sanni 18-161, David Hoage 1-2
Regis Jesuit: Kiahn Martinez 8-94, Nicco Marchiol 5-16, Zavier Carroll 1-8, Joe D'Angelo 1-3, Derin Taylor 1-3, Ty McGuire 1-(minus 1)
PASSING
Smoky Hill: Leslie Richardson III 1 touchdown, 3 interceptions
Regis Jesuit: Marchiol 5-6, 160 yards, 3 touchdowns
RECEIVING
Regis Jesuit: McGuire 1-52, Martinez 1-41, Carder Reed 1-29, Gordon McKeehan 1-22, Jackson Connelly 1-16