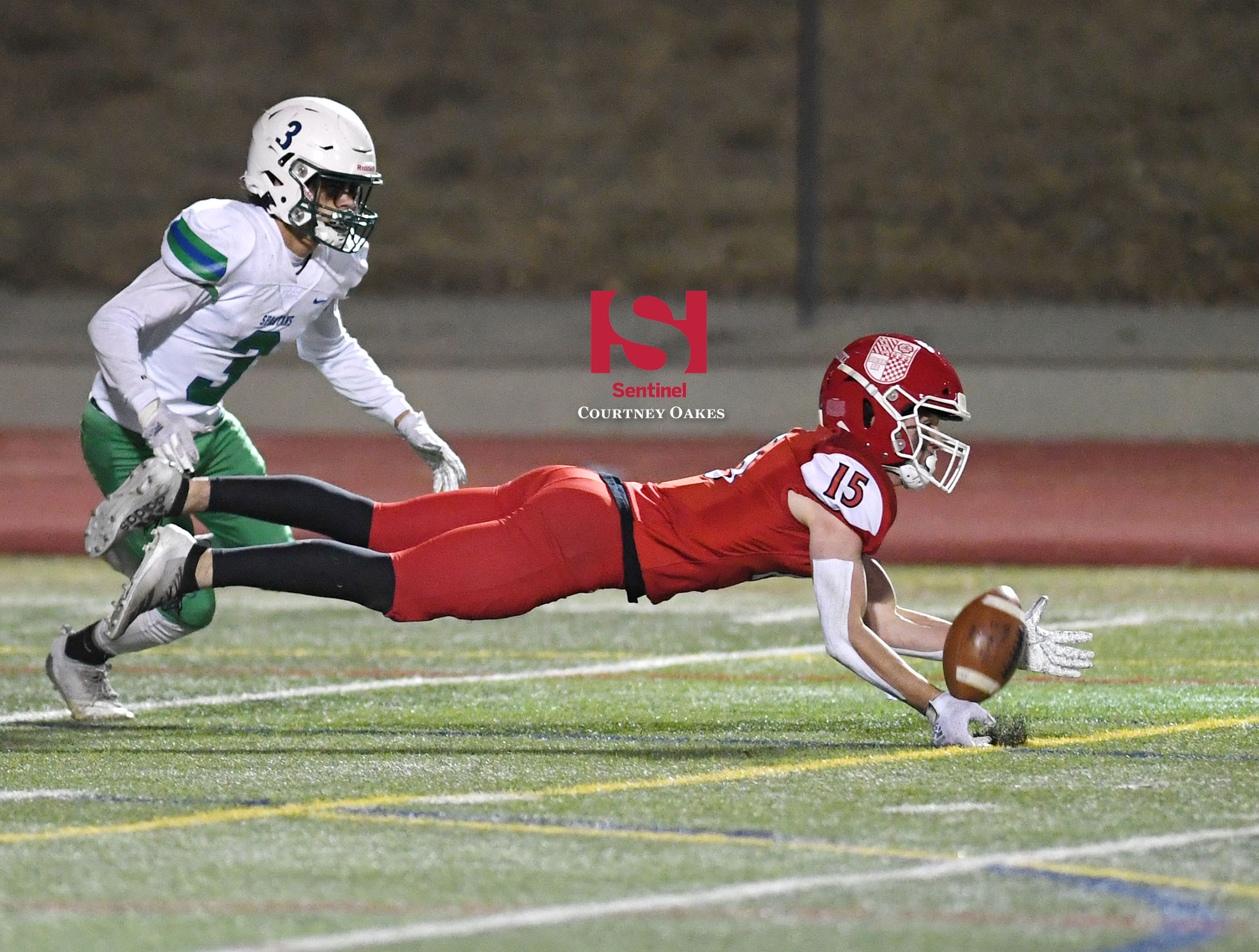 AURORA | Winless Doherty posed a challenge to the Regis Jesuit football team early in its visit to Lou Kellogg Stadium Friday night, but Dallas Macias helped turn things for the Raiders with a big second quarter.
The versatile junior playmaker contributed greatly to a 21-point second quarter with two touchdowns — via short reception from sophomore quarterback Exander Carroll and a 55-yard punt return — plus an interception to send Regis Jesuit into halftime with a 35-3 lead that turned into a 42-10 South League victory.
Sophomore D'Andre Barnes took the opening kickoff back the length of the field for a touchdown to give Regis Jesuit the lead eight seconds into the contest, while seniors David Dody and Eddie Maxfield and junior Zavier Carroll rushed for touchdowns as coach Danny Filleman's Raiders improved to 4-1 overall (3-1 in league).
Regis Jesuit is scheduled to conclude the coronavirus-shortened regular season with a Week 6 matchup with Pine Creek, which is 2-1 after a 21-20 loss to undefeated Legend (5-0, 4-0) at 6 p.m. Saturday at Garry Berry Stadiumin Colorado Springs. The Raiders suffered their lone loss at the hands of the Titans as well.
Doherty (0-5) — which faced a gauntlet of a schedule to open the season — capitalized on one of two early forced turnovers with a field goal in the second quarter by Gaboric Decker, who had a kick clang off the upright and out in the first quarter.
The Raiders responded with 28 straight points, including both of Macias' touchdowns — sandwiched around a one-handed interception he made on a deep ball from Spartans' quarterback Kade Becker — plus Zavier Carroll's short touchdown run and Maxfield's third-quarter scoring run.
Doherty got into the end zone with five minutes remaining on a Becker rush.
Courtney Oakes is Sentinel Colorado Sports Editor. Reach him at 303-750-7555 or [email protected] Twitter: @aurorasports. IG: Sentinel Prep Sports
REGIS JESUIT 42, DOHERTY 10
Score by quarters:
Doherty          0    3  0  7 — 10
Regis Jesuit   14  21  7  0 — 42
SCORING
First quarter
Regis Jesuit — D'Andre Barnes 99 yard kickoff return (Jordi de la Torre kick)
Regis Jesuit — David Dody 2 yard run (de la Torre kick)
Doherty — Gaboric Decker 23 yard field goal
Second quarter
Regis Jesuit — Dallas Macias 15 yard pass from Exander Carroll (de la Torre kick)
Regis Jesuit — Zavior Carroll 2 yard run (de la Torre kick)
Regis Jesuit — Macias 55 yard punt return (de la Torre kick)
Third quarter
Regis Jesuit — Eddie Maxfield 8 yard run (de la Torre kick)
Fourth quarter
Doherty — Kaden Becker run (Decker kick)
RUSHING
Doherty: Dylan Mercer 18-39, Kaden Becker 13-19, Conner Eggleton 1-1
Regis Jesuit: Zavier Carroll 8-57, Eddie Maxfield 4-30, David Dody 8-23, Josiah Harris 1-14, Thomas Donaldson 4-6, Exander Carroll 4-1
PASSING
Doherty: Becker 13-31, 191 yards, 1 interception
Regis Jesuit: Exander Carroll 10-13, 164 yards, 1 touchdown; Andrew Kulick 1-2, 12 yards; Donaldson 0-1, 1 interception
RECEIVING
Doherty: Kade Unberhagen 6-101, Eggleton 3-53, Dayne Savidge 2-23, Solomon Latimer 2-14
Regis Jesuit: Dody 2-64, Tony Padilla 3-49, Dallas Macias 3-37, Nunie Tuitele 1-12, Adam Zdanowicz 1-10, Andrew Metzger 1-4