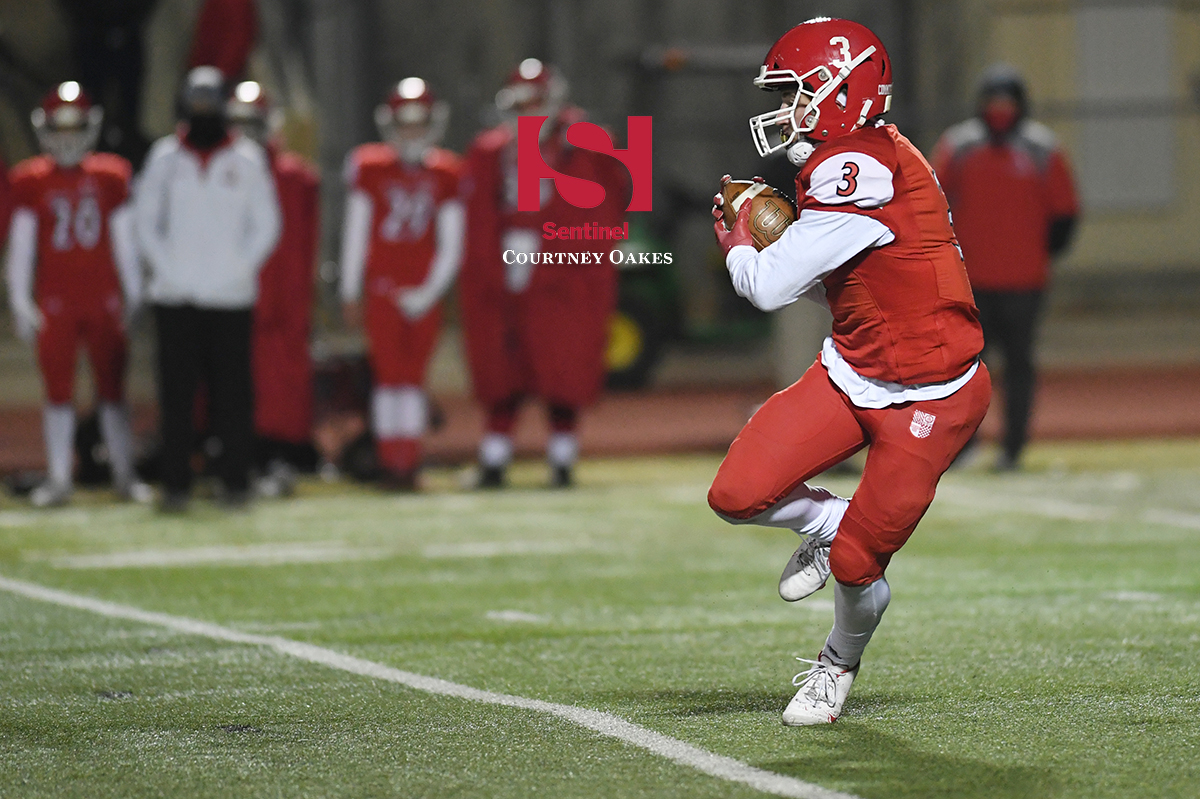 CASTLE ROCK | The Regis Jesuit football team bounced back from a rare loss with a complete South League victory over Douglas County Friday evening.
Coach Danny Filleman's Raiders — coming of a loss to Legend that dropped them a game behind in the league standings and ranked No. 10 in CHSAANow.com's Class 5A football poll after a three-place drop — earned their second victory of the season by shutout and matched their season-high in points scored in a 42-0 win at Douglas County Stadium.
Seniors David Dody and Andrew Kulick rushed for two touchdowns apiece, while sophomore quarterback Exander Carroll threw for a touchdown and ran for one as well as Regis Jesuit improved to 3-1 overall and 2-1 in the South League with a victory over Douglas County (1-1), which was playing just its second game of the season due to coronavirus quarantines.
Dody and Kulick each got into the end zone in the opening quarter to get the Raiders off to a strong start and the lead grew to 21 points in the second quarter when Carroll rolled out and hit Adam Zdanowicz with a short pass that ended up in a 29-yard touchdown.
A 47-yard touchdown run for Dody — part of his game-high 112 yards rushing and his seventh of the season — gave Regis Jesuit a 28-0 halftime edge, which grew again in the third quarter when Kulick, lined up under center, took a keeper up the right sideline and got just inside the pylon for a 27-yard score.
Carroll pushed the game into running clock territory (a lead of 40 or more points) with a 10-yard scramble to the end zone in the final period.
Regis Jesuit's defense held the Huskies — who won their opener 27-24 in Week 3 — to less than 200 yards of total offense and had a takeaway in an interception from junior defensive back Dervin Taylor.
The Raiders' scheduled Week 5 matchup is against Doherty (0-4, 0-3) at 6 p.m. Nov. 6 at Lou Kellogg Stadium.
Courtney Oakes is Sentinel Colorado Sports Editor. Reach him at 303-750-7555 or [email protected] Twitter: @aurorasports. IG: Sentinel Prep Sports
REGIS JESUIT 42, DOUGLAS COUNTY 0
Score by quarters:
Regis Jesuit  14  14  7  7 — 42
Douglas Co.    0    0  0  0 —   0
SCORING
First quarter
Regis Jesuit — Andrew Kulick run (Jordi de la Torre kick)
Regis Jesuit — David Dody run (de la Torre kick)
Second quarter
Regis Jesuit — Adam Zdanowicz 29 yard pass from Exander Carroll (de la Torre kick)
Regis Jesuit — Dody 47 yard run (de la Torre kick)
Third quarter
Regis Jesuit — Kulick 27 yard run (de la Torre kick)
Fourth quarter
Regis Jesuit — Carroll 10 yard run (de la Torre kick)
RUSHING
Regis Jesuit: David Dody 8-112, Zavier Carroll 7-56, Josiah Harris 4-38, Andrew Kulick 4-30, Tony Padilla 1-9, Exander Carroll 5-8
Douglas County: AJ Jackson 8-61, Andrew Amayo 1-34, Jack Shalz 5-19, Tyler Stonebraker 12-15, Reed McConnell 1-1, Chase Nelson 1-1
PASSING
Regis Jesuit: Exander Carroll 12-18, 143 yards, 1 touchdown
Douglas County: Jackson 5-25, 43 yards, 1 interception
RECEIVING
Regis Jesuit: Adam Zdanowicz 3-54, Dody 1-24, Charlie Rogan 1-19, Padilla 1-14, Andrew Metzger 1-11, Dallas Macias 2-9, Dervin Taylor 2-6, Hayden Moore 1-6
Douglas County: Keenan Rhoads 2-16, Nelson 1-15, JJ Roina 1-12, Amayo 1-0