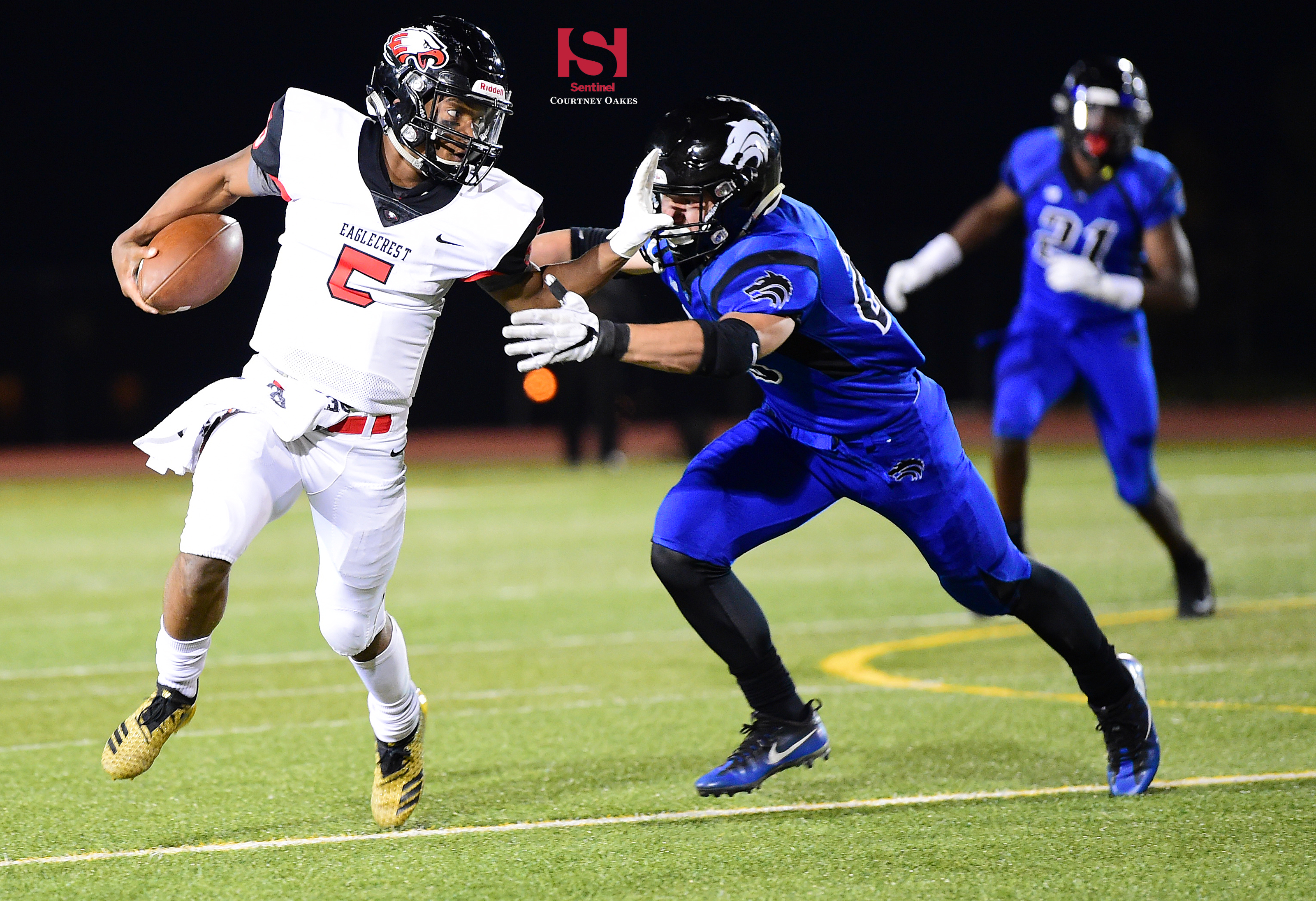 Garrett Looney looked up at the scoreboard to see his Eaglecrest football team down 21 points to rival Grandview late Sept. 28 with time ticking away.
Sure it seemed a nearly impossible task, but the Raptors' interim head coach had seen his team overcome plenty of adversity from the first week of the season — when its head coach abruptly resigned just two days before a game — so anything seemed possible.
And anything did happen, as Eaglecrest dug deep and scored the last 22 points of the game to win a 36-35 thriller and remain one of just six unbeaten teams in Class 5A.
"We knew this group had the potential to be very good and the adversity that happened Week 1 is not going to stop them," Looney said.
"It goes back to the adversity from the first week and the way they have come together as a group and we've come together as a staff. It's something you can't imagine, that your head coach is gone and you still have to go play.
"Hats off to them, they are a great group of kids."
The adversity Looney referenced came after new head coach Dustin Delaney — a Kansas import who was hired in the wake of beloved Mike Schmitt's move to Pennsylvania — shocked them when he resigned just two days before the Raptors' game at Fountain-Fort Carson, citing what he believed to be safety and facility deficiencies.
At the time, athletic director Vince Orlando said the school believed "the success that we expect is still right in front of us."
That has proven to be the case as Looney — who is a dean of students at Eaglecrest who started the season as offensive coordinator — stepped right in and has guided the team to five wins in as many games since.
"Every day feels better, really," Looney said. "Our Principal (Gwen Hansen-Vigil) has been amazing through all of this. I couldn't do it without her. She and the administration have been supportive with whatever I need.
"So hats off to her, but honestly all the credit goes to the kids."
That the Raptors remain unbeaten is not shocking in that they went undefeated in the past two regular seasons under Schmitt, but how they got past Grandview for a 27th consecutive regular season win was remarkable.
Down 35-14 with just over four minutes left in front of an absolutely packed house at Legacy Stadium, going against a Wolves team determined to win on Homecoming and snap a two-game losing skid to Eaglecrest, the adversity was palpable.
A JP Luketu touchdown plunge gave the Raptors some momentum going into the final quarter, then it was time for the defense to step up.
Led by seniors Elijah Anderson-Taylor and Tyler Dufour, the Raptors defense adjusted to the things that Grandview did well (which helped Noah Schmidt score three times and Jordan Billingsley twice) and dug in.
Eaglecrest forced four straight three-and-outs — including back-to-back after a turnover on a fumbled punt — to open the door for a comeback.
Anderson-Taylor had an explanation for the defense's rise, which exemplifies the character of the team as a whole.
"Honestly, we have dogs on this squad," he said. "Everybody wants to say we have good talent, but more than that we have people who want to come out here and physically outwork people."
Senior quarterback Dylan James took over from there, as he scored his third touchdown of the night to close the deficit to seven and then led the Raptors to midfield in the final minute.
Facing another huge bit of adversity — a fourth-and-15 — James launched a pass deep down the sideline that ended up in the outstretched right hand of sophomore wide receiver Ty Robinson on his way to the end zone.
"It was crazy, I just saw the ball come over my hand and I had to lay out for it," said Robinson, who reeled in the pass with his right arm just before he crossed the goal line.
"It was a nice catch, pretty clutch," he added. "I saw my quarterback roll out, he looked at me and I knew it was coming my way and I had to make a play."
With faith in his team — and an offensive line with three Division I players in Jake Wiley, Bear Miller and Reece Atteberry — Looney immediately called for a two-point try and they got it when junior Isaiah Emecheta burrowed into the end zone to give Eaglecrest its only lead of the game.
An interception by sophomore Seyi Oladipo ended the chance the Wolves could break the Raptors' hearts on a field goal in the closing seconds.
"This is what Colorado high school football is about," said Looney, a former Columbine star in his prep days. "This is what they live for and it's what I live for."
Courtney Oakes is Sentinel Sports Editor. Reach him at 303-750-7555 or [email protected] Twitter: @aurorasports. FB: Sentinel Prep Sports