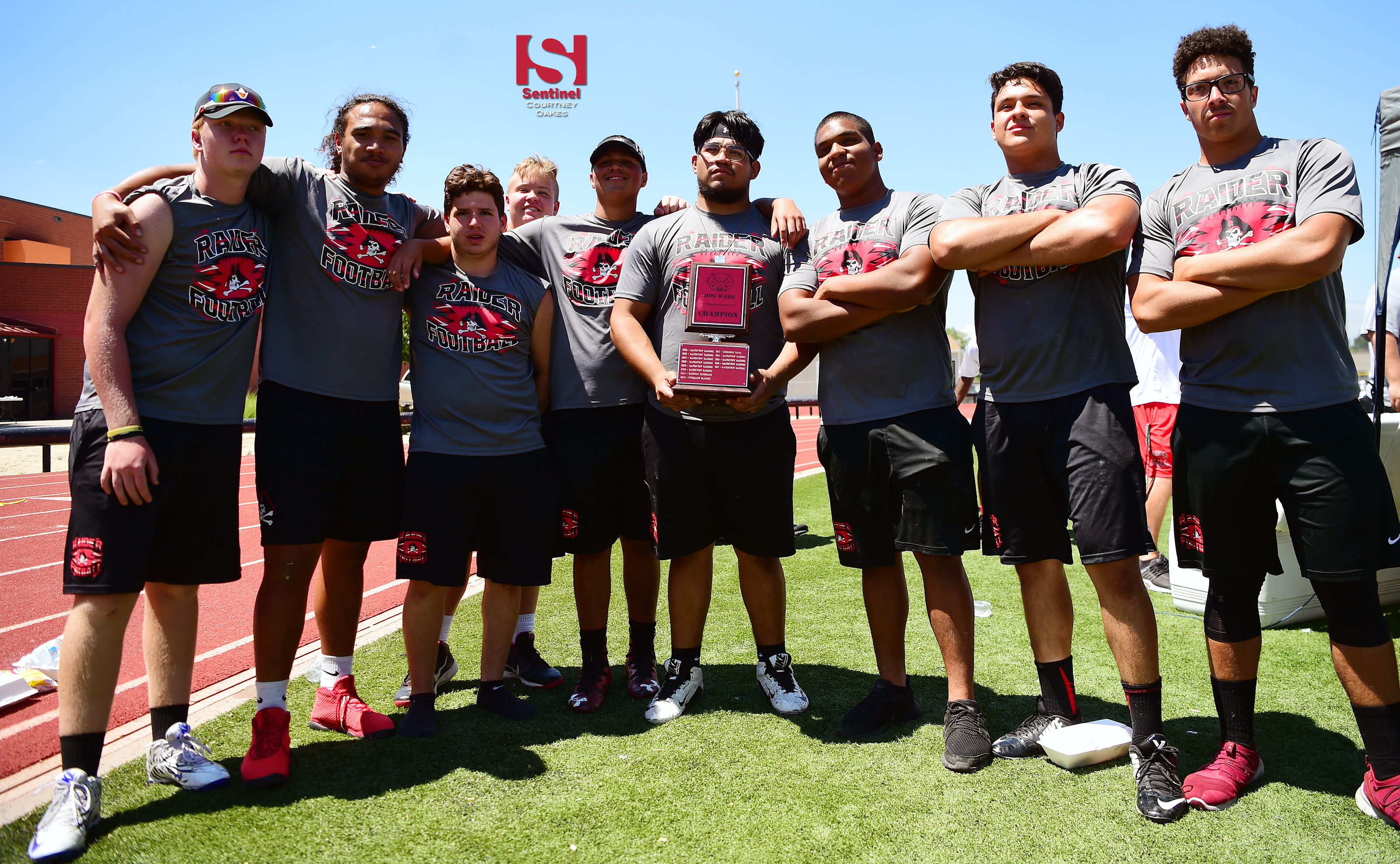 AURORA | Pride is probably good for a few extra flips of a monster truck tire, several feet in the farmer's carry or another lock out in the log press.
In the world of Hog Wars — Aurora's annual celebration of its trench warriors, the prep offensive and defensive linemen know as the 'Hogs' — that is immeasurable.
Each and every Rangeview lineman has a huge vested stake in the outcome of Hog Wars given the program's history as creator of the event and the Raiders' winning team of Osvaldo Caloca, Anthony Thomas-Morales, Jesus Bahena, Anthony Nickelson, Siaosi Vakafuhu and Matthew Aiello drew on every bit of the tradition to earn the program's fourth straight Hog Wars title and 11th in its 14-year history. (See photo gallery, here)
"For me, being here since eighth grade with the Futures program, there's a lot of pride for me," Bahena said, clutching the Hog Wars trophy.
"I've grown so much from then to now to help my team win this, so it feels really good."
Rangeview coach Brandon Alconcel moved to 2-0 in Hog Wars since he took over and this victory proved extremely satisfying, considering the Raiders had to hold off an Eaglecrest team that came in loaded up with a trio of Division I prospects.
Fueled by returners Bahena, Caloca and Thomas-Morales, Alconcel's winning unit won three of the six events and finished second in the other three to pick up 45 points, four more than the Raptors.
Upstart Vista PEAK finished third in its return to the event after a lengthy absence, followed by a cluster of Aurora Central and both teams from Cherokee Trail in fourth, fifth and sixth.
"You don't have to worry about motivating anybody around here for Hog Wars," Alconcel said. "It is a testament to our kids of how hard they work. You don't ever really know where you are at until the first week of the season. You're just involved the process and getting your body ready."
Eaglecrest looked more than ready for the season to start, with much of the trench talent that helped the Raptors get to last season's Class 5A state championship game back in the fold.
Recent University of Colorado commitment Jake Wiley and two other elite D-I offensive line prospects in senior Barrett "Bear" Miller and junior Reece Atteberry and senior 325-pound nose tackle Matt Youngblood gave Eaglecrest (which will be under the direction of new coach Dustin Delaney this season) the most physical-looking of Aurora's Hog Wars units.
The Raptors flexed their muscles to be sure — including a dominant win in the ending tug-o-war (the only real head-to-head event) — and a victory in the firetruck push as well, but couldn't match the Raiders' overall prowess.
"Eaglecrest is really good and they put up a good fight," Bahena said. "Being state runner-up, I wouldn't expect anything less."
Vista PEAK appeared in Hog Wars for the first time in five years and coach John Sullivan had to like what he saw from his team.
The Bison topped the field in the Hog Sled push relay with a win by more than three seconds over Rangeview and performed well in every event save the fire truck push, in which they earned just one point for an eighth-place showing.
Aurora Central — which will play under new coach Austin Able this season — posted its best Hog Wars result in quite some time with a fourth-place showing.
Despite not completing the tire flip relay, the Trojans — led by seniors Mike Thompson and Thaddeus Veasley — finished third in the tug-o-war, which gave them the point they needed to finish in front of Cherokee Trail's top unit for fourth place.
The Cougars' No. 1 and No. 2 teams jockeyed back and forth until the top unit moved in front by a single point at the end.
Hinkley collected 15 points to finish seventh and Gateway — which had former star and current Los Angeles Charger Zack Golditch onhand to watch — scored seven to come in eighth.
Grandview had been scheduled to compete, but had to pull out last minute.
While Hog Wars certainly gives an important shot of confidence to the guys in the trenches, who often don't get the credit they deserve for influencing the outcome of games, the momentum produced by winning it can't be overestimated.
"The cool thing about winning Hog Wars is that on top of being proud of it, it really is a seller to the rest of the team," Alconcel said.
"These linemen showed up each and every day in June for our conditioning and this is the result. You can show the entire team that this is the recipe for success and if you put in the work, this is the outcome. It doesn't always work out that way, but it did in this case."
Gateway (2011), Overland (2012) and Cherokee Trail (2013) have been the only teams to unseat Rangeview since the competition began in 2005 under former Rangeview coach Dave Gonzales.
With Hog Wars in the rearview mirror, the summer work for local teams is winding down.
The official start of practice for the 2018 season is Aug. 6, with the first games scheduled to be played Aug. 23.
Courtney Oakes is Sentinel Sports Editor. Reach him at 303-750-7555 or [email protected] Twitter: @aurorasports. FB: Sentinel Prep Sports
2018 HOG WARS FINAL STANDINGS
Team scores: 1. Rangeview 1 45 points; 2. Eaglecrest 41; 3. Vista PEAK 29; 4. Aurora Central 24; Cherokee Trail 1 23; Cherokee Trail 2 22; Hinkley 15; Gateway 7; Rangeview 2 6