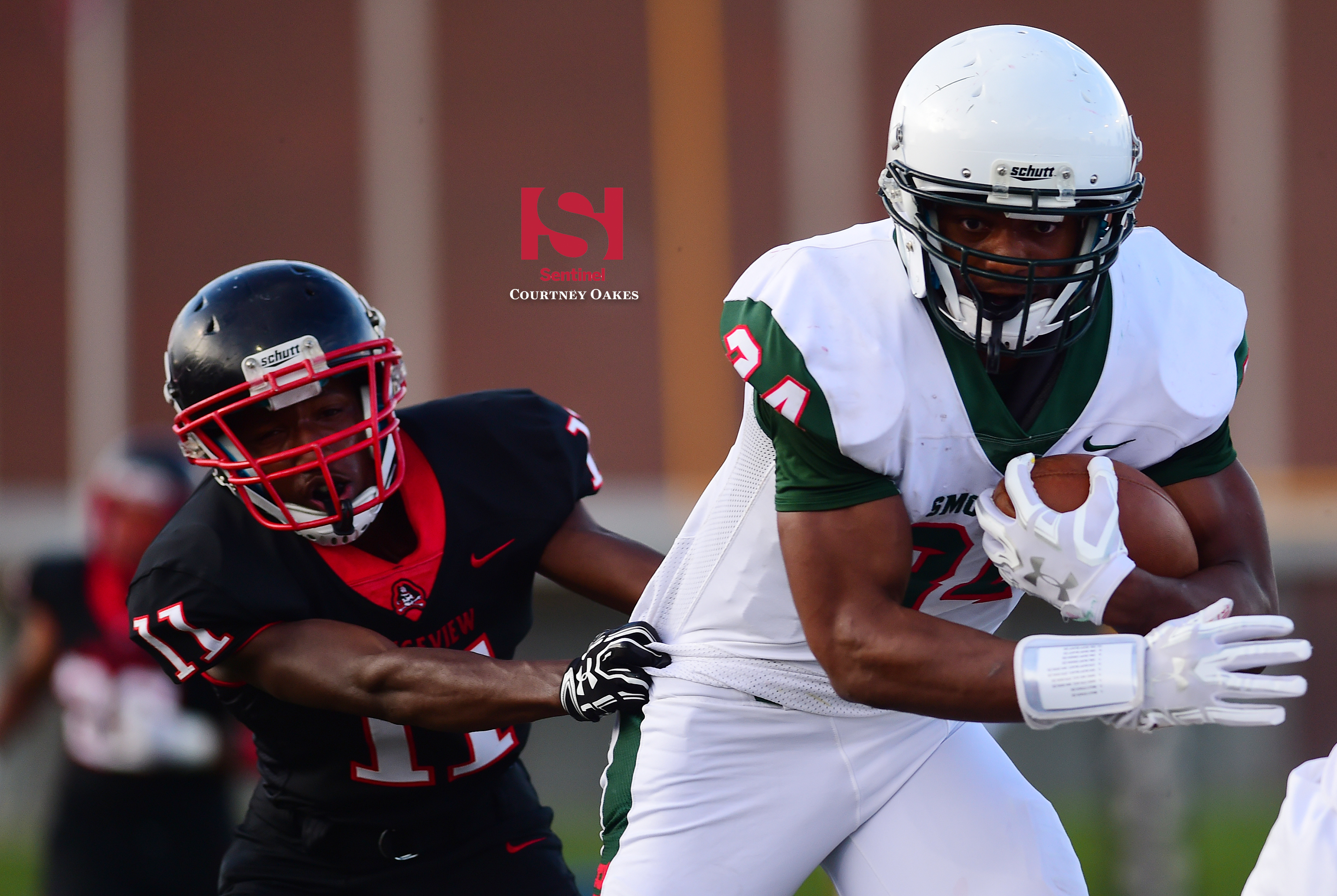 The ear-to-ear smile that stretched across John Thompson's face in March when he unveiled Tom Thenell as Smoky Hill's surprise new head football coach has grown even wider.
The Smoky Hill athletic director coached the team for seven seasons and led the Buffs to their one and only state playoff appearance in nearly three decades, so he knew the challenges the winning-starved program has faced in the past.
But the addition of Thenell — a longtime Colorado institution who had a lot of success at Bear Creek and Mullen — has brought the type of transformation Smoky Hill may never have seen.
Optimism is one thing, but so are results. The Buffs are off to a 2-0 start to the 2018 season and see nothing but good things on the horizon.
"We trust each other now, we trust that we're a family and we didn't do that in other years," Smoky Hill senior linebacker David Hoage said. "The coaches made that happen, so I'm thankful for the coaches.
"We're going to rock out this year. This is my last year and I'm excited for it."
The change has been stark.
The Buffs have outscored their two opponents, Overland and Rangeview, by a combined total of 61-0, including Week 2's 42-0 victory over the Raiders.
Conversely, last season after two games — albeit against different opponents, which were both playoff-bound in Highlands Ranch and Eaglecrest — they were 0-2 and outscored 101-14 with only one offensive touchdown.
That's a significantly different side of the coin and one that has Thompson and others dreaming about 2007, the last year a Smoky Hill football team played a postseason down.
That season under Thompson, the Buffs won their first two games by shutout, finished 5-4 in the regular season and qualified for the state playoffs (when 32 teams made it), where they lost to Rocky Mountain.
The current Smoky Hill team has a long way to go to reach those heights, but have the tools, mindset and opportunity to do it.
Thenell has seen great progress from the first day he and his staff took over.
"This is 34 years for me and that's as big an improvement from a group of kids from the start up to the first game that I can remember in a really, really long time," Thenell said after the Buffs' 19-0 season-opening win against Overland.
"Me and my coaching staff have really come to connect with this group of kids. To be where we're at right now, taking over basically in May and to see how hard they have worked and concentrated and focused to have something good happen to them on a football field is a tribute to the kids. They deserve all the credit."
Smoky Hill features the state's leading rusher, regardless of classification, in junior Obasanjo (Obie) Sanni, who has amassed 492 yards in two games.
Sanni — whose older sister Zainab is a former Smoky Hill star sprinter who qualified to represent the family's native country of Nigeria in the 2016 Summer Olympics — is a 5-foot-7, 170-pound rocket with a variety of moves to make tacklers miss.
He broke off a 65-yard touchdown run against Rangeview, which helped his yards-per-carry average reach 8.1 yards per attempt. Sanni, who had 255 yards on 40 carries against Overland and 237 on 21 attempts against Rangeview, has already surpassed his sophomore season total of 401 yards rushing.
"We just put in work all offseason; we were always in the weight room, always putting in work during the summer," Sanni said.
"When I'm running the ball, I just think one more inch…I put it all out there for my team."
With the emphasis on the ground game, sophomore quarterback Kamari Lewis-Stallworth has attempted just 23 passes in two games, but four of his 11 completions ended up in the end zone.
On the other side of the ball, Hoage — who shares the backfield with Sanni and although he is mostly a blocker, but also an effective pass catcher — is one of the keys to a defense that posted the first shutout for the program since 2010 in the opener and then added another.
The Buffs have 11 sacks, including five by junior Khari Upshaw.
Smoky Hill — which also will welcome in some talented transfers midseason — also have the right league to build in.
The inaugural season of the Metro 10 conference, which includes the 5A teams with the lowest winning percentages for the past two seasons, is there for the taking. The league champion is guaranteed a spot in the postseason.
"The bottom line is win the one you are in; win the game you are in, win the league you are in," Thenell said. "It doesn't matter where you are at or what league you are in, the goal is to win. We're going to try not to lose sight of that."
Courtney Oakes is Sentinel Sports Editor. Reach him at 303-750-7555 or [email protected] Twitter: @aurorasports. FB: Sentinel Prep Sports