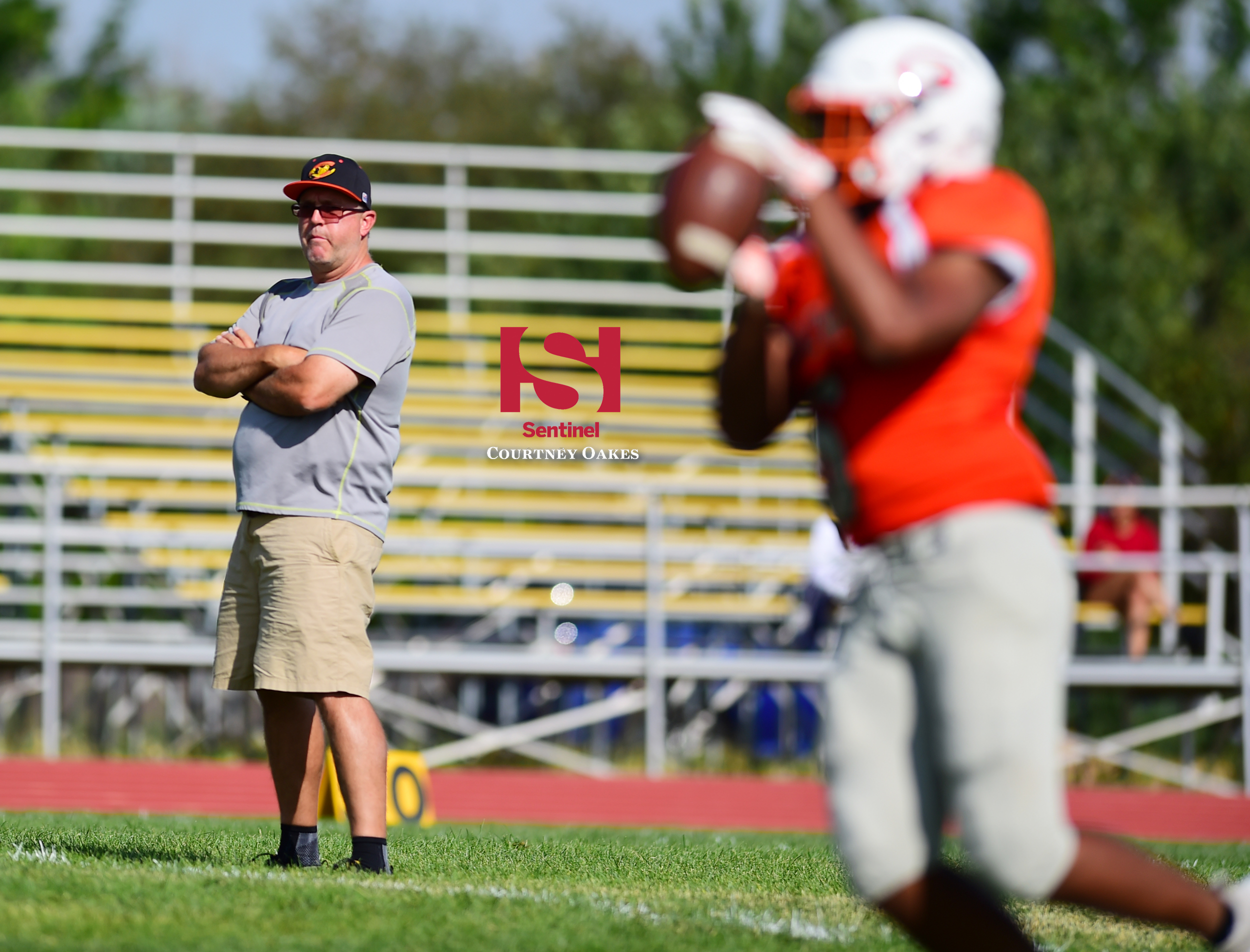 AURORA | TC Newland describes himself as a face-to-face type of person, but he got his latest head football coaching job remotely.
Hinkley High School capped a month-long search for its new head football coach — done entirely online due to the coronavirus pandemic — when it offered the job to the 54-year-old Newland, who promptly accepted.
Newland, who has previously been a head coach in Alamosa as well as in Nevada at schools of various sizes and spent the last two seasons coaching the offensive line at Gateway, confidently went into the process and came out with the job he wanted.
"I'm more of a hands on, face-to-face guy, so this was a unique experience to say the least," Newland told the Sentinel about the completely online interview process. "I wanted to be a head coach one last time in my career and I told one of the retired coaches I know (Dennis York) that I was going to throw my name in the hat at Hinkley and I was pleasantly surprised to be hired."
Newland — a 7th and 8th grade science teacher at Clyde Miller Elementary in Aurora — takes over the Hinkley program from Michael Farda, who stepped down in January down after four seasons with plans to return to his native Texas. Farda guided the Thunderbirds to a 13-7 mark over the past two seasons after they were 1-19 in his first two seasons.
Hinkley — which welcomes its sixth coach in the past decade following Bob Bozied (2011), Joe McKain (2012), Jaren Cohen (2013), Robbie O'Brien (2014 & 2015) and Farda (2016-19) — is third Aurora program to hire a new head coach ahead of the 2020 season following Gateway (which hired Robb Wetta) and Overland (which hired former Cherry Creek assistant Kyle Reese).
The process of hiring for Hinkley athletic director Rodney Padilla turned significantly more complicated, however, with the arrival of the coronavirus, which wiped out the first round of scheduled interviews for the position.
Padilla found himself with more time to make his decision and he used it to do reference checks and get to know the candidates. Then it was up to the results of the Zoom meetings — which also included other Hinkley staff members — that have become the norm in the coronavirus times to decide who was right for the job.
"I was pleasantly surprised with how well it went," Padilla said. "I thought it was very professional and well organized. I knew their (candidates) voices from the phone, but I didn't know what they looked like until they popped up on the screen."
Newland played prep football in Colorado at Brush High School under Larry Mills, who has been inducted into the Colorado High School Coaches Hall of Fame and also the National High School Athletic Coaches Hall of Fame, and went on to a collegiate career at Colorado State under Leon Fuller in the 1980s.
He's been a head coach on two other occasions, but is looking forward to this opportunity and was confident enough that he secured commitments from four local assistants — including York, who he worked with at Gateway — before he had the job.
Those assistants have significant ties to the Aurora community, which will be even more vital given the time lost because of the coronavirus. The weeks at the end of the school year when Newland and his staff could generate interest within the school are gone with all district facilities shuttered and learning happening exclusively online.
"We're losing 12 seniors out of 34 (on last year's final roster), so it's imperative that we try to recruit as many kids as possible. If they live in the Hinkley boundaries, they need to stay and play at Hinkley," Newland said.
Newland is eager to implement a modified Wing T formation on offense that he believes can be very effective for the Thunderbirds, even though he has yet to become familiar with the skill sets of returning players.
Running back Ty'Ren Draper is expected to be back next season as a senior after rushing for more than 1,500 yards and 14 touchdowns in 2019.
Newland doesn't plan to run the offense, but plans to serve as special teams coordinator.
Padilla believes Hinkley has found a quality replacement for the passionate Farda, who got a lot of buy-in from his small group of players that turned around the program's fortunes in a relatively short time.
"In this process I had a lot of people say 'I caught football at CU' or this and that, but just because you caught a football doesn't mean you can motivate kids and get them to play," Padilla said. "I looked at all of that stuff and I think we got the best guy we can possibly get."
Hinkley has a new leader as it moves back up to Class 5A and joins one of the two divisions of the Metro 10 conference along with APS rival Rangeview, another Aurora entry in Overland as well as Denver East, Far Northeast and Prairie View.
According to Padilla, the Thunderbirds' schedule next season will also include Erie, rival Aurora Central, Monarch, Kennedy and Castle View in non-league play.
Courtney Oakes is Sentinel Colorado Sports Editor. Reach him at 303-750-7555 or [email protected] Twitter: @aurorasports. IG: Sentinel Prep Sports