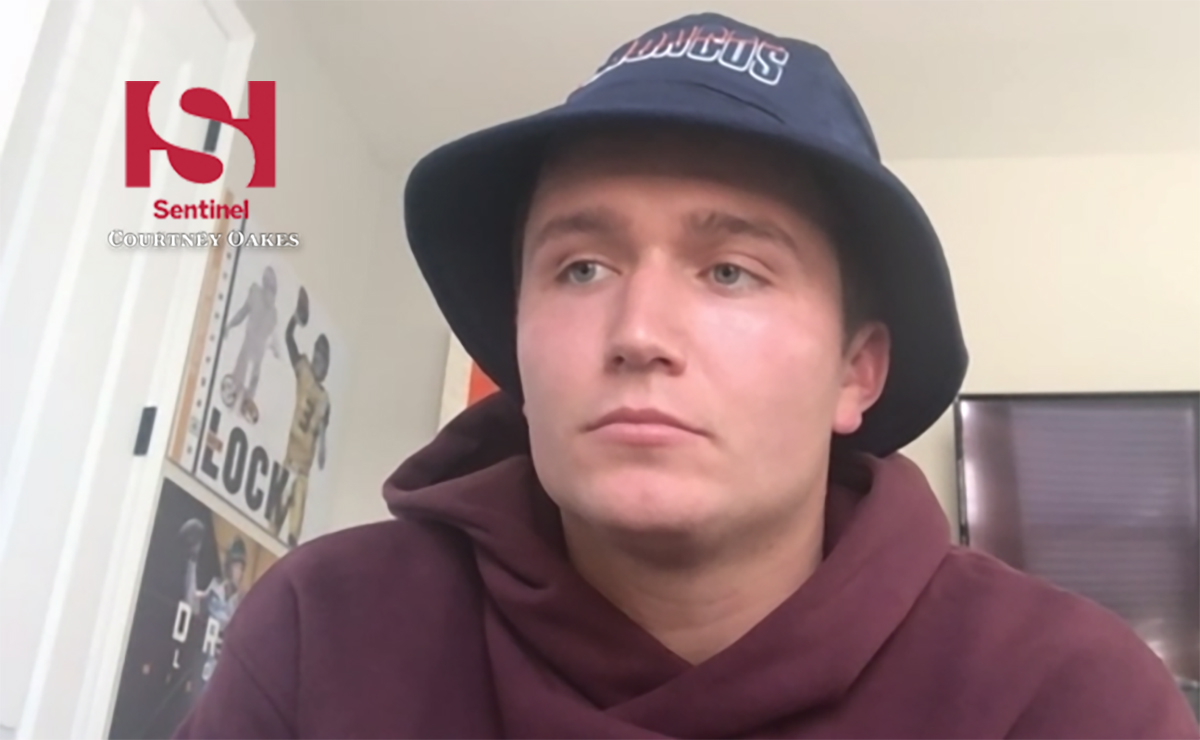 AURORA | Drew Lock graciously accepted an invitation to be on the sidelines for a Hinkley High School football game in the upcoming spring season.
Whether or not the Denver Broncos quarterback's schedule will allow him to actually join the Thunderbirds or not is yet to be seen, but his surprise appearance on a Zoom call with coach T.C. Newland and some of his players Friday afternoon caused a stir.
In a call moderated by Roman Oben, a former Super Bowl-winning NFL lineman and the league's Vice President of Youth and High School Football Strategy, Lock announced that he and the New Era Cap Company made a $10,000 donation to the Hinkley football program. Lock also shared his personal story of perseverance from playing in high school (Lee's Summit in Missouri) to the University of Missouri and into the professional ranks.
"I haven't been on a sideline in so long, so I would love to come if I'm able," Lock said in response to Newland offering him a spot during one of the games on the Thunderbirds' schedule, which begins in March as all Aurora Public Schools programs passed on fall football in favor of the spring.
If Lock does make it to the sidelines, he will be able to see the impact the donation will make.
Hinkley athletic director Rodney Padilla said the money would allow the football program to buy more than 20 new helmets, outfit coaches with new gear and most importantly, buy new equipment bags.
With no team transportation to events this season provided by Aurora Public Schools due to the coronavirus pandemic, the ability to pack equipment for transport is crucial and the program was going to have to hold fundraisers to make that happen until it received the donation.
"I hope this helps propel us this season," Padilla said.
Five high school programs in the country received donations from New Era and two had already received visits from NFL players, as Philadelphia Eagles quarterback Jalen Hurts visited with recipient Boys Latin in Philadelphia and San Francisco 49ers tight end George Kittle interacted with the program at Gunderson High School in San Jose, California.
Newland is in his first season as head coach of the Hinkley program as he took over for Michael Farda, who left the program to return to his native Texas after four seasons.
Lock shared words of encouragement for players hoping to advance to the next level.
"Keep pushing, put good film out there and coaches will see you," Lock said.
Lock also told the Hinkley players about the motivation that he continues to draw during his career from being passed by so many teams in the 2019 NFL Draft — which he attended with his family expecting to be selected in the first round — until the Broncos selected him in the second round.
"I sat there for 32 picks with my family and loved ones and you almost feel like you let people down," Lock said. "It was supposed to be this awesome, fun, exciting night, but life happens and you have to adjust. Once I get picked, that whole night went away and everything was so excited, but there isn't a day I don't think about that night.
"I still carry my draft card around with me to remind me of all the people telling you you weren't good enough. It made me want to make all those teams regret not drafting me, I just keep that night in mind and get to work."
Courtney Oakes is Sentinel Colorado Sports Editor. Reach him at [email protected]com. Twitter: @aurorasports. IG: Sentinel Prep Sports