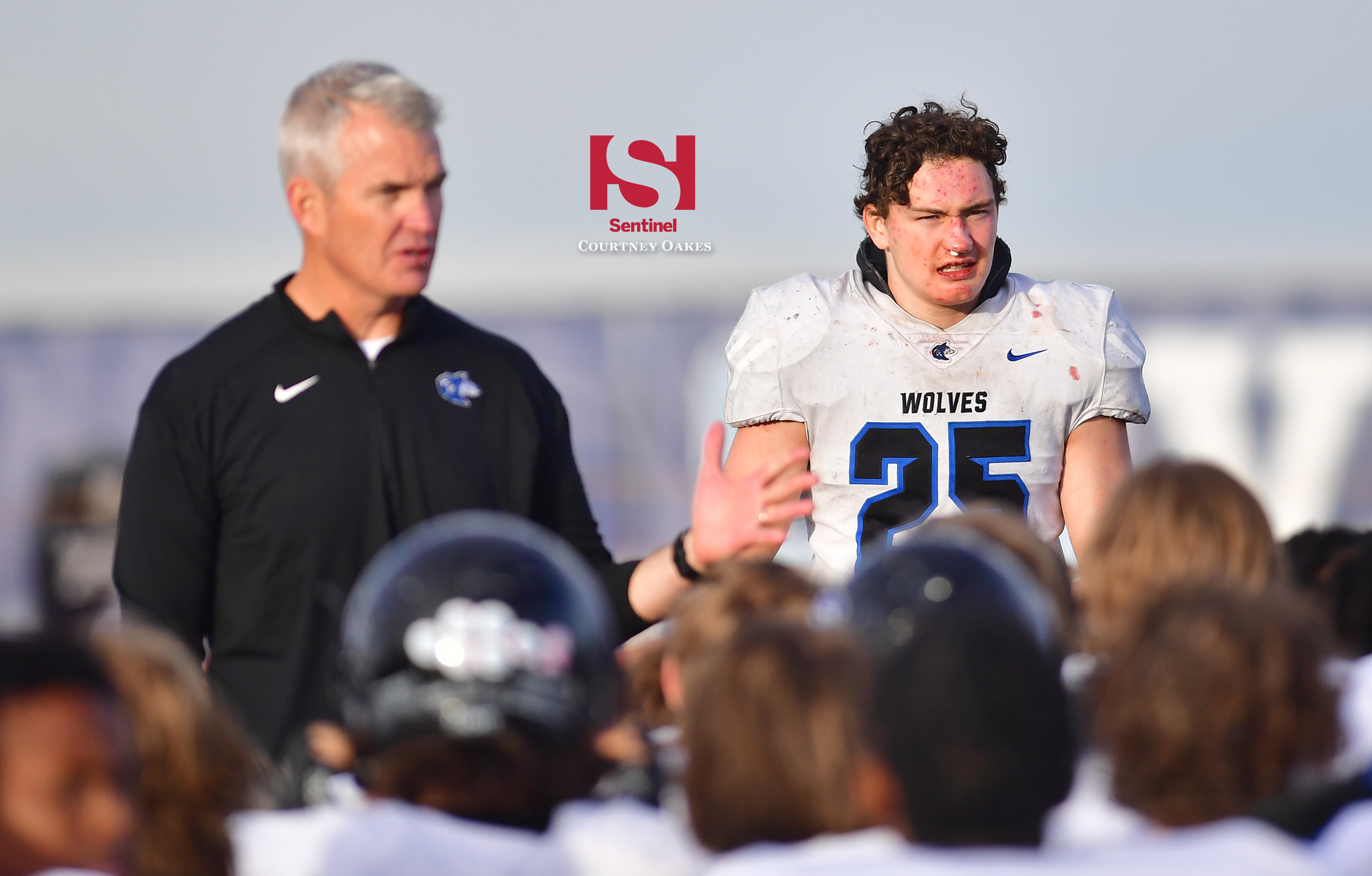 Before and after its Class 5A semifinal contest Nov. 27, the Grandview football team could appreciate the big stage and what it took to get there.
In between, however, was a bit of a blur.
The Wolves had to contend with a top-seeded Valor Christian team that pushed the pace on every play on offense and it eventually proved too much to stop in a 37-6 defeat that saw their first season under new head coach Tom Doherty come to an end at 10-3.
"It's been a pleasure, we came a long, long way from the beginning of the season to here," senior Kahden Rullo said. "It's awesome playing in front of so many fans in the final four on a Saturday. It wasn't the result we wanted, but the whole season has been awesome from beginning to end."
Doherty came over after a very successful run as defensive coordinator for coach Dave Logan's Cherry Creek juggernaut and he had high expectations given what he knew about the ability of the players who had grown up under former coach John Schultz, who retired after 17 seasons as the helm.
The Wolves lived up to that belief, going 8-2 in the regular season with losses only to the Bruins — who will play for the state championship Dec. 4 at Empower Field at Mile High — and Ralston Valley, in a defeat they avenged in the quarterfinals.
Grandview players and coaching staff relished the chance to practice on Thanksgiving — the first time the tradition returned for the program since 2018 — and did their best to ready themselves to take on the top-seeded Eagles, who had steamrolled their way to a 12-0 record.
The Wolves soaked in the preparation and pageantry as one of the teams to earn their way into the semifinals, but once the ball was kicked off, quickly found out what they were up against.
Grandview won the toss and deferred to the second half, going on defense first, where it hoped for a tone-setting first stand. Instead, Valor Christian fed star running back Gavin Sawchuk and marched 80 yards on a breakneck opening possession that reached the end zone and set the tone the other way.
"Nobody runs it that fast in high school, I haven't seen it except for last year's state championship game," Doherty said. "We practiced for it, we had a plan for it and we repped it, but you can't really prep for it 100%. We knew was coming, but it was a shock to the system for the kids when they saw it."
A defensive unit that had been outstanding all season had to just dig in and line up play after play, no matter what the result of the previous play, good or bad.
Valor Christian scored touchdowns on four of its five possessions in the opening half with Sawchuk scoring three of them and picking up 165 yards on the ground.
"You can't celebrate or anything, you just have to get set," said junior defensive back Gibson Leafgreen, who did get to celebrate after his early interception in the red zone kept Valor Christian from adding to its early lead.
Grandview punched back from an early 14-0 deficit when sophomore quarterback Liam Szarka (who finished with 145 yards passing and 80 yards rushing) burst up the middle and covered 29 yards untouched for his team-leading 10th rushing touchdown.
But the Wolves couldn't build on it and the Eagles scored twice more for a 28-6 halftime lead. Two more scoring drives in the third quarter put the game out of reach for Valor Christian, though prideful Grandview played hard to the end.
Senior running back Moosah Alsaffar finished with 47 yards rushing — pushing him over 1,000 for the season despite missing three games — and added another 25 receiving and senior Tristan Burrus had 62 receiving yards on four catches to finish two yards behind fellow senior Evan Johnson for the team lead as highlights for the Wolves' offense, which moved the ball, but committed two turnovers and turned it over on downs a few times.
Still, Grandview players walked off the field with more smiles than tears.
"I hate to see the seniors go, but I'm happy with how far we made it," junior linebacker Max Kibbee said. "We're happy with winning back the neighborhood, winning our league and coming to the final four. All of that is satisfying."
Added Johnson: "I loved being out here with my brothers, I'm going to miss it with all my heart. I'm excited to see what the younger guys do after this."
Doherty wanted more for his senior group, which was at the heart of the playoff push.
"It's going to be a monumental task to replace these seniors and we won't be able to replace all of them," he said. "They were great students and great leaders in the school.
"We knew this year needed to be special because we wanted those seniors to taste some success. We did, just not the ultimate."
Note: It was the eighth trip to the semifinals for the Grandview program all-time and the record dropped to 1-7 in those penultimate contests, which includes a victory in 2007 when it won its only state championship. Three of the Wolves' semifinal losses have been to Valor Christian.