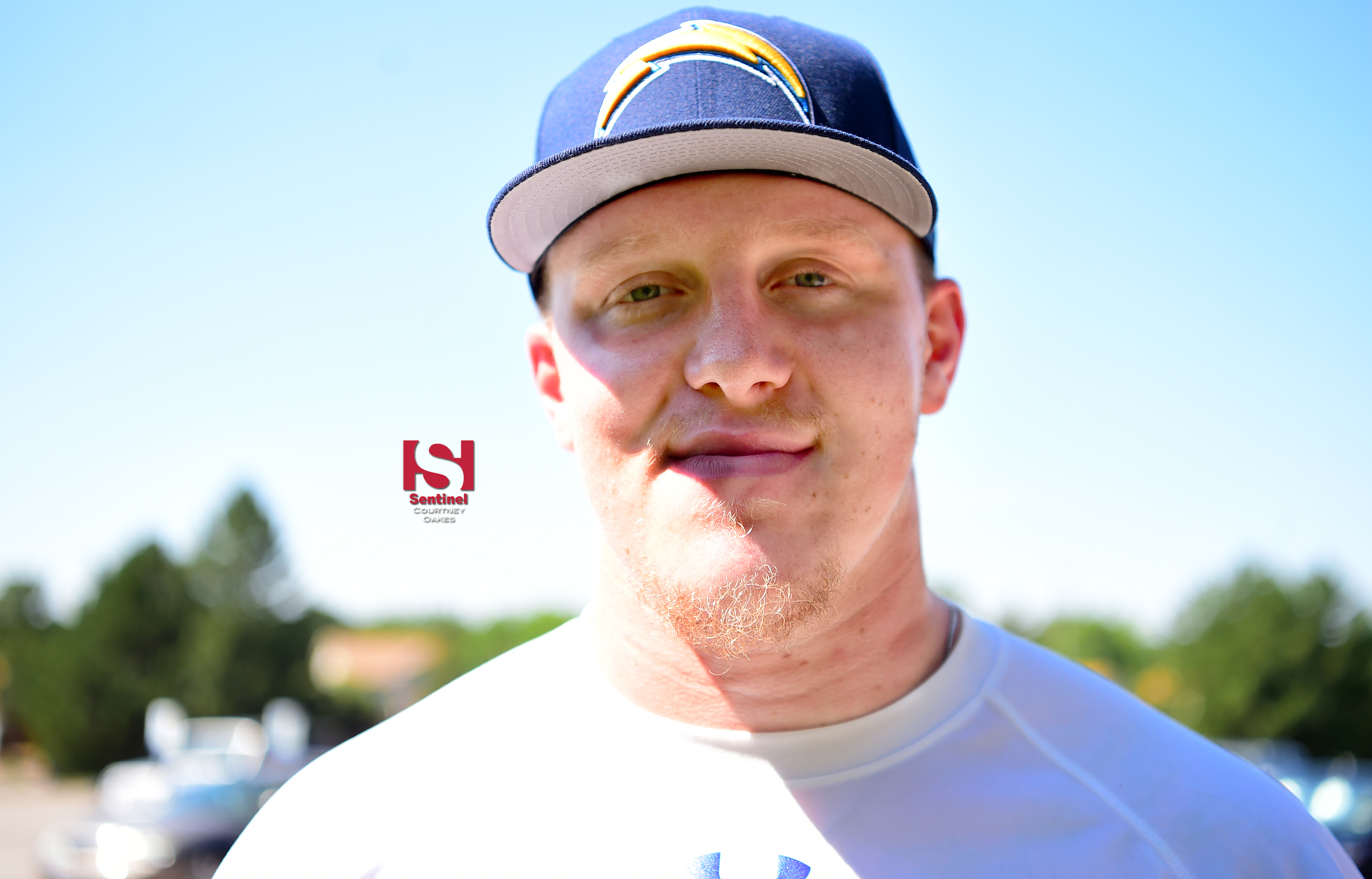 Zack Golditch is Aurora, or at least has grown into one of the best parts of it.
The former Gateway High School star football player was a fortunate survivor of the event that the city became known for nationally — the Aurora theater shooting, which just marked its sixth anniversary — and he's trying to be a part of making it a better place in any way he can.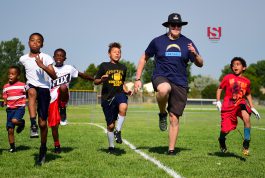 Golditch is giving back with his presence before he goes off to try to make his way in the National Football League with the Los Angeles Chargers.
"I recognize my platform, so I'm just trying to be there," Golditch told The Sentinel as he watched Hog Wars July 11 at Rangeview.
"It's one thing to see people on TV or read about them in the newspaper or on social media, but it's another to see somebody in person. It's been a blast and I have the time, why not be there?"
And Golditch has been present often in the last few months, even after the 6-foot-5, 295-pound offensive lineman signed an undrafted free agent contract with the Chargers in the wake of an outstanding Division I career at Colorado State.
In Golditch's time at Gateway, Zach Latimer was the biggest name athletically around the school and the benchmark by which all Olys' football players measured themselves.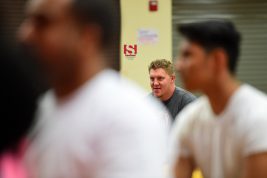 A huge banner trumpeting Latimer's selection as Colorado's Gatorade Player of the Year in 2001-02 hung in the school's hallways and the effervescent Latimer came around Gateway often after his career at the University of Oklahoma.
Latimer got a cup of coffee in two places in the NFL, including with the same Chargers franchise Golditch has joined.
"When Zach Latimer would come around — he wasn't an active player at the time — but I would be in awe," Golditch recalled.
"We had other college players show up from time to time and just seeing those people really did something for me, so I'm trying to return the favor."
Just a few days after he'd signed an NFL contract as an undrafted free agent, Golditch showed up at Gateway to meet with a former teacher and then stuck around to watch a large group of Olys football players sign to play in college.
His presence in the room — the same room where he signed his National Letter of Intent with Colorado State in 2013, just a few months after he survived being shot through the neck during the Aurora theater shooting — meant a lot to those signing at the time, including current Gateway head coach Taylor Calvert.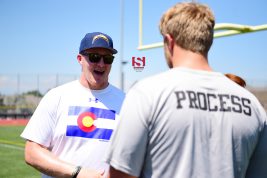 "The coolest part is that I didn't even know he was going to be here," Calvert said at the signing ceremony. "That was just Zack being back home and just showing up. He's got mini-camp soon, so to make some time to come back is huge.
"Our kids need to see that you can come from Sable and Mississippi (streets) and end up with the Chargers or whatever you want to be. It's super cool."
Though he played a different sport at Gateway, basketball star Michkaleke "Man-Man" Baker certainly drew inspiration from Golditch's success and hopes to emulate it in the future.
"We're chasing Zack," Baker said. "I want to be like that someday and come back and talk to the kids here."
Golditch also stopped by Hog Wars — the annual strength and teamwork competition for Aurora prep linemen (aka 'Hogs') — to keep an eye on the city's latest top trench prospects. He took some time to have a 1-on-1 conversation with Eaglecrest senior Barrett "Bear" Miller, a D-I prospect who has the likes of Ohio State interested in him.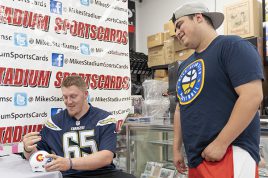 He signed merchandise for fans during a recent meet and greet at Mike's Stadium Sportscards — a place he frequented as a kid — and then teamed with Calvert, Phillip Lindsay (a fellow undrafted free agent who caught on with the Denver Broncos) to run a number of local youth football players through a skills camp.
Golditch has headed off to Chargers' training camp, which begins July 28 at Jack Hammett Sports Complex in Costa Mesa, California.
He aims to build on what he learned during the team's rookie mini-camp and OTAs (Optional Team Activities) in May and June, where he played mostly with the team's third unit.
One of 14 offensive linemen currently listed on Los Angeles' roster — which has veterans such as Russell Okung, Mike Pouncey and Joe Barskdale protecting longtime franchise quarterback Philip Rivers — Golditch (though a bit undersized) believes he has the skills to belong.
"I've learned a lot; the organization has been great and the coaches are all approachable," Golditch said. "We take care of business, but we know how to have fun. It's stressful — I don't want to say you can sit back and relax, but you don't have to be so tight all the time if that makes sense, even though you know you're in a heavy competition with a handful of guys."
Courtney Oakes is Sentinel Sports Editor. Reach him at 303-750-7555 or [email protected] Twitter: @aurorasports. FB: Sentinel Prep Sports