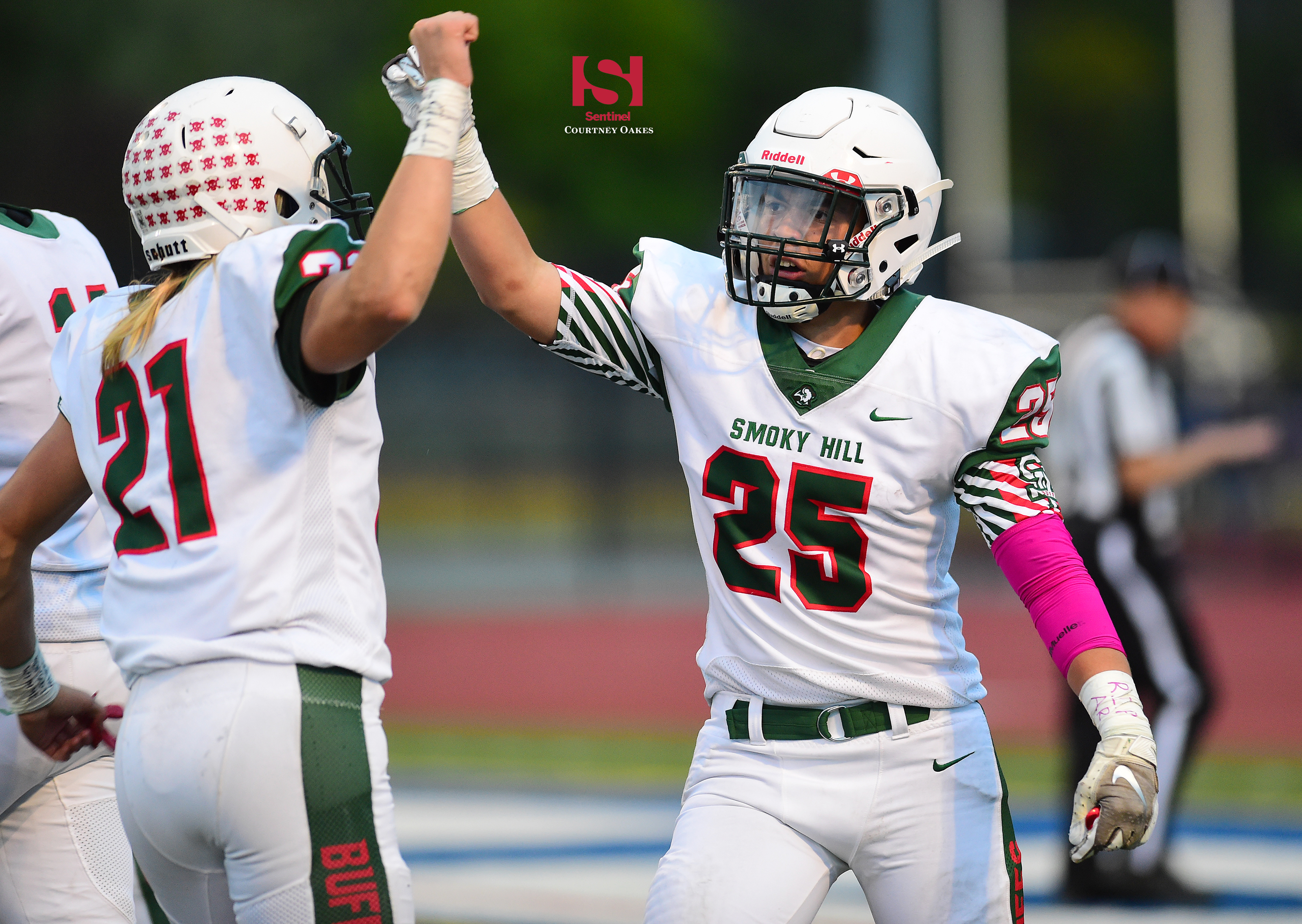 AURORA | And then there were two…unbeaten football teams in Aurora.
Six city teams were undefeated going into Week 6, three went into Week 7 perfect and now a pair — Eaglecrest and Smoky Hill — will go into Week 8 with zeroes in the loss column.
Cherokee Trail fell from the ranks of the unbeaten on a week in which Aurora programs finished 6-5 overall. Full Week 7 scoreboard, here.
Courtney Oakes is Sentinel Sports Editor. Reach him at 303-750-7555 or [email protected] Twitter: @aurorasports. FB: Sentinel Prep Sports
AURORA'S WEEK 7 FOOTBALL ROUNDUP
AURORA CENTRAL (1-5 overall, 0-1 in 4A Metro League): The Trojans found themselves in a big hole in the second half of their all-Aurora Metro League contest against Gateway Oct. 4 at Aurora Public Schools Stadium and tried to claw their way back before they fell 39-24. From the quarterback position, senior Adonis Cannon rushed for 160 yards and two touchdowns — on back-to-back possessions in the fourth quarter — and senior Michael Thompson rumbled for 76 yards and another score for Aurora Central. Next up: The Trojans play host to Heritage (5-1, 0-1) at 4 p.m. Oct. 12 at APS Stadium.
CHEROKEE TRAIL (6-1 overall, 1-1 in 5A Metro East League): The Cougars became the latest Aurora team to suffer their first defeat of the season, as they were unable to stop a determined Grandview team in a 28-0 Metro East loss to the rival Wolves Oct. 5 at frigid Legacy Stadium. Playing its first full game without injured senior quarterback Grant Ciccarone, Cherokee Trail moved the football with sophomore Jayden Lavigne making his first start under center, but couldn't finish any drives and suffered its first shutout since Oct. 6, 2017, a span of 11 games. Next up: The Cougars visit Stutler Bowl at 7 p.m. Oct. 12 to face Overland (1-6, 0-2).
EAGLECREST (7-0 overall, 2-0 in 5A Metro East League: The Raptors scored first, then trailed by a point, then scored the final 44 points of the game on their way to a 51-8 Metro East victory against Overland at Stutler Bowl. Eaglecrest rang up 430 yards rushing and scored all seven of its touchdowns on the ground, with four coming from senior quarterback Dylan James (plus 185 yards rushing), while junior Jalen Stewart (129) and senior Sebastian Andujar (112) also broke the century mark in rushing and combined for three more scores. Next up: The Raptors have a huge matchup with undefeated and co-league leader Cherry Creek (7-0, 2-0) at 7 p.m. Oct. 12.
GATEWAY (1-5 overall, 1-0 in 4A Metro League): The Olys came into its Oct. 4 all-Aurora Metro League contest against Aurora Central at Aurora Public Schools Stadium with just six points scored in five games, but piled up 39 on their way to a 39-24 victory. Senior running back Marvon Odunoye fell four yards short of matching his season-high as he amassed 145 yards rushing and scored twice, while sophomore quarterback Antwuan Smith rushed for a touchdown and dropped a pretty pass over the shoulder of senior Tyvon Phipps for another score and junior defensive back Michael Trejo capped the scoring with an interception return. Next up: The Olys visit EchoPark Stadium for a 7 p.m. Oct. 11 contest against Ponderosa (3-2).
GRANDVIEW (6-1 overall, 1-1 in 5A Metro East League): The Wolves bounced back from a heartbreaking one-point defeat against Eaglecrest a week earlier with a decisive 28-0 win over rival and previously undefeated Cherokee Trail Oct. 5 at Legacy Stadium. Senior running back Jordan Billingsley scored two of his three touchdowns in the opening quarter to put the Wolves in front by halftime, then junior Cade Bruckman later scored on a screen pass from sophomore quarterback Jacob Burr and Billingsley got into the end zone again. The Grandview defense recorded its first shutout of the season. Next up: The Wolves head to Littleton Public Schools Stadium for a 7 p.m. Oct. 11 Metro East matchup against Arapahoe (4-3, 0-2).
HINKLEY (4-2 overall, 0-1 in 4A Pioneer League): The Thunderbirds played even with Vista PEAK into the final seconds of an all-Aurora Pioneer League matchup Oct. 5 at Aurora Public Schools Stadium before they ceded a late score to fall 10-3. Hinkley got the first lead of the ballgame with 2:52 remaining in the opening half when Alan Acevedo knocked through a 27-yard field goal, but that's all the points it would muster. Jerry Taylor had 68 yards receiving and Leon Parham rushed for 34 yards to lead the Thunderbirds, who had 159 total yards. Next up: Hinkley has a 4 p.m. matinee Oct. 11 at the North Area Athletic Complex against Standley Lake (4-2, 1-0).
OVERLAND (1-5 overall, 0-2 in 5A Metro East League): The Trailblazers jumped in front of Eaglecrest by a point in the opening quarter of a local meeting of Metro East teams Oct. 4 at Stutler Bowl, but watched the Raptors score the final 44 points to deal them a 51-8 defeat. Junior Mark Thrower connected with senior Jalone' Rice on an early touchdown pass and junior Stephone' Smiley gained 62 yards on the ground as offensive highlights for Overland. Next up: The Trailblazers play host to Cherokee Trail (6-1, 1-1) at 7 p.m. Oct. 12 at Stutler Bowl.
RANGEVIEW (1-6 overall, 1-5 in 5A Metro 10 League): The Raiders dropped a tight 13-7 Metro 10 tussle with Northglenn in a game played on Oct. 5 at Five-Star Stadium. Rangeview got a touchdown pass from junior Reece Berkey to senior Kobe Frazier in the opening half that created a tie ballgame going into halftime, but the Norse scored a short touchdown early in the third quarter for the eventual winning points. Berkey threw for 122 yards and Trey Rogers rushed for 54 to lead the Rangeview offense, which had scored 14 or more points in its previous four games. Next up: The Raiders face Boulder (2-5, 2-4) in a contest slated for 6:30 p.m. Oct. 11 at Aurora Public Schools Stadium.
REGIS JESUIT (3-4 overall, 2-0 in 5A South League): The Raiders moved to 2-0 and into a three-way tie atop the South League standings with a thorough 36-7 win over Legend Oct. 5 at Lou Kellogg Stadium. Senior Kiahn Martinez thrilled the Homecoming faithful with a season-best four-touchdown performance and 247 yards of total offense (including 196 on the ground), while senior Carder Reed caught his first TD pass of the season when Regis Jesuit's lead had been cut to 14 points. Junior defensive back Bryce Parsons had nine tackles and an interception for the Raiders' defense, which held an opponent to seven points or fewer for the third time in seven games. Next up: Regis Jesuit travels to face co-league leader Doherty (3-4, 2-0) in a 1 p.m. contest Oct. 13 at Garry Berry Stadium.
SMOKY HILL (7-0 overall, 6-0 in 5A Metro 10 League): The Buffaloes found themselves trailing Denver East 14-0 into the third quarter of a Metro 10 showdown Oct. 5 at All-City Stadium, but scored 27 straight points to help propel them to 30-20 win and continue their unbeaten start. Senior David Hoage scored a short touchdown and returned a punt blocked by junior Chase Lyons for another TD in a quick burst for the Buffaloes at the end of the third quarter and the beginning of the fourth that gave them the lead. Junior Xavier Gulick had two of Smoky Hill's three interceptions and returned one for a touchdown and sophomore Elisha Brown made two late field goals to seal the win. Next up: The Buffaloes have a 7 p.m. Oct. 11 contest against Adams City (0-6, 0-5) scheduled for Stutler Bowl.
VISTA PEAK (5-1 overall, 1-0 in 4A Pioneer League): The Bison tussled with Hinkley all the way to the end of an all-Aurora Pioneer League contest Oct. 5 at Aurora Public Schools Stadium before scoring late to win 10-3. Sophomore quarterback Victor Owens rushed for a 2-yard touchdown with just 38 seconds remaining for the winning score. Sophomore Ja'derris Carr rushed for 69 yards, junior Gene Sledge picked up 61 and senior Noah Karwacki connected on a 22-yard field goal and his only extra point attempt for Vista PEAK, which is now a win away from matching the program's all-time best of six victories. Next up: The Bison return to their home field at APS Stadium for a 6:30 p.m. Oct. 12 contest against Centaurus (2-4, 0-1).