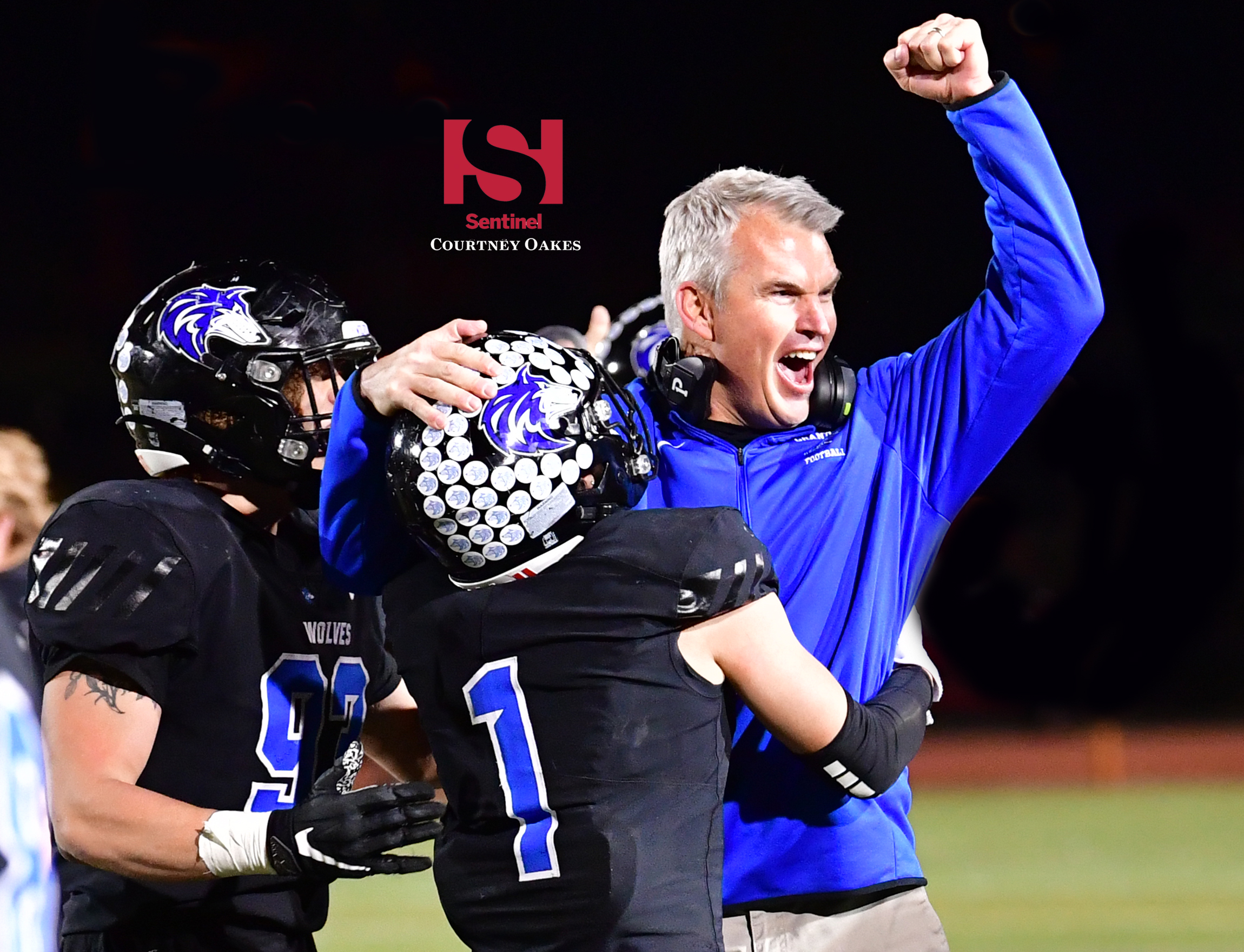 AURORA | With their season in the balance, the Grandview football team turned the ball over to a precocious sophomore quarterback with unshakable confidence and it paid off in a big way Friday night.
Trailing by three points with time ticking away in the fourth quarter of a Class 5A semifinal against Ralston Valley, Liam Szarka put all remnants of a difficult first half behind him and marched the Wolves down the Legacy Stadium field to victory.
Szarka calmly rolled away from pressure and hit senior Charlie Dick with a 9-yard touchdown pass with just 39.9 seconds remaining in regulation for a go-ahead score that stood up in a 20-16 win over the fifth-seeded Mustangs for fourth-seeded Grandview, which advanced to the 5A semifinals for the first time since 2018. The Wolves play at top-seeded Valor Christian at 1 p.m. Nov. 27.
"I know there are great quarterbacks, but there's not a quarterback in the state I would want to have with the ball in his hand in that situation more than Liam," said head coach Tom Doherty, who is in his first season with the Wolves.
"He's savvy, he's cool and he's obviously a great player. …I'm glad he's on our side."
Szarka more than atoned for a first half in which he was intercepted twice — which helped Ralston Valley (9-3) take a 10-0 lead — with his attitude in the locker room during halftime and his will to lift the team up.
In the second half, all he did was engineer three touchdown drives, which each culminated in passes to his three playmaking senior wide receivers in Dick, Evan Johnson and Tristan Burrus.
"In hard games, difficult things are going to happen," said Szarka, who had only five interceptions in his 11 previous games. "You have to pick yourself up and keep going. You can't focus on it too much."
Szarka got more chances to go to the air with the Mustangs showing a concerted effort to try to stiffle senior Moosah Alsaffar (who still racked up 93 yards on 18 carries) and the Grandview running game.
Johnson got them on the Wolves on the scoreboard midway through the third quarter when he hauled in a bomb from Szarka for a 49-yard touchdown. Grandview's ensuing drive also ended in the end zone when Szarka zipped a ball in to Burrus from 19 yards out as the Wolves ended the quarter with a 13-10 lead.
Ralston Valley struck right back with what turned out to be its only scoring drive of the second half and one that was extended thanks to a roughing the passer call (another in a "bucket of penalties" on the night in Doherty's words).
Marquel Collins' second touchdown of the night had the Mustangs back in the lead, though Grandview senior Malique Singleton crashed through the line and blocked the extra point to keep it a three-point game.
But without the big leg of senior Ben Beckman, the Wolves were going after seven to win, not three to tie. And they totally believed they would get it from the time they took over the ball at their own 41 with 4:34 remaining.
Nine plays later after a mix of runs by Alsaffar and a scramble by Szarka to pick up a first down and then some after he was hit late out of bounds, Dick ducked across the goal line after Szarka spun away from Ralston Valley's pass rush and hit him near the sideline.
"I didn't see anything else except for the end zone and I had to get there," Dick said. "I knew we were going to score on that last drive, 100%. They can't stop that."
Chavez made the extra point to ensure the Mustangs — who earlier got a 46-yard field goal from Steele Fredricks — would have to score a touchdown to win.
Grandview's defense held on four plays, allowing the Wolves to close it out in victory formation and set up Doherty for a celebrity ice bath.
Courtney Oakes is Sentinel Colorado Sports Editor. Reach him at [email protected] Twitter: @aurorasports. IG: Sentinel Prep Sports
2021 CLASS 5A STATE QUARTERFINAL
(4) GRANDVIEW 20, (5) RALSTON VALLEY 16

Score by quarters:
Ralston Valley   0  10   0  6 — 16
Grandview        0   0  13  7 — 20
SCORING
Second quarter
Ralston Valley — Steele Fredricks 46 yard field goal, 9:39
Ralston Valley — Marquel Collins 3 yard run (Fredricks kick), 5:12
Third quarter
Grandview — Evan Johnson 49 yard pass from Liam Szarka (Kyle Chavez kick), 6:25
Grandview — Tristan Burrus 19 yard pass from Szarka (kick failed), 8.4
Fourth quarter
Ralston Valley — Collins 6 yard run (kick blocked), 9:22
Grandview — Charlie Dick 9 yard pass from Szarka (Chavez kick), 39.9
RUSHING
Grandview: Moosah Alsaffar 18-93, Liam Szarka 1-8, Chase Dahir 4-1
PASSING
Grandview: Szarka 16-26, 229 yards, 3 touchdowns, 2 interceptions
RECEIVING
Grandview: Evan Johnson 4-88, Tristan Burrus 4-66, Simon Kibbee 3-33, Charlie Dick 5-25, Mateo Munoz 1-25