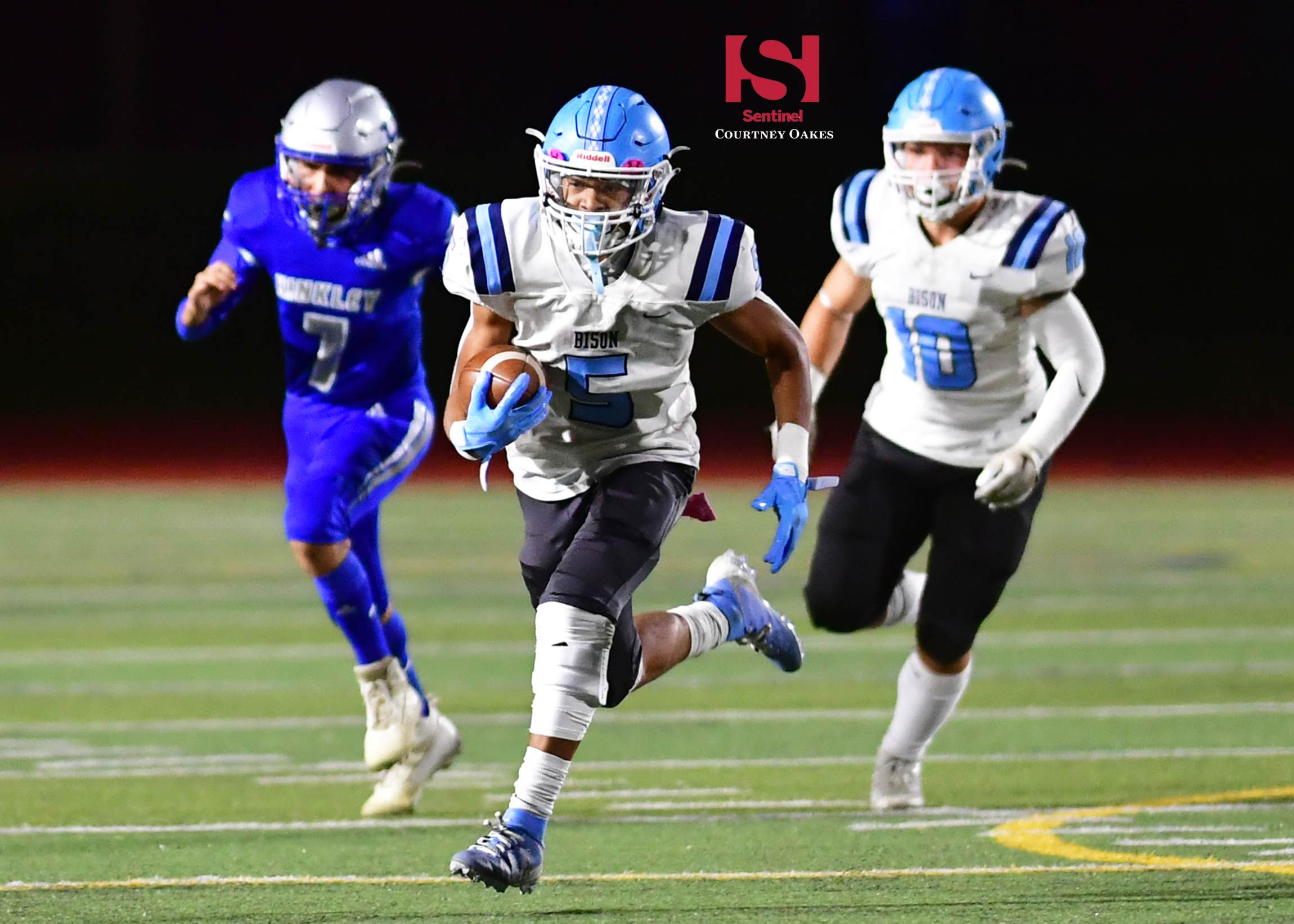 There is only one more week to go in the football regular season and city teams look to finish strong after an 6-5 performance in Week 9.
Eaglecrest, Grandview, Overland, Rangeview, Regis Jesuit and Vista PEAK all emerged victorious as Aurora had an overall winning record for the first time since early in the season, even in a week in which there were multiple head-to-head matchups.
Eaglecrest and Grandview share the city lead in victories with seven apiece and they got those wins against Smoky Hill and Cherokee Trail, respectively, in Week 9.
The Raptors (7-2 overall, 2-2 in 5A League 4) found themselves locked in a battle with the Buffaloes, who had the ball and a two-point deficit in the final minutes Oct. 20 at Stutler Bowl. Defensive back Peyton Taylor picked off a pass and returned it for a touchdown, sealing Eaglecrest's 35-26 victory over Smoky Hill. Jacob Schmitt completed touchdown passes to Xavier Waldron and Burke Withycombe and Diego Cearns rushed for a score to help coach Mike Schmitt's Raptors overcome the gritty performance of quarterback Tyliq Bowers for coach Brandon Alconcel's Buffaloes (1-8, 0-4).
Grandview recorded its first shutout of the season in a 28-0 victory over Cherokee Trail Oct. 21 at Legacy Stadium, while coach Tom Doherty's Wolves (7-2, 3-1) rode the connection of quarterback Liam Szarka and tight end Simon Kibbee offensively. Szarka threw for 328 yards and nearly half of that went to Kibbee, who had 152 yards receiving and two of Szarka's three touchdown passes. Davion Henderson also had a receiving touchdown and Donavon Vernon rushed for one. Tyson Smith passed for 104 yards for coach Justin Jajczyk's Cougars (3-6, 0-4).
Regis Jesuit earned some payback for a loss to Legend last season with a 26-11 victory Oct. 21 at Lou Kellogg Stadium that extended its winning streak to four games. Coach Danny Filleman's Raiders (6-3 overall, 4-0 in 5A League 6) fell down 3-0 early, then scored 19 straight points before halftime to take control. Anthony Medina rushed for two touchdowns, Adin Chase also had one on the ground and Exander Carroll hooked up with Dylan McCollough for Regis Jesuit's other score.
Overland won for the fourth time in the past fives games with a decisive 34-7 victory over Mountain Range Oct. 22 at Stutler Bowl. Jarrius Ward rushed for two touchdowns, Andre Veasley threw scoring passes to Komari Owens and Amar'ee Plater and Sir Joiner had a scoop and score on defense for coach Kyle Reese's Trailblazers (5-4 overall, 3-1 5A League 7).
Rangeview also reached the five-win mark — which hasn't happened since 2014-15 — with a 39-35 victory at Brighton Oct. 22 in a game that saw the Raiders' offensive line pave the wave for a huge rushing day. Armani Patterson was the prime beneficiary of the trench work with 297 yards and five touchdowns, while Greg Brooks also got into the end zone as coach Chris Dixon's Raiders (5-4 overall, 2-2 in League 2) rallied and then held on.
Cortlen Johnson Jr. also exploded in the rushing game Oct. 20 at APS Stadium to help Vista PEAK to a 56-0 victory over Hinkley. Johnson Jr. established the program record with 281 yards and also scored five times for coach DaVaughn Thornton Sr.'s Bison (2-7), while D'Quan McClennon scored three times, including two on passes from Owen Packer. Coach Dennis York's Hinkley team — which celebrated its seniors at halftime — is now 0-9.
Aurora Central fell to Heritage 45-3 Oct. 14 at APS Stadium as coach Chris Kelly's team went to 2-7 overall and 0-4 in 4A League 7, while coach Rico McCoy's Gateway (1-8, 1-4 in 4A League 8) team got a third-quarter touchdown from Knyle Serrell, but fell to Palmer 54-18 Oct. 22 at APS Stadium.
Courtney Oakes is Sentinel Colorado Sports Editor. Reach him at [email protected] Twitter: @aurorasports. IG: Sentinel Prep Sports