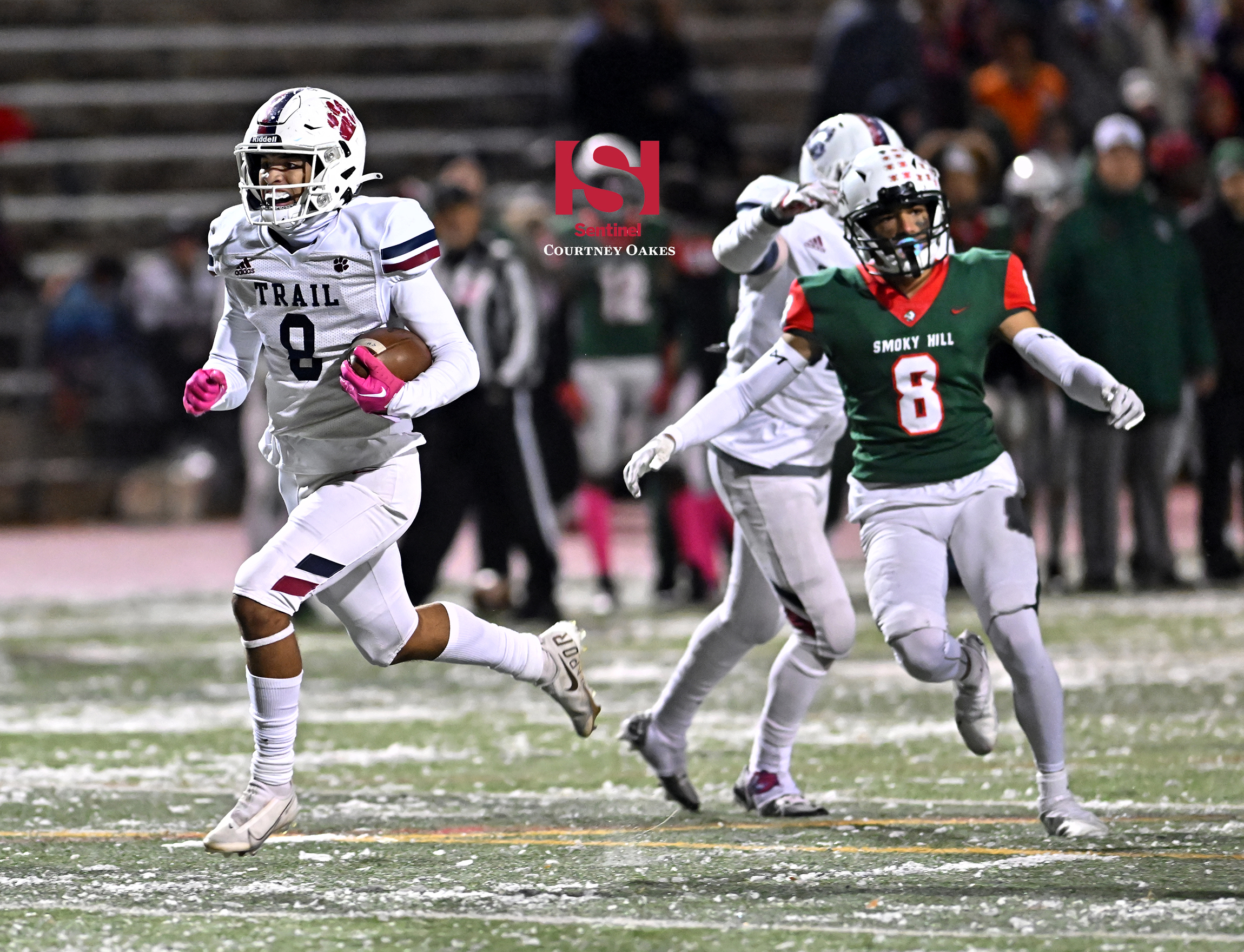 With much at stake in the last week of the regular season, Aurora football teams finished with a combined 3-8 record in Week 10. All three of the victories — which came from Aurora Central, Cherokee Trail and Grandview — were significant, however.
The Wolves had the most impactful victory with its 24-21 upset of top-ranked Cherry Creek Oct. 23 at Stutler Bowl, which gave coach Tom Doherty's Grandview team a share of first place in the league standings along with the Bruins and Arapahoe, who all finished with one loss and each defeated each other.
Junior quarterback Liam Szarka's keeper for a touchdown (his second of the game) with just under three minutes left in regulation capped a 10-point streak for Grandview as it followed a Kyle Chavez field goal. The Wolves' defense subsequently forced a turnover on downs on Cherry Creek's subsequent possession and sealed it with a run by sophomore Donavon Vernon (whose touchdown on the final play of the opening half created a 14-14 tie) for a first down that allowed it to run out the rest of the clock.
The night before on the same turf — which was frozen by an overnight snow storm — Cherokee Trail kept alive its playoff hopes with an exciting 28-23 win over Smoky Hill, which also might have made the postseason with a victory. The Cougars and Buffaloes battled back and forth before Cherokee Trail's defense got a key stop that forced a Smoky Hill punt from deep in its own end.
Senior Noah Greer fielded the kick on the run and sped up the middle and to the end zone for what turned out to be the winning score. Sophomore quarterback Eliot Ming threw three touchdown passes — two to Peyton Castro and the other to sophomore Peyton Sommers — for coach Justin Jajczyk's Cougars (4-6), while senior quarterback Tyliq Bowers rushed and passed for one for coach Brandon Alconcel's Buffaloes, who finished 1-9.
Aurora Central (3-7) missed out on the postseason, but capped the regular season with an epic victory Oct. 27 at Aurora Public Schools Stadium. Coach Chris Kelley's Trojans posted a city-best 75 points in a 75-30 victory over visiting Thornton in a game that saw senior Cai'Reis Curby amass 292 yards rushing and score four touchdowns. Junior Chris Perkins also scored four TDs (three rushing — plus 263 yards on the ground — and one receiving) and senior Simeon Veasley had 116 yards rushing and a pair of scores.
Regis Jesuit finished the regular season 6-4 after a 21-14 home loss to Fountain-Fort Carson, but still finished atop the League 6 standings. Senior Dylan McCollough rushed for a touchdown and also caught a scoring pass from senior Exander Carroll for coach Danny Filleman's Raiders.
Playoff-bound Eaglecrest finished 7-3 in the regular season with a 38-0 loss to Arapahoe Oct. 28 at Legacy Stadium. The Raptors, who were 1-9 last season before the return of Mike Schmitt as head coach, were held scoreless for the first time this season.
Rangeview needed a win at Mullen Oct. 27 to keep alive its chances of making the state playoffs and got off to a 14-6 lead after one half, but lost 35-14 to finish 5-5. Seniors DJ Collins-Boston and Greg Brooks had the touchdowns for coach Chris Dixon's Raiders, who still finished with their most total victories since 2014.
Overland also finished 5-5 after a 52-28 road loss at Doherty Oct. 28. Sophomore quarterback Andre Veasley threw three touchdown passes — one apiece to seniors Curtis Bunton IV, Sir Joiner and Will Kaario — but coach Kyle Reese's Trailblazers couldn't keep pace with the league champion Spartans.
Vista PEAK aimed for a two-game winning streak to end the regular season, but coach DaVaughn Thornton Sr.'s Bison ended up with a final mark of 2-8 after a 21-20 loss to the Far Northeast Warriors Oct. 28.
Coach Rico McCoy's Gateway team finished 1-9 with a 41-20 road loss at Centaurus Oct. 29, while Hinkley got a 110-yard rushing effort from senior Tatum Starks in a 46-8 loss at Palmer. Coach Dennis York's Thunderbirds finished 0-10.
Courtney Oakes is Sentinel Colorado Sports Editor. Reach him at [email protected] Twitter: @aurorasports. IG: Sentinel Prep Sports