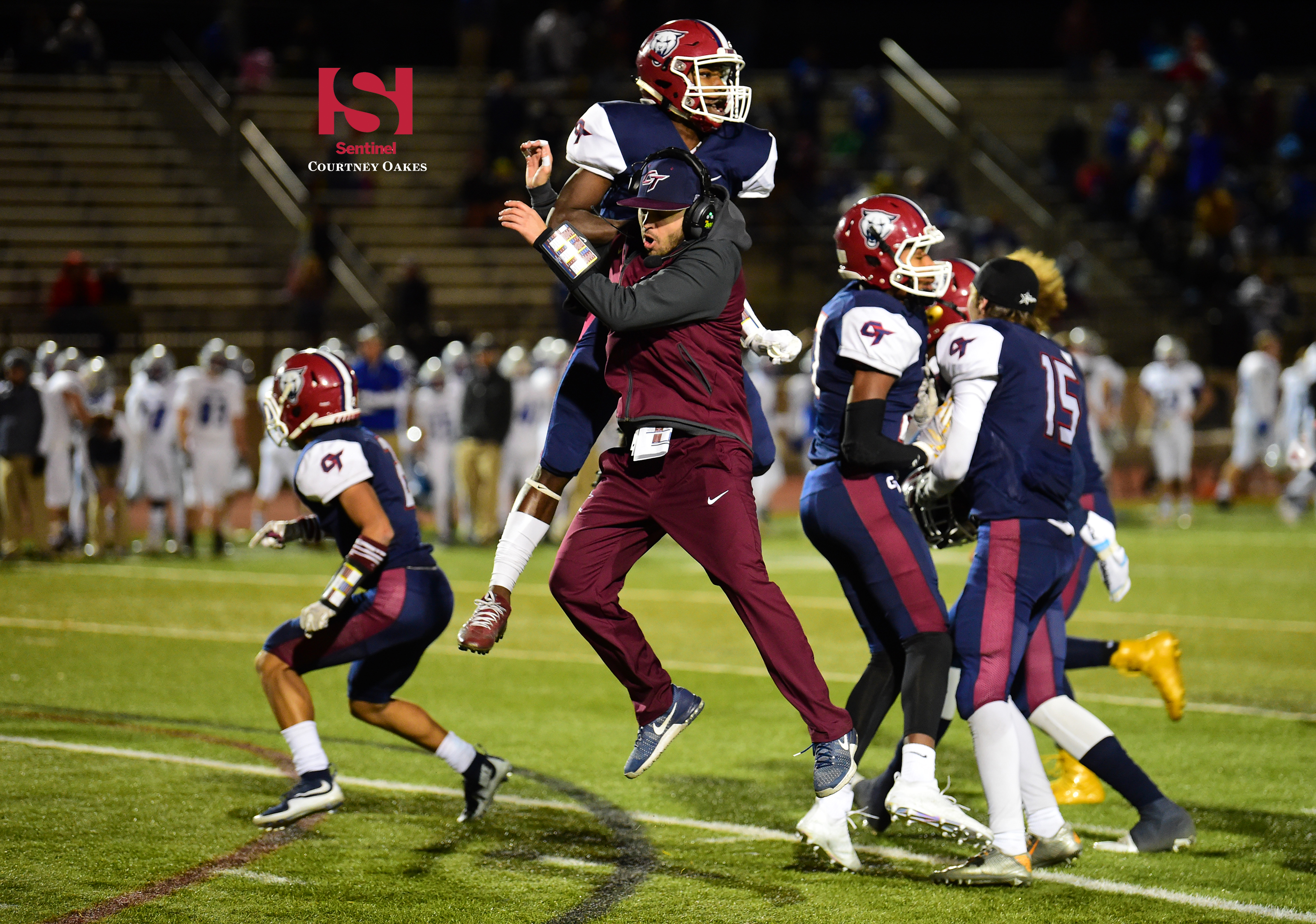 AURORA | The only thing that made Cherokee Trail football coach Joe Johnson happy Friday night was the final score of his team's Class 5A state playoff game.
The 11th-seeded Cougars prevailed over No. 22 Poudre 37-31 in double overtime at Legacy Stadium to advance to the second round, but some uncharacteristic play in the late stages of the game caused Johnson plenty of chagrin and created a nailbiter of a finish.
Cherokee Trail allowed a 14-point lead to get away in the late stages of the fourth quarter, but got touchdown passes from sophomore Jayden LaVigne to senior Sean Roberts and junior Donovan Swift in the overtime period and came up a winner when junior Matty Bartels came up with an interception in the end zone to turn the Impalas away.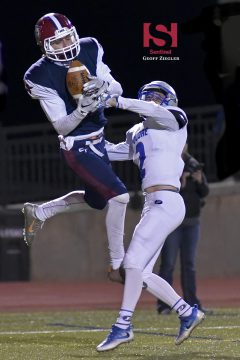 "That was an ugly one; it should not have been like that at the end," said Johnson, who coached his first playoff game with the Cougars since taking over in 2017 after a playoff-filled tenure at ThunderRidge.
"We've got to respond better to being in that situation," he added. "A lot of our kids have not been in that situation and it got a little panicked and we did some things out of character for us I thought. Playoff inexperience showed."
Still, eight teams saw their seasons come to an end in the opening round, but Cherokee Trail (8-3) survived to move into a second round matchup against sixth-seeded Ralston Valley (8-2).
The Cougars did so by winning a game that was much different than their 35-0 victory over the same Poudre (4-7) team on the same field in early September, though that came with now-injured starting quarterback Grant Ciccarone at the helm.
Cherokee Trail needed a defensive stand to survive after LaVigne — who threw four touchdown passes in all in his fifth start in place of Ciccarone — found Swift for a touchdown to start the second overtime, but the Impalas blocked the extra point attempt by senior Sean Roberts.
Poudre stood a touchdown and extra point away from the upset, but Bartels made sure that didn't happen. On a third down play, Poudre ran a reverse to Trent Graves, who moved towards the sideline before throwing for Duante Davis in the back of the end zone.
Bartels — who had a 67-yard interception return for a touchdown late in the second quarter to send the Cougars into halftime up 17-3 — recognized the play and stepped in front and intercepted the pass to end the game.
"They tried to do a little trickery; I saw a guy across my face, immediately sprinted after him and just made a play on the ball," Bartels said of his team-leading fifth interception of the season.
"That was crazy, I had to trust my teammates and believe," he added. "It was a crazy moment. It feels great."
The overtime and double overtime dramatics became necessary because Cherokee Trail couldn't hold the 24-10 lead it had early in the fourth quarter when Swift caught a nine-yard touchdown pass from LaVigne.
Poudre pulled within seven on Josiah Stribling's short touchdown run inside five minutes and tied it with 40 seconds left when quarterback Sergio Tarango found Davis for a 22-yard score.
Next up is a Ralston Valley team that's won five of its last six games, with the only loss to undefeated and second-seeded Columbine.
"We know Ralston Valley is a good team, they are the sixth seed and ranked higher than we are, so we've got to work harder," LaVigne said.
Johnson hopes his team does work harder and have a better week or preparation ahead of its meeting with the Mustangs than it had leading up to the previous game.
"They are very physical and they are going to run super power and power stuff at us," he said. "I've played against Coach (Matt) Loyd's teams many, many times. It's not hard to know what's coming, but it's hard to stop it.
"We're going to have to be much more physically tough next week than we were tonight."
Courtney Oakes is Sentinel Sports Editor. Reach him at 303-750-7555 or [email protected] Twitter: @aurorasports. FB: Sentinel Prep Sports
(11) CHEROKEE TRAIL 37, (22) POUDRE 31 (2OT)
Score by halves:
Poudre         3  0  7  14  7  0 — 31
Cher. Trail  10  7  0    7  7  6 — 37
SCORING
First quarter
Cherokee Trail — Sean Roberts 28 yard field goal
Poudre — Nate Wood field goal, 2:52
Second quarter
Cherokee Trail — Roberts 4 yard pass from Jayden LaVigne (Roberts kick), 4:37
Cherokee Trail — Matty Bartels 67 yard interception return (Roberts kick), 0:30
Third quarter
Poudre — Tate Satterfield 3 yard run (Wood kick), 7:18
Fourth quarter
Cherokee Trail — Donovan Swift 9 yard pass from LaVigne (Roberts kick), 9:31
Poudre — Josiah Stribling 1 yard run, 4:58
Poudre — Duante Davis 22 yard pass from Sergio Tarango, 0:40
Overtime
Poudre — Satterfield 2 yard run (Wood kick)
Cherokee Trail — Roberts 10 yard pass from LaVigne (Roberts kick)
Second overtime
Cherokee Trail — Swift 10 yard pass from LaVigne (kick blocked)