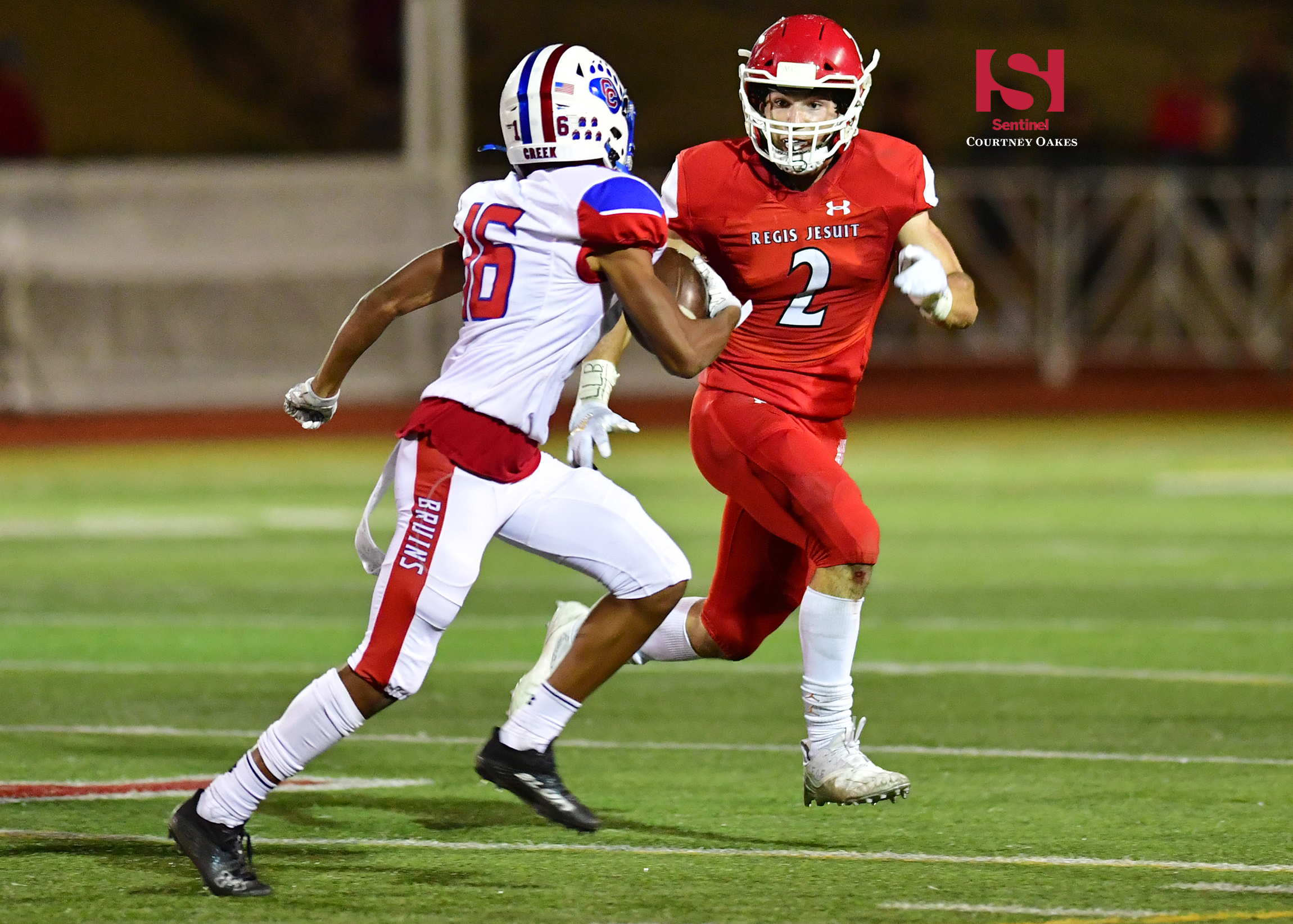 AURORA | A capsule preview of the 2021 Class 5A state football quarterfinal playoff contest between Regis Jesuit and Cherry Creek scheduled for Nov. 19, 2021:
Courtney Oakes is Sentinel Colorado Sports Editor. Reach him at [email protected]: @aurorasports. IG: Sentinel Prep Sports
2021 CLASS 5A QUARTERFINAL STATE FOOTBALL PLAYOFF GAME
No. 7 Regis Jesuit (8-3) vs. No. 2 Cherry Creek (9-2)

Nov. 19, 7 p.m. at Stutler Bowl

BREAKDOWN: Regis Jesuit and Cherry Creek have a deep rivalry in every sport the two schools come together and their postseason history in football is growing. The two programs meet in the 5A quarterfinals for the second consecutive season (last year in the first round of a postseason cut to eight teams due to the coronavirus pandemic) and third time since 1990. The Bruins have come out on top in both of the previous meetings, winning a 49-24 decision in the 2014 quarterfinals and 29-6 in last season's quarterfinals. …Regis Jesuit qualified for the playoffs for the 15th straight season and now have won at least one game in every one of their trips over that span save for 2011 and last season. …Cherry Creek is in search of a third consecutive 5A state championship, something that hasn't happened in the classification since Mullen took 2008-10 crowns. The Bruins — who have won three titles in the past seven seasons and 11 all-time — have won eight straight postseason games since losing to Valor Christian in the 2018 state championship game. …This will be the second meeting of the teams this season, as Cherry Creek defeated Regis Jesuit 34-14 Sept. 24 at Lou Kellogg Stadium in a game that saw QB Christian Hammond throw for 243 yards a touchdown to senior WR Ky Oday and senior RB Keegan Holles rush for two touchdowns. Senior RB Zavier Carroll scored both Regis Jesuit touchdowns on the ground and the Raiders were held to just 208 yards of total offense and turned the ball over three times.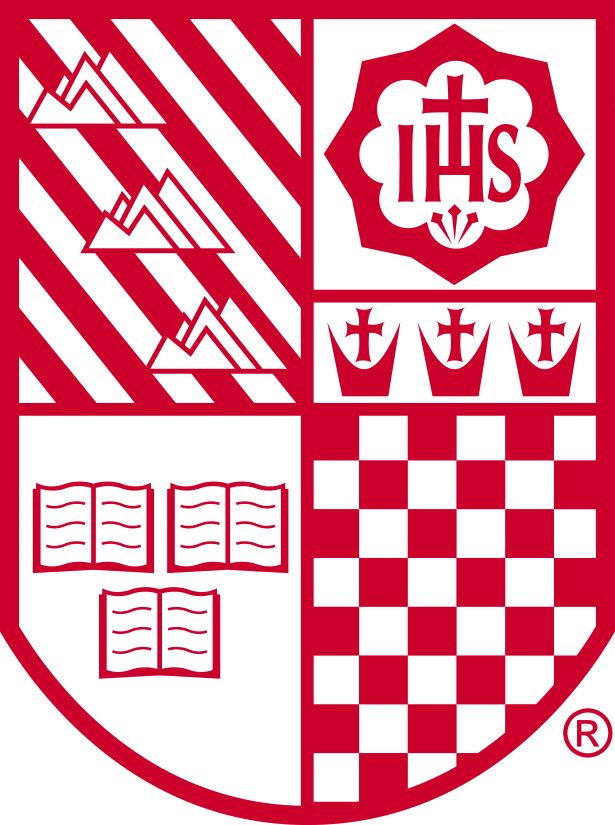 REGIS JESUIT: Coach Danny Filleman's Raiders finished 7-3 in the regular season as their three losses came to the top three seeds in the 5A postseason (No. 1 Valor Christian, No. 2 Cherry Creek and No. 3 Legend). Regis Jesuit got a bye through to the second round as one of the top eight seeds and advanced to its seventh quarterfinal in the past eight seasons with a 28-21 victory over 10th-seeded Pomona, which had been 3-0 against the Raiders in previous postseason meetings. This time, Regis Jesuit rallied from a 14-point deficit with 28 straight points — coming on two rushing touchdowns from senior RB Zavier Carroll, another from junior QB Exander Carroll and another from sophomore RB Anthony Medina — then held on defensively as the Panthers pulled within seven points and got within scoring range in the final minute of regulation. …The Raiders' 28-point effort lowered their season scoring average slightly, but they are still scoring more than 35 points per game. The offense has achieved good balance, however the ground game has been particularly effective, as Regis Jesuit has ranked up 2,256 yards on the ground with Zavier Caroll (799 yards, 12 touchdowns), Exander Carroll (615 yards, 8 touchdowns) and Medina (589 yards, 7 touchdowns) doing the most damage. A line led by senior OL Sam Little has also bought time for Exander Carroll to throw for 1,396 yards and 14 touchdowns against just two interceptions. The Raiders occasionally hand the ball off to junior WR D'Andre Barnes, but mostly go downfield to the speedster, who has 609 yards receiving on just 34 catches and scored seven times. Senior WR Dallas Macias and senior WR Luke Ford also have better than 200 yards receiving and have combined for five scores. …The Regis Jesuit defense has yielded 20 points per game and been prolific in creating turnovers with 22 takeaways in 11 games. Eighteen of the turnovers have come via interception and senior DB Dervin Taylor III leads 12 players with at least one pick with three. From a safety position, Macias is the team's leading tackler with 107, just 12 more than active junior DE Hayden Moore, who has four sacks among his 95 stops. Senior DL Nunie Tuitele (a University of California commitment) has racked up 12 sacks among 63 total stops — though he didn't add to that total after missing the Pomona game due to injury — and 6-foot-1, 310-pound senior NG Jayden Franklin has plugged up plenty of opponents' running lanes. …On special teams, Macias has been a dangerous weapon with two punt returns for scores and Barnes is also capable of taking kicks back long distances, while senior PK Ty Murphy has made 52 of his 55 PAT attempts and been good on 2-of-5 field goal tries (after he had two sail wide against Pomona) with a long make of 40 yards.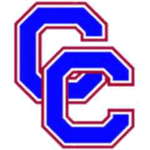 CHERRY CREEK: Coach Dave Logan's team finished the regular season with an 8-2 record, with one of the defeats coming out of the state against Chandler, Ariz. (17-7 on Sept. 10) and the other coming against Arapahoe (the No. 6 seed in the 5A bracket) to finish tied atop the Centennial League standings with the Warriors and Grandview. As a top-eight seed, Cherry Creek got a bye in the opening round and extended its winning streak to three games with a 34-0 second round victory over 18th-seeded Mountain Vista. …For the season, the Bruins' offense has generated 31.6 points per game and they've scored 34 or more in the last three games since getting held to 10 in a loss to Arapahoe. Junior QB Christian Hammond has completed 65 percent of his passes on the season for 1,492 yards and 14 touchdowns against just five interceptions. Junior WR Ismael Cisse, a transfer from Overland, is the Bruins' leading receiver with 539 yards and five touchdowns, the same amount of scores as speedy senior WR Ky Oday, who has 387 yards receiving, while junior WR Kyair Johnston needs just one more yard to get to 300. While Cherry Creek has more yards in the passing game, the running game has produced more touchdowns with 21 for the season. Junior RB Carleton Tann paces Cherry Creek with 530 yards and six scores, while senior RB Keegan Holles led the way in scores with seven along with 371 yards and Hammond had crossed the goal line five times himself. …The Bruins' defense has yielded just 10.2 points per game, however their shutout against Mountain Vista was the first time holding an opponent under double digit points in eight weeks after opening the season with shutouts of Doherty and Pomona. Sophomore LB Angelo Petrides, a transfer from Arapahoe, is Cherry Creek's leading tackler with 93 stops on the season, while another program newcomer, junior DE Chase Brackney, formerly of Palmer Ridge, is next with 51 and junior LB Blake Purchase has 50 tackles, which includes a team-leading 11 sacks. Petrides also leads the way with two interceptions. …On special teams, Oday — a state championship-caliber track athlete — has been dangerous in the return game and senior WR Remington Larson has also done plenty of damage taking back kicks. Strong-legged senior PK Boden Page has missed just one of his 42 PAT attempts and been good on 5-of-7 field goal attempts, with a long make of 42 yards.
WINNER GETS: The Regis Jesuit-Cherry Creek winner advances to the semifinals to meet the winner of the quarterfinal matchup between No. 6 Arapahoe and No. 3 Legend that is scheduled for 1 p.m. Nov. 20 at EchoPark Stadium. The Raiders lost to Legend by one point and did not play Arapahoe, while the Bruins lost to Arapahoe, but did not play Legend.
— 5A quarterfinals: Capsule preview, Ralston Valley vs. Grandview, here